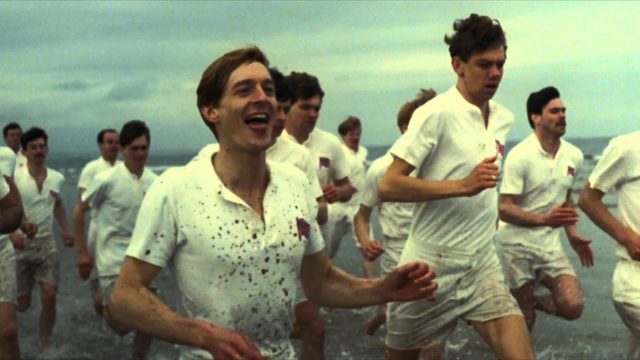 The Olympic Games is one of the biggest sporting events held as it brings together competitors from across the globe from almost every sport. This event is hosted every four years in different locations each time. The Winter Olympics are also hosted every four years and take place at the midpoint between the Olympic Games events. The competitions that take place are spectacular to watch and viewers of the events enjoy the anticipation leading up to the finals and the excitement of watching people realize their dreams and make significant sporting achievements, such as breaking world records. Even those who are not sports fans will tune in their televisions to watch some of the highlights that take place during the Olympics. As these events are filled with such excitement. It is little wonder that stories from the Olympics, both factual and fictional, are used as the basis for many films. Here are 20 of the best films based on the Olympics.
20. Personal Best
This movie is about a group of women who are attempting to qualify for the track and field team to represent the United States at the 1980 Olympic games. Unfortunately, the United States decides to boycott the Olympics and the women are left only with their personal bests in recognition of their hard work and achievements. This 1982 film starred Mariel Hemmingway, Scott Glenn, Patrice Donnelly, and Kenny Moore. It was written, directed, and produced by Robert Towne. Many track and field athletes had cameo roles as themselves in this movie, including Jodi Anderson, Maren Seidler, and Evelyn Ashford. The latter of whom won four golds and a silver at the Olympic Games.
19. Running Brave
'Running Brave' is a 1983 biographical movie that is based on the story of Billy Mills, who was a North American Indian who was raised on the reservation and beat the odds to become the greatest distance runner in the world. Mills competed at the Tokyo Olympics in 1964 and went from the third position in the 10,000 meters event to win the gold medal. The film was directed by Donald Shebib who used the pseudonym D.S. Everett and co-written by Henry Bean and Shirl Hendryx. Robby Benson plays the role of Billy Mills and others who star in this movie include Pat Hingle, Claudia Cron, Jeff McCracken, and Graham Green.
18. Downhill Racer
This 1969 sports drama film was written by James Slater, produced by Richard Gregson, and was the directorial debut of Michael Ritchie. The movie is based on the novel of the same name by Oakley Hall. The storyline revolves around a talented downhill skier who decides to compete in international skiing competitions by joining the United States ski team in Europe. However, his ambition and competitive streak create a divide between himself, his coach, and his teammates. When he competes in the Winter Olympics in Grenoble in 1968, he wins the gold medal. This movie starred Robert Redford, Gene Hackman, and Camilla Sparv. Although the movie received positive reviews from both moviegoers and critics, it only made a small profit at the box office.
17. Charlie Chan at the Olympics
'Charlie Chan at the Olympics' is one of a series of films featuring detective Charlie Chan. This film was released in 1937 and is considered one of the most topical films in the series as it contains real footage from the 1936 Olympic Games which were hosted in Berlin. In the film, there is also a scene showing Charlie Chan in the Hindenberg crossing the Atlantic. Chan's son is chosen to compete in the Olympics and he goes to watch his son compete. While there, he must solve a mystery. This film was directed by H. Bruce Humberstone and co-written by Robert Ellis, Helen Logan, Paul Burger, and Earl Derr Biggers. The role of Charlie Chan is played by Warner Oakland. Other members of the cast included Katherine DeMille, Pauline Moore, Allan Lane, Keye Luke, C. Henry Gordon, and John Eldredge. The film was distributed by 20th Century Fox.
16. Jim Thorpe- All-American
Jim Thorpe was a legendary American athlete who won medals at the 1912 Olympics. He was also a well-known name in both college and professional teams. This 1951 biographical sports film was based on his life and he was portrayed by Burt Lancaster. Jim Thorpe was one of the co-writers of the film, which was directed by Michael Curtiz and produced by Everett Freeman. Others who starred in this move included Charles Bickford and Phyllis Thaxter. The story of the film covers when Thorpe was stripped of his medals. 32 years after the release of the movie, his medals were reinstated. Sadly, he had died thirty years earlier so was unaware he had been given this honor posthumously.
15. American Anthem
'American Anthem' is a 1986 sports drama film. It is the story of an American football player, Steve Tevere, who becomes a gymnast and dreams of joining the United States team. He has to push himself hard and uses unusual training techniques to achieve his dreams. The main character is portrayed by Mitch Gaylord who was a real member of the United States men's gymnastics team who competed in the 1984 Summer Olympics and won gold medals. Others who starred in this movie included Janet Jones, Michael Pataki, Tiny Wells, Patrice Donnelly, and R.J. Williams. This film was directed by Albert Magnoli.
14. The Ringer
This film is a 2005 sports comedy that was written by Ricky Blitt, directed by Barry W. Blaustein, and produced by the Farrelly brothers. It starred Johnny Knoxville, Katherine Heigl, and Brian Cox. There were also cameos from Jesse Ventura and Terry Funk. The film is about a guy called Steve who runs into financial problems, as does his uncle. As he was a former track and field star at school, he enters into the Special Olympics pretending to be a high-functioning man with a developmental disability. His uncle assumes he will easily beat the other competitors and puts a large bet on him winning the gold medal. Steve falls in love with one of the volunteers and makes friends with the other competitors. Steve does not win and comes third in the finals before he is discovered as a fraud. His movie was a commercial success as it grossed $40.4 million at the worldwide box office from a budget of $20 million.
13. The Cutting Edge
'The Cutting Edge' is probably the most famous film about ice-skating of all-time. This 1992 romantic comedy is about a former Olympic ice-skating champion who is paired with an ex-ice hockey player. Although there are tensions and resentments between the two, they must work hard to compete in the 1992 Winter Olympics. It is at the finals of the Albertville Olympics that the pair realize they have fallen in love. The lead roles are played by D.B. Sweeney and Moira Kelly. The film also stars Roy Dotrice, Terry O'Quinn, Dwier Brown, and Chris Benson. This movie was written by Tony Gilroy and directed by Paul Michael Glaser. 'The Cutting Edge' grossed $25,105,000 at the worldwide box office.
12. Race
Directed by Stephen Hopkins, this is a biographical sports drama that is based on the life and achievements of African-American athlete Jesse Owens. This athlete competed in the 1936 Berlin Olympic Games and won a record-breaking four gold medals. The film was written by Joe Shrapnel and Anna Waterhouse. Jesse Owens is played by Stephen James and others starring in this movie included Jason Sudeikis, William Hurt, Jeremy Irons, and Carice van Houten. Although the film is predominantly about the sporting career and achievements of Jesse Owens, it also covers the racial discrimination he faced and his struggle to financially support his girlfriend and young daughter. 'Race' was a commercial success when it was released in 2016 as it grossed $25.1 million at the box office from a budget of $5 million.
11. Tokyo Olympiad
This 1965 documentary film is considered by those in the industry as a milestone in documentary filmmaking. It was directed by Kon Ichikawa and covers the events of the Tokyo Summer Olympics in 1964. Rather than concentrating on the winning and the results of the events, this documentary focuses on the human side of such a big competitive event and about the athletes taking part. The original film is in Japanese and caused controversy when it was released as the Japanese government opposed the content of the film. In fact, the Japanese Olympic Committee forced Ichikawa to re-edit the movie so that it better-suited their own vision.
10. I, Tonya
Tonya Harding was one of the most successful ice skaters for the United States of all-time. However, she faces an uphill battle to achieve her dreams. 'I, Tonya', is a 2017 biographical film that tells her life story of this talented skater, including the many controversial incidents in her life. For example, the assault of her competitor, Nancy Kerrigan, is documented. Harding's competitive performances in the Olympics are a major part of this movie. The film was written by Steven Rogers and directed by Craig Gillespie. Margot Robbie plays the role of Tonya Harding and others who star in the movie include Sebastian Stan, Allison Janney, Julianne Nicholson, and Bobby Cannavale. It was made on a budget of $11 million and grossed $32.1 million at the worldwide box office.
9. Unbroken
Although this 2014 film is about the Olympics, it is actually best-described as a war film. It is about Louis Zamperini who was a United States Olympian who then became an army officer in World War II before being captured and held in a prisoner of war camp. It is based on the non-fiction book of the same name by Laura Hillenbrand. The screenplay was written by the Coen brothers, along with William Nicholson and Richard LaGravenese. It was produced and directed by Angelina Jolie. The film was a huge critical and commercial success. From a budget of $65 million, it grossed $116 million in North America and $163 million at the worldwide box office. Jack O'Connnell portrays Louis Zamperini and the movie also stars Domhnall Gleeson, Miyavi, Garrett Hedlund, and Finn Wittrock.
8. Blades of Glory
This 2007 comedy film is about rival men's singles skaters at the 2002 World Winter Olympics, the hilarious incidents that take place in their battle for supremacy and the challenges they face to enter the next competitive event. It was directed by Josh Gordon and written by Jeff Cox, Craig Cox, John Altschuler, and Dave Krinsky. The movie stars Jon Heder and Will Ferrell in the lead roles with supporting cast members including Craig T. Nelson, Will Arnett, Amy Poehler, and Jenna Fischer. It was made on a budget of $62 million and grossed $145.7 million at the worldwide box office. It also received positive reviews from critics.
7. Prefontaine
Steve Prefontaine is one of the most famous middle and long-distance runners in American history. He competed in the 1972 Olympics and also held the American records in seven different distance track events. His career was cut tragically short when he died in a car accident in May 1975 when he was just 24 years of age. 'Prefontaine' is a 1997 biographical film that covers his life story. The story is told from the perspective of the assistant coach, Bill Dellinger, and Nancy Alleman, who was Prefontaine's girlfriend when he died. He is portrayed in the movie by Jared Leto and others starring in the movie included R. Lee Ermey, Ed O'Neill, Amy Locane, Laurel Holloman, and Lindsay Crouse. The film was directed by Steve James who also co-wrote the movie with Eugene Corr.
https://www.youtube.com/watch?v=e8s5DJBDjnA
6. Without Limits
'Without Limits' is another movie that is based on the life of Steve Prefontaine. However, this 1998 biographical sports film follows the relationship between Prefontaine and his coach, Bill Bowerman. Prefontaine is played by Billy Crudup and Bowerman is portrayed by Donald Sutherland. The movie also stars Monica Potter, Judith Ivey, William Mapother, Jeremy SIsto, and Matthew Lillard. It was directed by Robert Towne who also co-wrote the film with Kenny Moore. Tom Cruise was one o the producers of the film, along with Paula Wagner. Despite receiving a good critical response, this movie was a commercial disaster. It was made on a budget of $25 million and took only $777,423 at the box office.
5. Foxcatcher
This biographical true crime sports drama was released in 2014. It was directed by Bennett Miller and co-written by E. Max Frye and Dan Frutterman. The film starred Steve Carell, Chnning Tatum, Mark Ruffalo, and Vanessa Redgrave. The story is based on the events of the life of John E. du Pont, who was a wrestling enthusiast and multimillionaire heir. In 1986, he recruited two wrestlers who had won gold medals at the 19854 Olympic games. He wanted them to train other wrestlers to prepare to compete in a range of national and international events, including the Olympics. Although it was a commercial failure, this film was nominated for multiple awards, including three Golden Globes and five Oscars.
4. Eddie the Eagle
Eddie the Eagle was a skier who earned both fame and notoriety when he became the first person from Great Britain to compete in the Olympic ski jumping event since 1929 when he participated in the Olympics in 1988. While he was widely praised for his ambition and determination, he was also ridiculed for his lack of ability. In 2016, the biographical sports comedy film 'Eddie the Eagle' was released. This movie depicts his life story in both a comical and dramatic manner. It was directed by Dexter Fletcher and co-written by Sean Macauley and Simon Kelton. Taren Egerton plays the role of Eddie Edwards and others starring in the movie include Hugh Jackman, Christopher Walken, Iris Berben, and Jim Broadbent. This movie was surprisingly successful at the box office as it grossed $46.1 million from a budget of $23 million.
3. Miracle
This 2004 sports docudrama was written by Eric Guggenheim and directed by Gavin O'Conner. The plot of the movie is about the United States men's hockey team that won the gold medal in the Winter Olympics of 1980. The team was led by coach Herb Brooks who is portrayed by Kurt Russell in the movie. When the United States beat the Soviet team, who were the favorites to win, commentators dubbed it a 'Miracle on Ice'. Also starring in this film were Patricia Clarkson, Noah Emmerich, Sean McCann, Kenneth Walsh, Eddie Cahill, and Patrick O'Brien Demsey. 'Miracle' was well-received by critics and grossed $64.5 million at the box office from a budget of $28 million.
2. Cool Runnings
'Cool Runnings' has become one of the most popular and talked about movies based on the Olympics of all-time. This 1993 comedy sports film was directed by Jon Turteltaub and co-written by Susan B. Landau, Jeffrey Bydalek, Dawn Steel, and Chris Meledandri. The movie starred Leon, Rawle D. Lewis, Doug E. Doug, John Candy, and Malik Yoba. In the film, John Candy plays a man of forming his own bobsledding team to compete in the Winter Olympics. Bizarrely, he decides to form this team in Jamaica, where there is no snow and nowhere to practice. In fact, bobsledding is an unknown sport in Jamaica. Despite their lack of experience, their hard work pays off and they make it to the Winter Olympics to compete in the bobsledding events. At one point, it even looks as though they have a chance of winning until their sled overturns. They are determined to make it over the finish line, so they pick up their sled and carry it to the finish line as a team. Although they had faced ridicule from the other team previously, this earns their respect and everyone claps in support as the team cross the line.
1. Chariots of Fire
'Chariots of Fire' is probably the most famous Olympics film of all-time. This is a 1981 fact-based historical drama film that was written by Colin Welland and directed by Hugh Hudson. It tells the story of two athletes who competed in the 1924 Olympic Games. The first is Eric Liddell who runs for the glory of God as a devout Christian. The other is Harold Abrahams who is an English Jew who is aiming to overcome prejudice. Ben Cross plays the role of Abrahams Liddell is portrayed by Ian Charleson. Others who star in this movie include Nigel Havers, Cheryl Campbell, Alice Krige, Lindsay Anderson, and Dennis Christopher. This movie received great critical acclaim and was nominated for seven Academy Awards, of which it won four. The name of the movie comes from a line in a William Blake poem, 'Bring me my chariot of fire'. This poem was an adaptation of the hymn 'Jerusalem'. This British film was made on a budget of just $5.5 million and grossed $59 million at the United States box office.
Tell us what's wrong with this post? How could we improve it? :)
Let us improve this post!