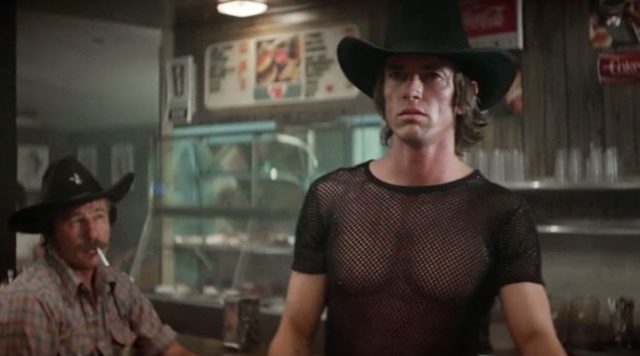 Scott Glenn is an American actor who was born in Pittsburgh, Pennsylvania on January 26, 1939. When he completed his English degree, he joined the United States Marine Corps for three years before becoming a journalist at a newspaper as he dreamed of becoming a writer. He took acting classes and then decided to pursue a career in acting. He began acting first on stage and had roles in many productions by La MaMa Experimental Theatre Club before joining 'The Actors Studio' to work professionally on stage and in television. He later moved to Los Angeles where he had plenty of work with small roles in both television and film. Since then, he has had many major roles in movies. Here are five of the best movie roles in Glenn Scott's career.
1. Urban Cowboy
In this 1980 romantic drama, Scott Glenn played the role of Wes Hightower. The lead roles in the movie were played by John Travolta and Debra Winger. The screenplay was written by James Bridges and Alan Latham and was based on an article that Latham wrote for 'Esquire'. The movie was directed by James Bridges. Some film critics described 'Urban Cowboy' as a country music version of 'Saturday Night Fever'.
2. The Right Stuff
'The Right Stuff' is an adaptation of a book by the same name written by Tom Wolfe. This epic historical drama was adapted to a screenplay by Phillip Kaufman who also directed the movie. It was released in 1983 and is about test pilots in the Navy, Marine, and Air Force involved in aeronautical research. In the movie, Scott Glenn played the role of Alan Shepard, USN. Others starring in this movie include Fred Ward, Charles Frank, Ed Harris, Lance Henriksen, Dennis Quaid, and Scott Paulin.
3. Silverado
Mark and Lawrence Kasdan co-wrote this movie while Lawrence Kasdan also produced and directed 'Silverado'. Scott Glenn plays the role of Emmett in this 1985 western movie. Others starring in this movie include Kevin Kline, Kevin Costner, and Danny Glover. The movie was well-received both critically and at the box office and it was nominated for Best Original Score and Best Soundtrack at the Academy Awards.
4. Silence of the Lambs
'Silence of the Lambs' is an award-winning horror-thriller movie that was released in 1991. The original novel was written by Thomas Harris and was adapted into a screenplay by Ted Tally. It was directed by Jonathan Demme and starred Jodie Foster and Anthony Hopkins. It is about Dr. Hannibal Lecter who is a cannibalistic serial killer who is also a brilliant psychiatrist. Scott Glenn plays the role of Jack Crawford who works for the FBI's Behavioral Science Unit and is in pursuit of 'Buffalo Bill', a serial killer.
5. The Bourne Ultimatum
Glenn plays Ezra James, Director of the CIA, in this 2007 action spy thriller. 'The Bourne Ultimatum' is based on a novel by Robert Ludlum and was adapted into a screenplay by Tony Gilroy, George Nolfi, and Scott Z. Burns. It is the third in the Jason Bourne series of movies. It was directed by Paul Greengrass. Those starring alongside Scott Glenn in this movie include Matt Damon, Julia Stiles, David Straithairn, and Paddy Considine. This movie was well-received critically and was given an approval rating of 93% on Rotten Tomatoes. It grossed $442,824,138 at the worldwide box office.
Honorable mention to Training Day and The Hunt for Red October
Tell us what's wrong with this post? How could we improve it? :)
Let us improve this post!