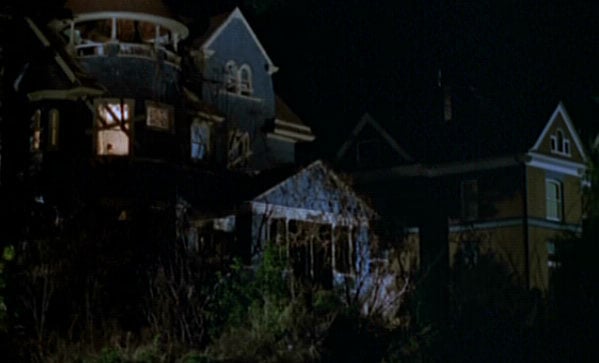 One can only imagine how many horror fans with a large bank account would love to own the home that featured Michael Myers during his infamous run. But one downside to this home is that for the asking price it is a little crazy to think that there might be any work that's needed since $950,000 is pretty steep despite the size of it and the over 7 thousand square feet of space. It's easy to think that someone might want to see the price knocked down just a bit in order to accommodate any repairs that might need to be made since a project this big is likely going to require a bit of attention and a pretty good chunk of change to fix. But then again, the fact that it's a real home, as well as a novelty for anyone that happens to recognize it, might keep the price right where it is since according to MovieWeb:
"This Victorian estate is one of the Avenues' historic masterpieces. It was designed by renowned architect Frederick Albert Hale, who also designed the original Salt Lake City Public Library as well as the Alta Club, the Eagles Club, and other iconic private and public structures. It served as a residence for several notable families before it was converted to apartments in the mid-1900s. Since that time, it has functioned as a triplex, four-plex, five-plex, and a single-family home. It has ten bedrooms, five bathrooms, four kitchens, several living areas with two fireplaces, as well as a formal dining room and entryway. It's one of those lovely, well-built homes with high ceilings, large solid-wood doors, stained-glass windows, intricate woodwork, and custom hardware, and it sits on a .39-acre corner lot in the coveted Avenues neighborhood."
https://twitter.com/looochp/status/1330820066942869506?ref_src=twsrc%5Etfw%7Ctwcamp%5Etweetembed%7Ctwterm%5E1330820066942869506%7Ctwgr%5E%7Ctwcon%5Es1_&ref_url=https%3A%2F%2Fmovieweb.com%2Fhalloween-5-michael-myers-house-for-sale%2F
It's not really that odd to think that the listing doesn't mention that it was used in Halloween since this might actually be a point that might work against the sale. Not everyone is a horror fan after all, and some might actually be turned off by supposed bad juju or something similar if they found out that this home had been used for one of John Carpenter's biggest success stories. The thing about real estate is that if one can feel out the clients then it might be okay to mention such a thing as this, but otherwise, it's better to keep it on the down-low with the idea that if the prospective buyers did their research they might already know and not care. Real estate is kind of funny that way, some people want to know everything about a home before they move in, down to the construction details and the history behind it, while others really don't care since they're more interested in when they can move in and how to decorate each room.
Ten rooms is definitely a big home for a lot of people since the kind of square footage that the home offers is more than enough room for quite a few people, and can easily sustain a large family. It doesn't exactly sit on a huge lot when one really thinks about the size of it, but the plot of land it's standing on is still impressive all the same since the house all by itself is something special. Now if a person has close to a million dollars lying around that they want to use to purchase the home they can walk in and hope to be given the keys if they can pay. The average horror fan probably won't even have half the asking price available, but it's a nice dream to have anyway, and it's bound to happen that if someone does move in that has no knowledge of the home's Hollywood connection that someone will end up telling them eventually. It would be interesting to see how people might react to this news if they didn't know it already, but one can imagine that they might not care since unless someone was actually killed or died in the home it's bound to happen that folks won't care too much.
Some folks might want to keep as far away from this house as possible simply because Halloween was a creepy movie and one that they still have nightmares about, but those that are big Michael Myers fans might want to take a tour through the home, or perhaps masquerade as prospective buyers in an attempt to get a look inside one of the most iconic homes in movie history. That would likely be extremely irritating if it did happen, which makes it a hope that the agent listing the home would be on the lookout for anyone making such an attempt. Obviously, only truly interested buyers need to apply for the sake of keeping things as rational as possible, but it's very likely that some horror fans might be thinking of what it would take to get a peek inside.
Tell us what's wrong with this post? How could we improve it? :)
Let us improve this post!