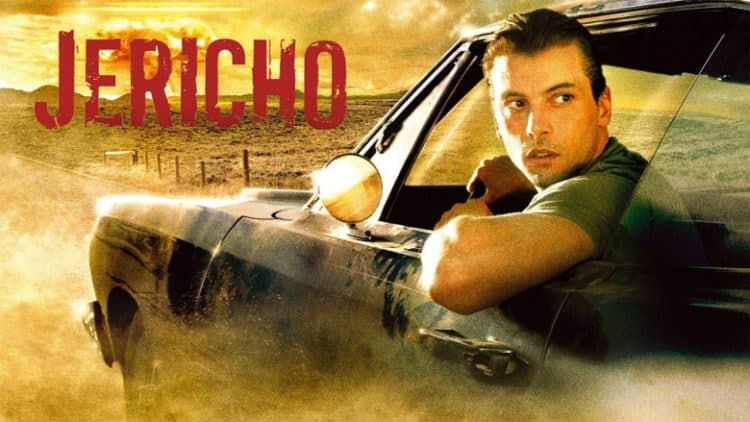 There are some shows that manage to leave a huge impact on viewers even if their time on the air is short-lived. That was certainly the case for Jericho. When the show debuted in 2004, lots of people had high hopes. Unfortunately, though, those hopes never fully came to pass. The series lasted for just two seasons, but it managed to build a large following during that time. Since the show's end, however, many people have wondered what became of some of the series' biggest stars. While it's true that you've certainly seen some of their faces in the years since Jericho, there are also some whose careers have been a little less active. Keep reading to find out what happened to the cast of Jericho.
When Skeet Ulrich was cast in Jericho, he already had a pretty well-established acting career. Things haven't slowed down for him at all since and he's been cast in well over a dozen projects since the Jericho days. Most notably, he's been playing FP Jones in Riverdale since 2017. At the moment, he has three movie projects in the works. He's also gotten into writing and producing. Outside of acting, Skeet is a fairly private person. However, we do know that he is a proud father of two – he and his first wife, Georgina Cates, had a set of twins.
Born in England, Lennie James has become a well-known star all over the world. He hasn't had any trouble finding work since Jericho and he has spent the last several years showing the world that he can play just about any kind of character. Some of his recent credits include The Walking Dead, Fear The Walking Dead, and Save Me. Even though Lennie doesn't have any roles coming up, you can trust that he has a lot more to share with the world.
Ashley Scott as Emily Sullivan
When Ashley Scott was cast in Jericho, it was the first time in a few years that she'd had a major TV role. Her portrayal of Emily Sullivan earned her a good amount of attention. However, after the show, she appeared to be more focused on movie roles than TV opportunities. In more recent years, her career has slowed down a bit and many of her latest roles have been relatively minor. She hasn't made an on-screen appearance since 2020 and doesn't have any roles in the works.
Kenneth Mitchell as Eric Green
Every actor has that one role that helps change the course of their career. In a lot of ways, playing Eric Green in Jericho was that opportunity for Kenneth. After the series ended, he continued to land great opportunities and has even more in the works. He will be in an upcoming TV series called The Old Man which is set to be released in 2022.
Michael Gaston as Gray Anderson
Michael Gaston currently has more than 100 credits on his acting resume, and many of them came after his time on Jericho. He has been in a wide variety of projects and he has no problem moving between genres with ease. He has two TV shows and a movie in the pipeline. In 2012, he also produced a documentary called Tending Fires.
Pamela Reed as Gail Green
She hasn't won any major awards, but in many ways, Pamela Reed is a legend in the entertainment industry. Her acting career has been long and consistent and she's gotten the chance to work with some pretty big names over the years. Pamela's roles may not always be the biggest, but Pamela makes an impact every time she gets in front of the camera. Her most recent on-screen role was in the 2020 film Language Arts. Not only has she had success in her live-action roles, but Pamela is also a very talented voice actress.
Shoshannah Stern as Bonnie Richmond
As a deaf actress, Shoshannah Stern has worked extra hard to make a name for herself and provide representation for the deaf community. She may not have the longest resume, but she's had some great experiences over the years. After Jericho, she continued to land various opportunities. Most recently, she was in the 2021 movie The Magnificent Meyersons.
Brad Beyer as Stanley Richmond
Jericho was one of Brad Beyer's first major TV roles, and he certainly didn't let the opportunity go to waste. Even though Jericho is arguably still his biggest role, he has become a fixture on our screens over the years. After the show was canceled, Brad spent a few years only being cast in small roles until the 2010s when bigger roles started coming along. His most recent credit is the TV series For All Mankind.
Despite her last name, Alicia isn't part of the famous Coppola family. Still, however, she has carved out a place for herself in the entertainment industry. She started her acting career in the late 1980s and it didn't take long for her to find her footing. During the early 90s, she became known for her role in the TV series Another World. By the time she was cast in Jericho, she already had a good amount of experience under her belt. After the show, Alicia didn't get another major TV role until 2016 when she was cast in The Young and the Restless. Since then, she has been a consistent presence on the small screen and she has been a part of some popular shows including Empire and NCIS: Los Angeles.
Sprague Grayden as Heather Lisinski
Breaking into the entertainment industry can be very challenging, and staying can be even harder. However, Sprague Grayden has managed to do both. Jericho proved to be a great stepping stone for her to move on to other opportunities, and that's exactly what she did. Her last on-screen appearance was in the 2020 movie Gossamer Folds. At the moment, she doesn't appear to have any upcoming roles. However, there's a very good chance that we haven't seen the last of her.
Erik Knudsen as Dale Turner
Born and raised in Canada, Erik Knudsen has become an international star over the course of his career. Even though things got off to somewhat of a slow start for him, he got his big break in 2003 when he was cast in the TV series Mental Block. Being cast in Jericho was his second major TV role. When the show ended in 2006, Erik spent a few years focused on movie roles. In 2011, he was in the horror movie Scream 4. In 2012, he was in the movie Saw II. That year, he also earned a significant role in the TV series Continuum. Many of his more recent roles have been a little on the smaller side, but don't count Erik out just yet. Outside of his work, Erik is a pretty private person. From what we can tell, Erik doesn't have any verified social media accounts and he doesn't seem to do many public appearances.
Emily Rose as Trish Merrick
Emily Rose was only a cast member in Jericho for the second season, so it's possible that some viewers may have forgotten about her. However, even if you don't know her from Jerricho there's a good chance you know her from something else. She has appeared in a wide variety of projects over the years, but she is probably best known for playing Audrey Parker in the TV series Haven from 2010 to 2015. Although she has continued to work since her time on Haven, her career has slowed down a bit in recent years. Despite that, however, Emily seems to be doing well. When she isn't working, she loves spending time with her family. She has three children and she has been happily married since 2009.
Richard Speight, Jr. as Bill Kohler
Multi-talented and hard-working, Richard Speight, Jr. is the kind of performer who put 100% into everything he does. By the time Jericho came along, Richard was already very well-established in the industry. Since the show's end, he has been focusing on both movie and TV opportunities. No matter what, though, Richard's performances tend to be memorable in the best ways possible. When Richard isn't working, he enjoys exploring the great outdoors. He has never been one to share much about his personal life.
Esai Morales was only in the second season of Jericho, but he still made a big impact during his time on the show. With well over 100 acting credits to his name, Esai has done a little bit of everything and he still has a lot to offer the world. He has been in over a dozen shows since Jericho and many of them have been very popular including NCIS: Los Angeles and How to Get Away with Murder. Esai's fans will be excited to know that the next few years of his career are going to be huge. He is in the process of working on several projects including Mission Impossible 7 and 8 which will be released in 2022 and 2023 respectively.
Tell us what's wrong with this post? How could we improve it? :)
Let us improve this post!