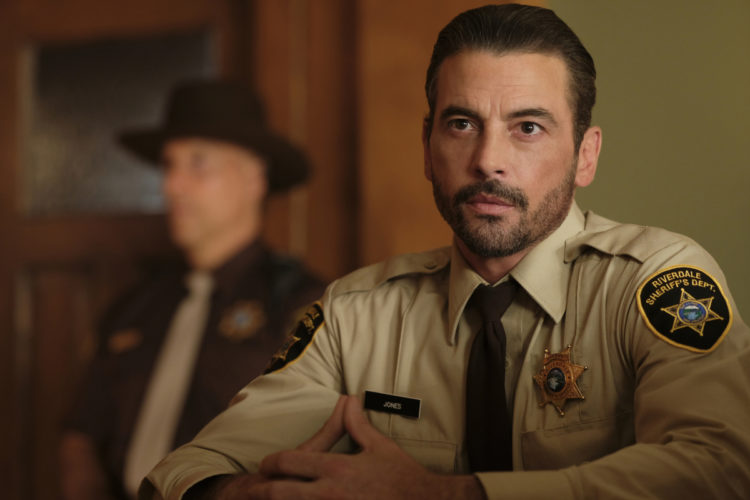 Skeet Ulrich is a kind of name that's difficult to forget. Of course, it would also difficult to forget that Ulrich was one of the biggest stars of 90s film. It's hard to believe that it had already been over 20 years since Scream first scared the lives out of us all, but that's how it is. Celebrities come and go, and sometimes they come back. No one ever really thought that Skeet Ulrich would come back to mainstream again after he'd disappeared for a while. He acted in various films and television shows since the 90s, but he hasn't really made news until he joined the cast of Riverdale in 2017. These days, Ulrich has been in the news for his departure from the show after four seasons. Fans are sad to see him go, but we're all hoping he do more projects in the future. If you have already forgotten who Skeet Ulrich is, here are 10 things about him to get you started on remembering.
1. His name is not really Skeet
Skeet is definitely a lot more memorable than Bryan Ray Trout, so we totally get the screen name. It's hard to believe that Ulrich is now 50 years old. The American actor was born in New York. Ulrich gets his last name from his stepfather, D.K. Ulrich, who is a NASCAR driver and team owner. Skeet Ulrich's uncle was also a NASCAR driver and his grandfather was also in the automotive industry.
2. He was supposedly kidnapped as a kid
We could all leave it to Ulrich to have the craziest stories. As a 90s celebrity, he was always seen as the crazy guy, and he always played crazy roles. In an interview he conducted early on in his career, Ulrich stated that their father kidnapped him and his brother. He said that he spent three years of his life jumping from state to state before he was finally reunited with his mother.
3. How he got his nickname
Ulrich played Little League just like your average kid next door. However, this was where he supposedly got his nickname. His coach dubbed him "Skeeter" because of his small stature, and it just stuck with him until he was older. He's definitely no longer a "Skeeter" now, but Skeet still suits him just fine.
4. He had poor health
Unfortunately, Ulrich didn't have the healthiest childhood. It could've been the reason for his small frame as a kid, but he was also weak from various illnesses. When he was only 10 years old, Ulrich underwent a major open-heart surgery in order to fix a congenital defect–a problematic ventricle. That alone is a lot for such a young body to handle. In addition to that, Ulrich also experience several bouts of pneumonia–something that weakened his body even more.
5. He studied marine biology
Ulrich's career path could've been very, very different from acting. First off, he had a lot of racecar driving influences in his life. He could've been a racecar driver or even just in the automotive industry altogether. After he graduated high school, he moved south to attend the University of North Carolina to study marine biology. For all we know, he could've been an excellent marine biologist as well. However, when he transferred to New York University, fate called him up, as playwright David Mamet took notice of him.
6. He started off in theater
We know Ulrich from all the films he has done, some of which have become 90s cult classics today. However, he actually got his acting start as an apprentice for the Atlantic Theater Company. It makes sense now knowing that he was discovered by a playwright, and Ulrich actually spent some time touring with the company before he was noticed by a film director, Stacy Cochran.
7. He was married to Georgina Cates
Georgina Cates is an English actress. Ulrich met Cates at an Academy Awards party back in the early 90s, and the two ended up getting married in 1997. In 2001, the couples had twins, Jakob Dylan and Naiia Rose. However, the two divorced in 2005, 8 years after their marriage, due to irreconcilable differences. According to Cates, Ulrich owed her more than $200,000 in missed child support payments, but Ulrich pled not guilty to the accusation.
8. He got married again
Ulrich opened up his heart to love again a few years later. He married Amelia Jackson-Gray in 2012, but the two ended up divorcing just three years later. Shortly after that, Ulrich got engaged to Rose Costa, a Brazilian model. Unfortunately, Ulrich wasn't lucky in love yet again, and he ended up splitting with Costa just a year after their engagement. There hasn't been any news of Ulrich getting together with anyone after Costa.
9. He doesn't like getting his photos taken
It's interesting that there aren't a lot of red carpet photos of Ulrich around. In fact, there aren't that many pictures of him around at all. According to Ulrich, the fame was something that he wasn't particularly interested in. That was pretty much the reason why he avoided red carpet events pretty much throughout his entire career. He hated getting his pictures taken and everything else that came along with that.
10. He enjoys woodworking
We could totally imagine Ulrich getting his woodworking done in spurts throughout his entire career, where he would have pauses in between film and television appearances. Woodworking is something that Ulrich enjoyed very much. He enjoys building various big-item things such as tree houses and furniture. Woodworking is something that gives him a lot of control–a big departure from how acting is. We can only imagine that he must have jumped into woodworking right after he left Riverdale. It's likely that we won't see his face on screen again for a while, but we're sure he's creating something artistic regardless.