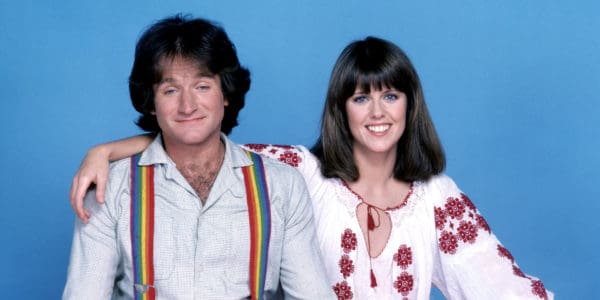 Every once in a while there's a show that comes along and takes the world by storm. During the 1970s, Mork and Mindy was one of those shows. Debuting in 1978, the series starred Robin Williams as an alien named Mork and Pam Dawber as Mindy, the woman who finds Mork and tries to teach him about life on earth. Even though the show lasted for just four seasons, it left a lasting impression on viewers. Even now, nearly 40 years after the show's final episodes, many people still have fond memories of it. While some of the show's cast members went on to have very successful careers, others have been relatively quiet since the end of Mork and Mindy. Keep reading to find out whatever happened to the cast of Mork and Mindy.
Robin Williams
Robin Williams began his career as a stand-up comedian during the 1970s, and by the end of the decade, he had made his way into the TV world. Mork and Mindy was one of Robin Williams' first professional acting jobs, and it opened up the doors for lots of other opportunities. As you probably already know, Robin Williams went on to have an extremely successful film career and is often considered one of the greatest comedians and actors of his generation. During his career, he won an Academy Award as well as two Emmys and six Golden Globes. Sadly, Robin died by suicide in the summer of 2014. He was just 63 years old at the time.
Pam Dawber
As with Robin Williams, Mork and Mindy was one of Pam Dawber's earliest acting opportunities. When the show ended, she spent the rest of the early 1980s appearing in TV movies and making guest appearances in TV shows. In 1986, she got another major role when she was cast in the TV series My Sister Sam. Unfortunately, however, the show lasted for just two seasons. In 1987, Pam married actor Mark Harmon and they have two children together. She has continued to act over the years, but playing Mindy continues to be her most well-known role. Her latest appearance was in 2021 when she appeared in several episodes of NCIS.
Elizabeth Kerr
By the time Mork and Mindy came along, Elizabeth Kerr had already been acting for several decades. She began her career in 1947, but many of her roles throughout the 40s, 50s, and 60s, were relatively small. However, while Mork and Mindy might be her best-known on-screen role, Elizabeth also had a very successful theater career that included several Broadway productions. When Mork and Mindy ended, Elizabeth continued to make small guest appearances in TV shows until the early 1990s. Elizabeth passed away in 2000 at 87 years old.
Conrad Janis
Conrad Janis was born and raised in New York City. He started his professional acting career in 1945 when he was still a teenager. From then on, he continued to be a fixture in the industry. From TV shows to movies, Conrad quickly showed his versatility. However, even though he had been in the business for many years before being cast in Mork and Mindy, the show was his first major TV opportunity. When the series ended, Conrad appeared in quite a few TV shows and he also made several movie appearances. In addition to his acting career, Conrad also found success as a jazz musician. Now in his early 90s, it appears that he has retired from performing.
Tom Poston
Tom Poston was the kind of performer who could do a little bit of everything. From the screen to the stage, he always knew exactly how to put on a good show. After Mork and Mindy, Tom continued to work consistently with roles in shows like Grace Under Fire and That '70s Show. Over the course of his career, Tom was well-loved by fans and well respected by his colleagues. He passed away in 2007 at 85 years old. His wife, actress Suzanne Pleshette, passed away the following year.
Jay Thomas
Prior to getting into the acting world, Jay Thomas was a successful radio host. His role as Remo DaVinci in Mork and Mindy was his first on-screen role and he appeared in the second and third seasons of the show. After leaving the series, Jay went on to appear in several successful TV shows such as Cheers, Murphy Brown, and Ray Donovan. Sadly, Jay passed away in 2017 after a battle with throat cancer. He was only 69 years old at the time.
Gina Hecht
Gina made her professional acting debut in 1979 which was also the same year she was cast in Mork and Mindy. Even though she was only in seasons two and three of the show, it proved to be a great starting point for her career. From movies to TV shows, Gina has been a consistent presence in the entertainment industry. You may have seen her in shows such as Dave and General Hospital. In addition to acting, Gina also made her debut as a producer in 2001 with a short film called Odessa or Bust.
Jim Staahl
Jim Staahl has had quite an impressive career. From acting to screenwriting, he has gotten the opportunity to work on a wide variety of projects. Needless to say, he has been pretty busy since his days on Mork and Mindy. Jim Staahl hasn't done anything new in the last few years, but we might see more of him in the future.
Crissy Wilzak
Crissy Wilzake made her on-screen appearance in Mork and Mindy. Surprisingly, though, she only made an on-screen appearance after her time on the show. Most of her acting experience comes from the stage and she has lots of experience on Broadway. Unfortunately, there isn't much information on what Crissy has been up to in recent years, and she doesn't appear to have any social media accounts.
Jonathan Winters
Known for his work as an actor, comedian, writer, and producer Jonathan Winters went on to have a very successful career after Mork and Mindy. In the latter part of his career, Jonathan did a lot of voice work in shows like The Smurfs. He continued to work until his death in 2013.
Tell us what's wrong with this post? How could we improve it? :)
Let us improve this post!