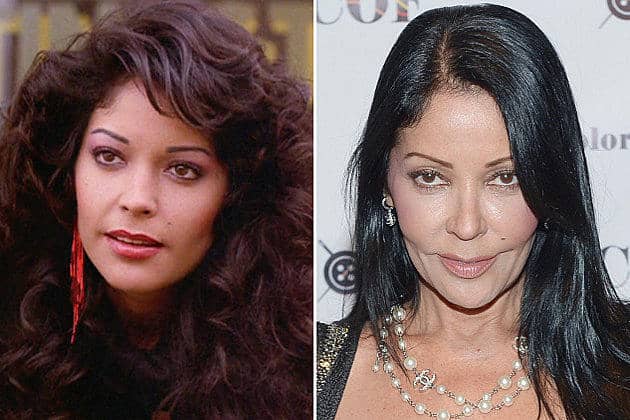 If you were around during the 1980s then the name Apollonia Kotero is probably pretty familiar to you. Apollonia initially started gaining mainstream recognition as a member of the group Apollonia 6. However, she really rose to fame in 1984 when she was cast with a starring role in the movie Purple Rain which starred the legendary musician, Prince. Although she had been in the entertainment industry prior to the film, the movie really helped take her career to the next level. Although she made a handful of other on-screen appearances during the 80s, she had essentially vanished from the spotlight by the time the 90s rolled around. In the years since, many people have wondered what became of Prince's one-time protege. Keep reading to find out whatever happened to Apollonia Kotero.
Apollonia's Career Journey
Apollonia, whose birth name is Patricia Apollonia Kotero, was born and raised in California. She is a first-generation American whose parents came to the United States from Mexico. Although she came from humble beginnings, it was clear that she had the potential to be a star. When she was 16 years old, she decided to leave school to focus on building a modeling career. In addition to modeling, Apollonia also won the Miss San Pedro beauty pageant she also spent some time as a cheerleader for the Los Angeles Rams.
Eventually, however, she decided that she wanted to get into acting. She made her first on-screen appearance with a very small role in the 1979 movie La mafia de la frontera. During the 1980s, she started getting more acting opportunities which eventually led her to the opportunity to appear in the music video for Prince's song "When Doves Cry" which was released in 1984. This resulted in her earning her role in Purple Rain after Vanity, who was originally slated for the opportunity, parted ways with the music group Vanity 6. On top of replacing Vanity in the movie, Apollonia also replaced her in the group which ultimately became Apollonia 6. The group released its first and only album in 1984.
In 1985, Apollonia landed another impressive acting opportunity when she was cast in the soap opera, Falcon Crest. She appeared on the show for 10 weeks. After 1986, Apollonia took a bit of a hiatus before reemerging in 1988 with her self-titled solo debut. Two singles from the album achieved moderate success on the US Dance charts. Apollonia made several sporadic on-screen appearances in the late 1980s and throughout the 1990s. Her most recent role was in a 2006 movie titled The Divorce Ceremony. Apollonia's work in front of the camera may have started to slow down, but that didn't mean she wasn't working. She started a company called Kotero Entertainment which doubled as a production and talent management company.
What Is Apollonia Doing Now?
Even though you may feel like you haven't seen Apollonia in decades, the truth is that she's been busy this whole time. In addition to continuing to run her company, she recently got into the podcasting world. She is the host of a podcast called Apollonia 6 where she discusses a wide variety of topics and often has guests. The YouTube channel where she posts episodes of her podcast has gotten more than 110,000 views. In addition to that, she is very active on Instagram where her following consists of 162,000 people. She often posts throwback photos and videos as well as current content that offers a glimpse into her life and her work. While we were able to get a good idea of what Apollonia has going on professionally, the same can't be said when it comes to her personal life. She has maintained a fairly high level of privacy over the years and that probably isn't going to change.
What's Next for Apollonia?
Thanks to her podcast and her entertainment company, the future is looking very bright for Apollonia. She still has lots of things she wants to share with the world and she continues to find creative ways to do just that. Unfortunately, it doesn't look like Apollonia has plans to return to the screen any time soon. According to her IMDB page, she doesn't currently have any projects in the works. However, there's always a chance that she may decide to step in front of the camera again. Although she didn't have a very long-acting or music career, her work with Prince allowed her to be part of something legendary. She continues to maintain close relationships with many people in the entertainment industry and her contributions will be loved and appreciated for years to come.
Tell us what's wrong with this post? How could we improve it? :)
Let us improve this post!