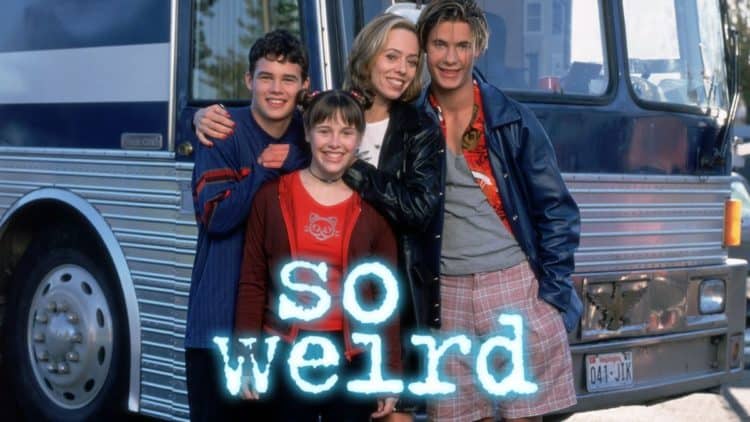 When So Weird premiered on the Disney Channel at the beginning of 1999, it was unlike any other show the network had released. The show, which combined the best of mystery and science fiction, was a bit more mature than many of the other shows on Disney Channel. Even though it only aired for three seasons, So Weird's legacy continues to live on. That said, however, many of the show's fans have wondered what became of the cast in the years since the show's cancelation. While you may have seen a few of its stars on TV since then, many of them have disappeared from the spotlight. Keep reading to find out what happened to the cast of So Weird.
Cara DeLizia as Fiona Phillips
When Cara DeLizia was cast in So Weird, she had already been in the entertainment industry for almost a decade. Her first big break came in 1996 when she was cast in the TV series Nick Freno: Licensed Teacher. After leaving that show in 1997, she made a few minor appearances before the opportunity for So Weird came along. Even though she was essentially the star of the show, she decide to leave after season two to pursue other roles. From 2002 to 2003, she was on the popular show Boston Public, but that would mark her last major opportunity. Although she did some voice work in the 2010s, she hasn't had an acting credit since 2012. As far as we know, she doesn't have any plans to get back into acting. Cara has remained out of the spotlight since her acting days, so there isn't much known about her current whereabouts. In addition to not being active on social media, it doesn't appear that she's done any interviews. However, we do know that she has been married since 2009 and she has three children.
Mackenzie Phillips as Molly Phillips
As the daughter of John Phillips, the legendary musician, Mackenzie Phillips was already a star when she was cast in So Weird. She had a long list of acting credits, and being part of a children's show was a departure from the kinds of projects she usually worked on. However, her role as Molly Phillips, Mackenzie was the perfect fit. Although she has continued to work after So Weird was canceled in 2001, Mackenzie also struggled with substance abuse and legal troubles. In 2011, Mackenzie released a memoir titled High on Arrival. In the book, she accused her father of sexually abusing her and having a romantic interest in her. In the memoir, she wrote, "I woke up that night from a blackout to find myself having sex with my father. I don't know how it started." She continued, "For a moment, I was in my body for a horrible truth," she said of waking up and realizing she had had sex with her father. I boxed it away. I started very early on in my life compartmentalizing. … This was the mother of all difficult experiences. … I [have spent] the last 30 years trying not to look at it". In recent years, though, she appears to have gotten to a much better place and she is still active in the entertainment industry. Her most recent on-screen appearance was in 2020 in the TV series One Day at a Time. Outside of acting, Mackenzie has been married to her third husband, Keith Levenson, since 2005. She has one child.
Patrick Levis as Jack Phillips
Patrick Levis was relatively new to acting when So Weird came along. In fact, the show marked his first time being cast in a TV series. After the show ended, he played Grant Stage in Maybe It's Me from 2001 to 2002. He continued to act sporadically throughout the 2000s. In 2010, he got another big break when he earned a spot on the Nickelodeon series The Fresh Beat Band. Since then, however, his on-screen appearances have been on the minor side. These days, it appears that he is more focused on music, his faith, spending time with his family. According to his Instagram bio, Patrick is a devout Christian and worship leader. He also released an album called Extravagant God.
Belinda Metz as Irene Bell
Belinda Metz started her career as a musician and she released her first album, The Minx, in 1982. Two years later, she started her acting career with a role in the TV movie Charlie Grant's War. She was in a number of shows and TV movies over the years, and So Weird was a great chance for her to introduce her talent to a new audience. Belinda continued to act after So Weird, but hasn't had any major TV roles since. Belinda's most recent on-screen appearance was in 2013 and she doesn't appear to have any projects in the works. She is fairly active on Instagram and she appears to be doing very well.
Erik von Detten as Clue Bell
During the 1990s and 2000s, Erik von Detten was one of Disney's hottest young stars. Prior to So Weird, he portrayed Andy Brinker in the Disney Channel original movie, Brink, and he was already a fan favorite. He was also the voice of Sid in the Toy Story franchise. 2001, which is when So Weird was canceled, also marked his appearance in the movie The Princess Diaries. Surprisingly, however, things started to slow down for him after 2001. He did land a couple of other roles, but by 2010 he had completely disappeared from the spotlight. During an interview with E! Online in 2021, Eric explained why his career came to a halt. He said, "At that time, we didn't have Netflix and all these expanded options with thousands and thousands of roles. I would literally go for a length of time without any roles that I fit the bill for. I mean, you're either in the very top half a percent doing very well or, well…it's just very competitive." He went on to say, "Luckily, simultaneously when things started to slow down in acting in my early 20s, another opportunity presented itself for me with a company that I started working with at age 25. And I've been with that company ever since. It's a sales position with a company working in finance. I've grown into a management position and it's worked out really well."
Dave Ward as Ned Bell
Dave Ward began his acting career in the late 1980s. Although he got his start doing live-action work, his career really took off when he started doing voice acting. During the 1990s, he had voice roles in shows like Adventures of Sonic the Hedgehog, Dragon Ball Z, Pocket Dragon Adventures, and G-Force Intergalactic. Since most of his work hadn't been in front of a camera, viewers probably didn't recognize him when he was cast in So Weird. Since the show's end, Dave is one of the few cast members who has continued to work consistently. Although most of his opportunities have been voice work, he's made some on-screen appearances as well. His most recent role was in the 2020 movie All Joking Aside. Fans of Dave's work will be happy to know that he has a YouTube channel where he uploads new videos regularly.
Alexz Johnson as Annie Thelen
After Carla DeLizia left the show, a new character named Annie was introduced. Portrayed by Alexz Johnson, Annie's role in the show was essential the same as Fiona's although the two characters had different personalities. Even though So Weird was her first TV role, Alexz did a great job bringing the character to life. Still, many viewers resisted the new character because they felt that Fi was irreplaceable. After the show, Alexz's career continued to move forward. In 2004, she was cast as Jude Harrison in the show Instant Star which she remained in until 2008. By the 2010s, however, her acting started to slow down and began focusing more on her career as a musician. In 2010, she released her first studio album, Voodoo. Alexz regularly posts on Instagram and, outside of her work, she appears to be enjoying everything life has to offer. She's a proud mother who loves spending time with her family. She also enjoys spending time outdoors.
Eric Lively as Carey Bell
Before we get any further, yes, Eric Lively is related to Blake Lively. He's her older brother. Now that that's out of the way, let's talk about What Eric has been up to. Eric Lively joined the cast of So Weird during season two and he was a welcome addition. What many people don't realize is that his role as Carey Bell was his first major acting opportunity. Immediately after the show's cancelation, he kept the momentum going with a role in the TV series A Minute with Stan Hooper. Throughout the 2000s and 2010s, Eric continued to appear in movies or shows, but he never landed any major roles. His last on-screen appearance was in 2014 in a movie called BFFs. Since then, Eric has stayed out of the spotlight. Although he does have an Instagram profile, he hasn't been active since his father, Ernie Lively, passed away in the summer of 2021.