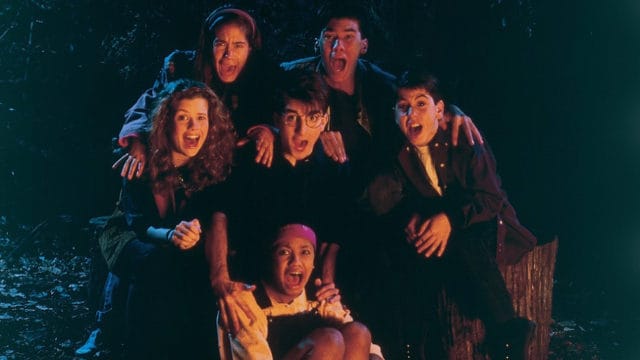 People who remember the 90s might remember a Canadian-American series called Are You Afraid of the Dark?, which started up in 1990 and continued running until 2000. In short, it was an anthology series that used a fictional group called the Midnight Society as a framing device for its stories, which tended to combine elements of fantasy with elements of horror. Considering the fact that it ran for a full decade, there are bound to be lots of people out there who remember the series with fondness, enough so for them to care about whatever happened to the cast of Are You Afraid of the Dark?
Whatever Happened to the Cast of Are You Afraid of the Dark?
For starters, it should be noted that while some of the cast members went on to either careers connected with the entertainment industries in some manner or remained in the public eye for some reason, other cast members have not. As a result, it is much easier to find out information about some of the cast members than others.
For example, there are a lot of Canadians out there who are pretty familiar with Ross Hull's face in spite of the fact that they don't remember his role as Gary on Are You Afraid of the Dark? This is because Hull went on to become a weather personality, starting out on the Weather Network before moving from TV channel to TV channel as he became more and more famous. Currently, he works for Global News, where he is based in Toronto but makes forecasts for a number of other Canadian cities as well.
Likewise, Jodie Resther went on to do some voice acting in Winx Club as well as other projects, which was in addition to her dabbling in French pop music and other genres. Meanwhile, Daniel DeSanto has gone down a very similar path, seeing as how he has gone on to appear in a number of other acting roles as well as a much greater number of voice acting roles. In fact, it should be mentioned that DeSanto is still fairly active as a voice actor even in the present, as shown by the fact that he is working on PAW Patrol at the moment.
Compared to them, JoAnna Garcia has had a somewhat higher-profile career, seeing as how she has been involved in a number of movies as well as a number of TV shows, including some such as American Pie 2, Once Upon a Time, and the very recent but very cancelled Kevin (Probably) Saves the World. Similarly, Rachel Blanchard has had the same kind of success with movies and TV shows, with her current project being a Canadian-American comedy called You Me Her that is centered on a polyamorous relationship. Finally, Jacob Tierney has been showing up in movies and TV shows as well, though it is interesting that he has also taken up both directing and writing at times. Moreover, Tierney has actually gotten a fair amount of recognition for his work, though the sources came from Canada rather than a wider range of places.
Summed up, some of the cast of Are You Afraid of the Dark? have continued on in the entertainment industries, while others have gone out of the public eye, which is perhaps unsurprising considering how long it has been since the series was on the air.