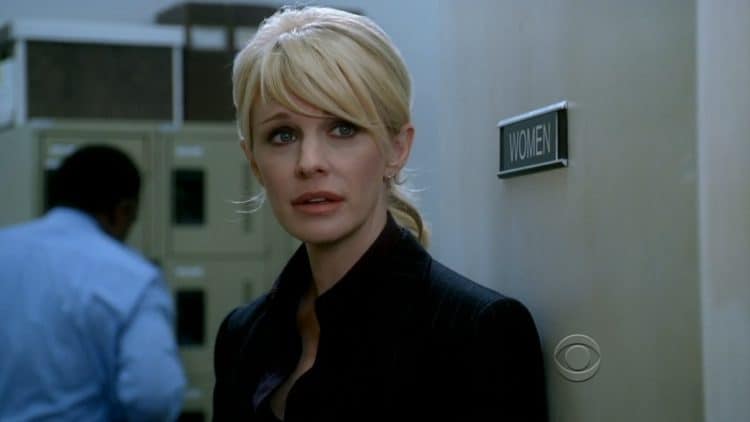 If you're a fan of crime dramas then you probably remember the TV series Cold Case which aired from 2003 to 2010. The series starred Kathryn Morris as a Philadelphia homicide detective named Lilly Rush who was assigned to the cold case unit. Lilly was tough, smart, and would stop at nothing in order to get to the bottom of the case. During its time on the air, Rush was one of the most popular on-screen cops. However, when the show ended after seven seasons, viewers started to see less and less of Morris. Those who loved the show have probably wondered what happened to her after all of these years. Fortunately, you're about to find out. Keep reading to find out what Kathryn Morris has been up to since Cold Case.
Kathryn Morris' Acting Journey
Kathryn Morris was born in Ohio but moved to Windsor Locks, CT at a young age She grew up in a very religious household, and spent much of her young life on the road due to the fact that her father and several of her siblings were part of a gospel group that traveled throughout the Bible Belt. We weren't able to find any information on what inspired Kathryn to get into acting, but by the time she was in high school, she decided it was something she wanted to be serious about. She attended both Temple University and Northeastern Christian Junior College but it's unclear exactly what she studied. In 1991, she made her TV debut in a TV movie called Long Road Home. She made appearances in several shows and other TV movies before getting a major break in 1997 when she was cast in a TV series called Pensacola: Wings of Gold. After leaving the show in 1998, she landed several movie roles before the opportunity for Cold Case came along. Her role in the show helped establish Kathryn as a start in the industry and it looked as though she was going to have a very promising and long-term career.
Kathryn Morris' Career After Cold Case
Although Cold Case was a very successful series, Kathryn Morris began to fade from the spotlight after it ended. She's made a few appearances post Cold Case, but they've been sporadic and Lilly Rush continues to be her most well-known role. Some people may have assumed that Kathryn's absence from the industry was because she'd gotten typecast and had difficulty finding roles, however, that isn't the case. In the summer of 2013, Kathryn and her now ex-husband welcomed a set of twins. Kathryn decided it was the perfect time to shift her focus from work to family. In an article for Today, Kathryn said, "Like many women, for a long time I was in career mode, with the baby thing not on my radar. I drank a lot of coffee, worked days into nights, traveled the globe, made TV money and was the fun aunt to my co-stars' babies. Then I wanted more and the dream of motherhood appeared. I fell in love. We had twins. I was complete."
When Kathryn's children were three, they were diagnosed with autism which resulted in her wanting to learn everything she possibly could about the disorder. She told Today, "My children are perfect. I cannot imagine them without their autism — their brilliant traces of "just being" on that spectrum has made me a better mother and person. However, our epic journey introduced me to a secret society of sick kids, misfits and savants — bankrupted families in constant emergency mode feeling this pandemic-like panic for a lifetime — epidemic numbers of cute babies who grow up into invisible people in permanent quarantine." In the fall of 2021, she founded an organization called The Savants which aims to help educate people in autism. The Savants also seeks to help make the world a more inclusive and accessible place for people on the spectrum.
What's Next For Kathryn Morris
Kathryn's most recent on-screen appearance was in 2019 in a movie called The Dirt. Unfortunately for all of the people out there who love her work, she doesn't appear to have any projects in the pipeline. On top of that, we weren't able to find any information on whether she plans to return to acting. Since Kathryn has always been relatively private when it comes to her social life, it's no surprise that she doesn't appear to be on Instagram. On the bright side, all of the episodes of Cold Case are available on The Roku Channel which is a free streaming service that can be accessed on Roku devices, Firesticks, and via your web browser.
Tell us what's wrong with this post? How could we improve it? :)
Let us improve this post!