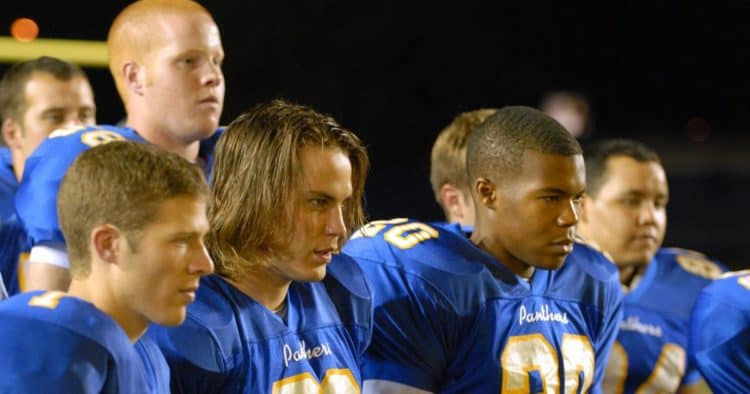 Gaius Charles made a name for himself playing a star running back on a hit television show. That show is "Friday Night Lights," and that show is all about small-town living in the south. Families gather every Friday night in the fall to watch their local high school kids play ball under the Friday night lights. It's a real thing…anyone who ever lived in the south knows the importance of football, family, friends, and Friday nights. Gaius Charles made the character of Brian "Smash" Williams famous, and he did so for good reason. But in the decade the show has been off the air, what has he been up to? What is he doing? How is he doing it, and how has his own story gone since his days under the lights?
Gaius Charles' Early Life
Charles was born and raised for a time in Manhattan. He was born on May 2, 1983, in Manhattan. He spent the bulk of his childhood in Manhattan before his family moved to Teaneck, New Jersey. He graduated from high school in Teaneck, and then he headed straight to university. He attended Carnegie Melon University. He chose to study fine arts. He graduated with his degree in drama before he decided to further his career. He went to on to attend courses at the National Institute of Dramatic Arts, which is located in Sydney. Following that, he also studied at Drew University. From Drew is where he graduated with a Master's Degree. This degree is in religious studies. He took his education very seriously.
His Career After FNL
Following his time on "Friday Night Lights," he was given the opportunity to star on many different shows. He took on a number of guest appearances on television shows that have huge reputations. He's been on shows such as "Law and Order: SVU," "Pan Am," and "NCIS". He also had a recurring and main cast credit on the hit show, "Grey's Anatomy," from 2012 to 2014 in the role of Dr. Shane Ross. He's had numerous other roles on primetime shows over the course of the past decade.
His work on "Grey's Anatomy," was pivotal. He came in at the same time as a few other interns who went on to become main cast members, but he didn't stick around. It turns out, he worked closely with Dr. Christina Yang, and when she left the show to do work elsewhere – as the storyline said – her character was one that his character did not want to leave. His character was written off the show to follow Yang as she took part in her own new adventures, and that was the last we saw of him. However, there have been some rumors about why he left the show, and they're easily debunked. Forget the rumors – his contract simply was not renewed for season 11 after he was made a main character in season 10. He was not the only actor whose contract was not renewed the same season.
He later took part in a huge show called "Taken," which is an adaptation of movies that were made of the same nature. His role was a big one, but the show was canceled barely before it had time to take off. The moral of the story, however, is that he's been working hard for some time now, and he certainly has not stopped since his role on "Friday Night Lights," ended nearly a decade ago.
Gaius Charles Personal Life
The one thing many of his fans want to know about the handsome actor is whether he's got a significant other, a girlfriend, a wife, or someone special in his life. The truth is that no one knows. If he is dating someone, he is keeping it to himself. He does appear to value his own privacy quite protectively. His personal life remains his own. We do not believe he has any children of his own, he is not married, and we are unsure if he has a significant other in his life. What we do know, though, is that he's continued to work regularly after his time on "Friday Night Lights," was over, and we can expect to see the same from him in the future. While some of his roles were exceptionally memorable, others were canceled before the world had a chance to see for themselves just how far he has come since he was a high school football player on television. He'll be back with something new and exciting before much longer, and we cannot wait to see what he can do.
Tell us what's wrong with this post? How could we improve it? :)
Let us improve this post!