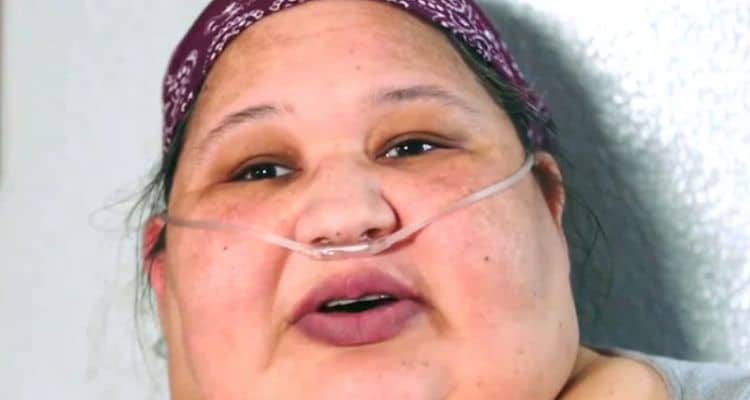 For nearly a decade, My 600-lb Life has told the stories of people who are hoping to turn their lives around by undergoing weight loss surgery. Each episode follows a different person who is severely overweight, oftentimes struggling from major health conditions. While each of the stories is memorable in its own way, there are some that have left lasting impressions. Chrystal Rollins was one of them. Chrystal appeared on the show during season 9, and her weight had reached the point where she could no longer perform even the simplest tasks. By the end of the episode, however, Chrystal had lost a good amount of weight and was on track to be approved for gastric bypass. Keep reading to find out what happened to Chrystal Rollins after her time on My 600Lb Life.
Chrystal's Story
Like many of the people featured on the show, Chrystal's unhealthy relationship with food began at an early age. When she was around 7 years old, food became a way for her to escape the world around her and she began leaning on it as a coping mechanism. By the time she was done with high school, she weighed 420 pounds. When viewers were introduced to Chrystal at the beginning of the episode, she was 611 pounds. Due to her size, she constantly had to have access to an oxygen tank, and she struggled to be an active mother for her children. Her weight had resulted in live threatening health problems and Chrystal new that she needed to make a change or she wouldn't have much longer to live. During the episode she revealed that she suffered from high blood pressure and congestive heart failure. Breathing had also become a major issue for her. She said, "My weight has put so much pressure on my lungs [that] my lungs just can't handle my body anymore". As we often see with people on the show, Chrystal's size had started to put a strain on her relationships with her loved ones because everyone in her life had essentially taken on the role of a caregiver. Even though Chrystal was serious about losing weight, it wasn't an easy journey. Due to her size, weight loss surgery had become the only feasible way that she could get down to a healthier size and she enlisted the help of Dr. Nowzaradan.
Chrystal's Weight loss Journey
Chrystal weighed so much at the beginning of her journey that she couldn't get weight loss surgery right away. Instead, she needed to lose a significant amount of weight before she could safely undergo the procedure. Anyone who has ever seen an episode of My 600-Lb Life knows that Dr. Now means business. As a result, many of the people on the show fail to follow his strict diet and exercise regime. Although Crystal struggled at first, she eventually reached her goal, but Dr. Now was still hesitant about approving her for surgery due to her reliance on oxygen. He told her that if she stayed on the right path for the next year/year and a half, she should be ready. Even though this wasn't what Chrystal wanted to hear, she was satisfied with the progress that she made. She had already proved to herself that she had the self control to make healthier choices
Where Is Chrystal Now?
Chrystal has been fairly active on social media since appearing on the show, but, as far as we know, she hasn't directly addressed whether or not she has undergone weight loss surgery. This is likely due to the fact that My 600-lb Life's production company seems to be pretty strict about what cast members can share, even after their appearances. Based on her photos, however, it doesn't appear that she has had gastric bypass yet. On a positive note, though, she does seem to have lost some weight and she no longer appears to be relying on oxygen. Overall, she seems to be in a much happier place than she was during her episode. She seems committed to her weight loss journey and she is probably still considering gastric bypass. Hopefully, we will eventually get a "Where Are They Now?" episode on Chrystal so viewers can see the results of all of the hard work she's been putting in. Chrystal may not be where she wants to be, but she's definitely headed in the right direction. Her story is a great example to others that it's never too late to get back on track and go after the life you want.My 600-lb Life