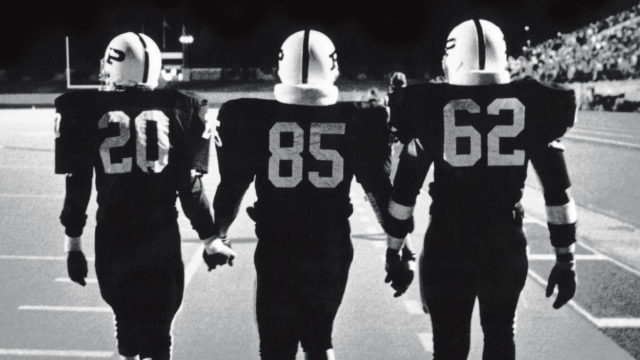 There are towns in America where sports are sacrosanct and are not to be taken lightly. Football is one of those sports that can elevate young men or break them down in due time, and is a physical contest that can be just as cerebral as anything. Those that break their bodies for the win are those that live by the motto of giving everything to gain everything, but they are also the ones that can end up losing everything. Based on a true story, Friday Night Lights helps showcase the lives of those in a small town looking for a way out through their athletic ability, and the struggles they must continually go through just to keep their heads up.
Connie Britton – Sharon Gaines
Being the wife of a noted head football coach in a small town can either be a way to get known or get forgotten. Head coaches, the most dedicated ones, don't always spend as much time with their families as they might like, and far too often are depicted as neglectful in their duties as they must spend most of their quality time with the team. Britton has continued acting since Friday Night Lights and was actually instrumental in the first season of American Horror Story and is also a hit on the CMT show Nashville.
Billy Bob Thornton – Coach Billy Gaines
The head coach is the guy that takes all the flak and deals with all the team issues. He's where it starts and ends, and he's the guy that everyone looks to when things go wrong. This is perhaps one of the most stressful positions in the game considering that a coach's position is tenuous during a non-winning season and not at all safe even during a winning run. Billy Bob has been a noted actor for quite some time and after this film he has stayed relatively busy. One of his most recent roles was the reprisal of Willy Soke in Bad Santa 2.
Garrett Hedlund – Don Billingsley
The players on a football team are often just as tortured considering that they have to deal with the demands of their coach, the pressures of school, and whatever issues are going on at home. Hedlund's character is forced to weather an abusive father and his issues and still find time to play football and be a decent student. Since this film Hedlund has been very active, actually taking the lead in Tron: Legacy as Sam Flynn and even appearing as James Hook in 2015's release of Pan. Since that time he's acted in mostly supporting roles, but he maintains a strong presence in Hollywood.
Derek Luke – Boobie Miles
There's always at least one player that gets used up and has to reevaluate their life in respect to what they want versus what they can do. Boobie Miles suffers what could be a career-ending injury and eventually sees that what the future might hold for him is anything but pretty. With that in mind he makes an attempt to get back to the life he knows no matter what it takes. Derek Luke has continued to bounce back and forth between TV and film since Friday Night Lights, and has appeared in films like Captain America: The First Avenger, the TV series Empire, and has even appeared in the Netflix sensation 13 Reasons Why.
Sometimes sports films can be a launching pad for a career, while in other cases it can be a pleasant role to slip into until something else comes along. Most of those that participated in this film were already noted actors in their own right, but the exposure certainly helped to cement another facet of their celebrated talent.
Save
Tell us what's wrong with this post? How could we improve it? :)
Let us improve this post!