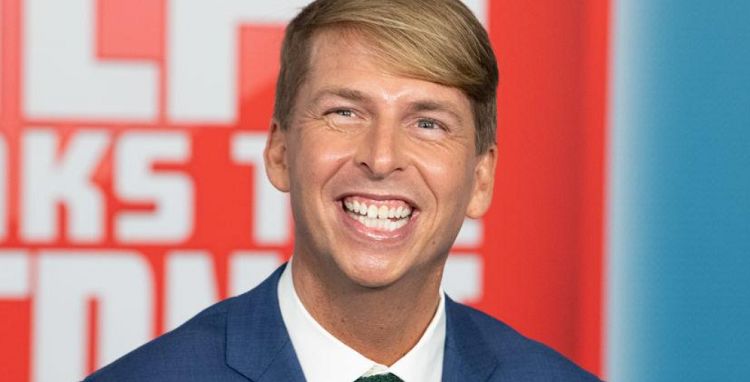 If you find yourself wondering what happened to Jack McBrayer, it is abundantly obvious to us you're not paying much attention to what you're watching and what you're listening to. He's exceptionally famous for his role as the cheerful, easily excited Kenneth Page on the hit show "30 Rock," but he's also a man who has made some big moves throughout the years and over the course of his career. He's been in movies, in television shows, he's been on late night, and he's lent his voice to some outstanding characters. More importantly, though, Jack McBrayer has not stopped working. But, if you're looking to see where he's been and what he's been up to since he finished his role on "30 Rock," alongside Tina Fey and Alec Baldwin, we can tell you exactly what he's been up to.
Jack McBrayer's Early Life
Here's a man who was born on May 27, 1973. That shocks everyone because he does have a perpetually young look to his face, and it is so easy to assume he is significantly younger than his 48 years. However, he's not, and that's amazing. He was born and raised in the small town of Macon, Georgia, which is known for so many things. However, he moved to Conyers, Georgia, as a child – though Conyers is known for basically the same thing as Macon (4H and all the things), and it's not that much larger. Around the time he graduated from high school at Heritage High, he also suffered from something called pneumothorax, which causes serious issues breathing as well as chest pain that feels equivalent to a heart attack. He calls it the worst pain he's ever felt in his life. At the age of 18, he made the decision to head to college, and he enrolled in courses at the University of Evansville. While there, he studied theater administration.
By the time 1995 rolled around, he was working at theaters in Chicago, and he was making serious contacts in the entertainment industry. He met and got to know Tina Fey while he was there, and the job he was doing between 1995 and 2002 gave him every bit of the real-life experience that he needed when he took on the role he had on "30 Rock," in the future. He also spent several years in the early 2000s working with Conan O'Brien on his own sketches on late-night television. He was also tapped to be the video star for Mariah Carey when she filmed her video for "Touch My Body," and he famously hit her in the face with a frisbee during the shoot. We imagine that did not go over well with Carey, who has been rumored to be a bit of a diva – though she's entitled to it and we've never worked with her so we cannot confirm the rumors. He worked regularly on "30 Rock," until the show came to an end in 2013, and his fans are now wondering what he's been up to since.
Life Since 30 Rock
In the eight years since this show went off the air, McBrayer has been working regularly. He's not slowed down a bit, but it seems that many of his fans are unaware of this. He appeared in eight films since 2014, and he's in the 2021 comedy out now called "Queenpins," alongside famous actresses such as Kristen Bell, and actors such as Vince Vaughn. He's also lent his famous voice to some television characters, too. He's been the voice of Irving on the hit cartoon, "Phineas and Ferb," as well as the voice of the Pirate Mummy on "Jake and the Neverland Pirates," on the Disney Channel. He's had a guest star appearance or a voiceover appearance on dozens of television shows since his days on the rock, and he's not slowed down a bit. He's also appeared in a video game (2019) and he's been in two theater productions on Broadway and in the West End since his role on the rock ended. He's a man who hasn't stopped working or slowed down. He simply has roles that require only his voice or quick appearances these days, and he's not mad about it. He's a working actor in a land of people always hoping to simply be a working actor. As far as his personal life is concerned, we know next to nothing. He does not appear to have gotten married, he doesn't have kids of his own, and he doesn't seem to be dating anyone – but he may also just be good at keeping his life private and to himself, too.
Tell us what's wrong with this post? How could we improve it? :)
Let us improve this post!