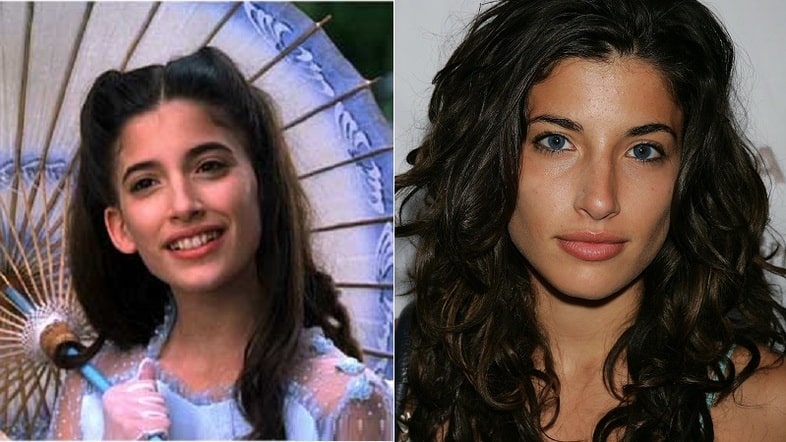 It doesn't feel entirely fair to say that Tania Raymonde is the ugly duckling that grew up to be the beautiful swan, but like a lot of kids, she did have a time in her life when she looked a little bit awkward as her facial features appeared a little too big and she might have been deemed 'goofy-looking' thanks to the way she was portrayed in a few shows and movies. But the truth is that she was a rather cute kid back in the day, as well as a very expressive actress that was able to hang with plenty of other actors, and she's definitely grown up to be an amazingly beautiful woman that is now allowed to cash in on her looks as well as her acting ability. The stages that a lot of people go through in their younger years feel as though they're played upon in numerous ways when it comes to acting, and the fun part of this is Tania has always been very convincing when being put into one role or another since from being the nerdy, excitable kind of person to being the charming individual that's not quite a classic beauty but very close, Tania has shown throughout her career that her character is one of her biggest strengths.
On top of that, she's been working on a project titled Little Saigon as a director, and she's taken on the role of a writer as well, which shows that she's far more than just a pretty face and is a very capable individual that has decided to stretch her talents and see what else she can do. Having seen her recently on the hit show Goliath with Billy Bob Thornton, I'm likely not the only person that had to sit forward when recognizing her before checking the credits to make sure that yes, it was her, and that she's become quite a good actress over the years.
In terms of the movies, she's kept moving forward even if quite a few of the movies she's starred in haven't gained as much attention as has been desired since titles such as Deep Blue Sea 3 still work and do have the opportunity to keep her in the public eye, but they do fall short of the kind of attention that would continue to elevate her career. Like it or not, some of the low-budget and B-quality movies that she's been in are fun to watch at times, but they don't get a whole lot of praise simply because they're not huge blockbusters. On TV, however, Tania has been tearing it up as the 33-year old has had the opportunity to shine in quite a few high-profile TV shows and has rocked every part she's been given. Why she's not a much bigger name at this point is kind of hard to imagine since between her looks and her acting ability she has what it takes to be someone that would be seen in some of the more big-budget movies out there, especially if she can hang with the likes of Billy Bob Thornton, who surged forward in a big way with Goliath.
It could be a personal choice or the politics of Hollywood that keep people where they are while demanding more and more of those that want to move up, or it could be any number of things that appear designed to favor some individuals and leave others to do what they can to continue their career. But the fact is that Tania appears to have remained dedicated to her career, which is impressive enough for any actor after a decade or more and is still landing roles that are putting her front and center where people can see. It would be great to see her movie career take off in a big way, and it would be interesting to see how her directorial career pans out, as many upon many actors have gone this route at one time or another while sticking with acting at the same time or finally just taking up a director's chair to sit behind the camera for a while. Whatever Tania decides to do it feels safe to state that her personality and her determination are bound to see her through.
To be honest, it was kind of exciting and gave me a bit of a laugh, in a good way, to recognize Tania in Goliath, and it made me, and likely many others, realize that from her younger years to this point, Tania has done quite a bit to hone and refine her acting ability, and it's paid off in a positive manner as she's still around. How far she goes will be up to her, but thinking that she might be able to make it in whatever part of show business she chooses isn't too hard.