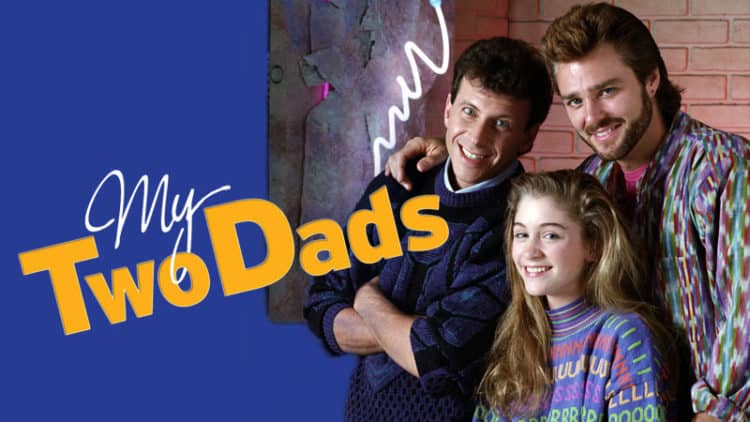 My Two Dads ran on NBC from 1987 to 1990, airing for a total of three seasons. The series told the story of two men vying for the affection of the same woman who receive joint custody of her 12-year-old daughter, Nicole Bradford, after her passing. The official synopsis of the show, as per IMDb, is as follows: "When Marcy Bradford dies, she leaves her teenage daughter, Nicole, in the custody of a father she never met; or rather, two fathers – Michael, a straight-laced and formal man, and Joey, a wild artist. Both were Marcy's ex-boyfriends, and together, they provide a unique balance of parenting skills for Nicole." It's been 30 years since the finale of My Two Dads aired on TV. What has happened to its cast since its last season?
Paul Reiser
Paul Reiser played Michael Taylor, a successful financial advisor who is given joint custody of Nicole Bradford. My Two Dads was Reiser's first TV starring role, having previously appeared in single episodes of Remington Steele and The Disney Sunday Movie. After his three-year stint at My Two Dads, Reiser proceeded to star in another TV show, Mad About You, appearing in 164 episodes of the show. For his role as Paul Buchman, Reiser was nominated for multiple awards, including a Golden Globe, two Emmys, and two Screen Actors Guild Awards. More recently, Reiser appeared on Stranger Things as Dr. Sam Owens. He also played theater producer Cy Feuer in the biographical miniseries Fosse/Verdon. Currently, he stars on The Kominsky Method, portraying Martin Schneider, a role for which he received an Emmy nomination, according to Forbes. According to him, he was able to snag the role by reaching out to Chuck Lorre, who had written for My Two Dads. "Chuck Lorre was a baby writer on My Two Dads. That was his first job, and so I've known him for years. I just reached out to him after season one of The Kominsky Method to tell him how great I thought it was, and we got to talking. He had this role of Martin in mind, so he invited me to come on, but then he said, 'I want to be clear with you, we're going to age you up, we're going to pad you, we got bald you, and we're going to give you the ponytail.' I had never done anything like that, and the only thing I said was, 'Let's just make sure we do it well because if you ever see bad prosthetics or bad wigs, that's all you're looking at.'" Reiser has also been active on the big screen, most notably appearing as Jim Neiman on Whiplash. 2016 was Reiser's busiest year, playing roles in five movies, Joshy, Miles, War on Everyone, The Book of Love, and The Darkness. His most recent movie appearance was in last year's Fatherhood.
Greg Evigan
Greg Evigan played Joey Harris on My Two Dads, a struggling artist who is also given joint custody of 12-year-old Nicole Bradford. In an interview with Fox News, Evigan described his experience working on the show: "Yeah that was great. That was a whole new thing, working with Paul Reiser was a great experience. To be able to work with him and keep up. It was an exciting time for me. I used to smoke a little weed and I remember when I was with those guys I thought, 'Man I'm not going to do anything. These guys are so sharp. I've got to be on my game.' And I dropped everything, whatever I was doing. 'My Two Dads' was the thing that got me really clear. I realized the clarity that these guys had. I know some people who can't perform unless they're high, but for me too much paranoia would creep in. I realized quickly if I want to keep up with these guys, I've got to get myself together and get high on the work." Prior to joining My Two Dads, Greg Evigan already starred in his own series, titled BJ and the Bear, appearing in the show for more than 40 episodes. After My Two Dads, Evigan started appearing in different TV shows, including TekWar, Melrose Place, and Big Sound. He's also appeared in multiple TV movies, such as Metal Tornado, The Glades, and The Finder. Most recently, he appeared in 26 episodes of General Hospital. On the big screen, his last appearance was in 2020's The Christmas Listing.
Staci Keanan
Staci Keanan played Nicole Bradford on My Two Dads. After My Two Dads, she appeared in the sitcom Going Places and starred in the comedy Step By Step. She also appeared in shows like Boy Meets World, Lois & Clark: The New Adventures Of Superman, Cybill, and Diagnosis: Murder. On film, she appeared in Nowhere, You Again, Sarah's Choice, and Death and Cremation. Keanan has since retired from acting, pursuing a career in law. She finished her law degree in 2013 and currently practices using her real name, Anastasia Sagorsky. She is currently a deputy district attorney at the Los Angeles County District Attorney's Office. She also teaches law at Southwestern Law School. Her profile on the Southwestern Law School website mentions her past career as an actress: "Before beginning her law career, Professor Sagorsky had a career in the entertainment industry and worked as an actress on several primetime network television shows."
Florence Stanley
Florence Stanley played Judge Margaret W. Wilbur on My Two Dads. She gave joint custody of Nicole Bradford to Michael and Joey and also serves as their landlord, having bought the building that Joey resided in. A veteran of the entertainment industry, Stanley appeared in 1967's Up the Down Staircase, 1970's Jenny, and 1973's The Day Of The Dolphin. After My Two Dads, Stanley appeared in Trapped In Paradise, The Odd Couple II, and The Braniacs.com. Stanley's last movie credit is Atlantis: Milo's Return, providing the voice for Mrs. Packard. She passed away in 2003 at the age of 79, due to complications from a stroke. In an obituary from the New York Times, the publication wrote: "In "Barney Miller," which showcased the kooky goings-on at a New York City precinct house, Ms. Stanley played the wife of Abe Vigoda's character, Detective Phil Fish. Mr. Vigoda's character was so popular that in 1977 a series called "Fish" was created in which the couple reared five foster children."
Giovanni Ribisi
Giovanni Ribisi played Cory Kupkus on My Two Dads. Credited as Vonni Ribisi, the actor considers the show one of his first TV projects. Ribisi would of course become a Hollywood superstar, appearing in blockbuster movies like Avatar and A Million Ways To Die In The West. He is set to appear in Avatar 2 and Avatar 3.