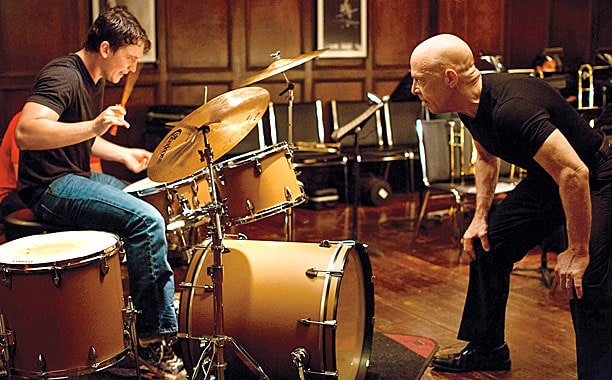 Back in 2014, filmmaker Damien Chazelle hotly burst into the scene with Whiplash, which is about a promising young jazz drummer who enrolls into one of the top bands in the country. However, his teacher's unorthodox and frightening methods may reveal that Andrew isn't the great musician that he thought he was. The film was a smashing success and Whiplash garnered five Emmy nominations including Best Motion Picture of the Year. Whiplash would actually go on to win three Oscars: Best Performance by an Actor in a Supporting Role, Best Achievement in Film Editing, and Best Achievement in Sound Mixing. Two years later, Chazelle returned with one of the most highly anticipated titles of the year, La La Land, which was actually a dream project of his. The film did tremendously well at the box office and received fourteen Nominations at the 2017 Academy Awards. The 2016 feature actually walked out with six wins, including Best Achievement in Directing. At the moment, these are the two top movies in Chazelle's filmography; Which one is better? Let's dive deeper into both Whiplash and La La Land to find out.
La La Land
La La Land isn't just a throwback to the golden age of Hollywood, it transcends the genre as a whole thanks to its vibrant and colorful world that's aided with excellent performances and stunning visuals. Emma Stone has worked with Ryan Gosling previously – 2011's Crazy, Stupid, Love and 2013's Gangster Squad, and the chemistry between the two leads remains off-the-charts good. Stone is perfect in her role; The Academy Award winner has explained in the past that she was able to borrow from several real-life experiences thus Mia feels genuine and real because of the dazzling performance that's aided by the tremendous writing that helps bring her character alive. Gosling is no slouch himself, throwing himself into the role of Sebastian and embodying the jazz musician with tons of soul and personality. La La Land is brimming with style and beauty, every image or color pallet is a feast for the eyes and the musicals are catchy tunes that are very easy to get into. Chazelle doesn't make the same mistakes most musicals do, meaning that he lets the story and plot carry the movie forward, not the musical numbers. Is La La Land a perfect film? No, but that case can be made for the 99.9% of movies that's been ever made. La La Land celebrates the best parts of old Hollywood while still crafting a piece that modern audiences can get into.
Whiplash
The story of Andrew is often an heart breaking and cautionary tale for the lengths artists will go to achieve their dreams. The blood, sweat, and tears can be felt because of how well-written Andrew's journey is. One of the best scenes in Whiplash is the family dinner; This simple scene adds so many layers into the psyche of the young musician. He feels like an outcast because his family doesn't respect his profession, and you understand his disdain and jealously of his two brothers who happen to be football stars. It's a shame that Teller's amazing performance was overshadowed by J.K. Simmons because he really pours his heart into this role. Andrew's crushing journey to prove that he's a great musician is masterfully displayed by the actor psychically and emotionally. You see the change and drive from Andrew without him speaking a word, but you understand his struggles and pain that comes close to breaking him throughout the movie. Of course, this isn't to discount J.K Simmons's extraordinary turn as Fletcher; While audiences do have to suspense their disbelief that a teacher of this nature has gotten away with everything that Fletcher has done, Chazelle wisely doesn't make Fletcher into a cartoonish character. We actually see different sides of his character, and one of the most powerful scenes is the sadness Fletcher showcases when he finds out that one of his top students passes away. J.K. Simmons manages to expertly balance the outlandish moments of his character that never feels forced or fake. Again, there are plenty of moments where you must suspend your disbelief. Andrew getting into a major accident and still being fine enough to make the grand performance is another huge one, but the captivating story and compelling characters helps you forget that you're watching a movie.
So, which movie is better? Whiplash. La La Land is a great film, but Whiplash is an amazing journey that details the struggling artist to the extreme. It's a gut-wrenching story that demands to be seen.
Tell us what's wrong with this post? How could we improve it? :)
Let us improve this post!