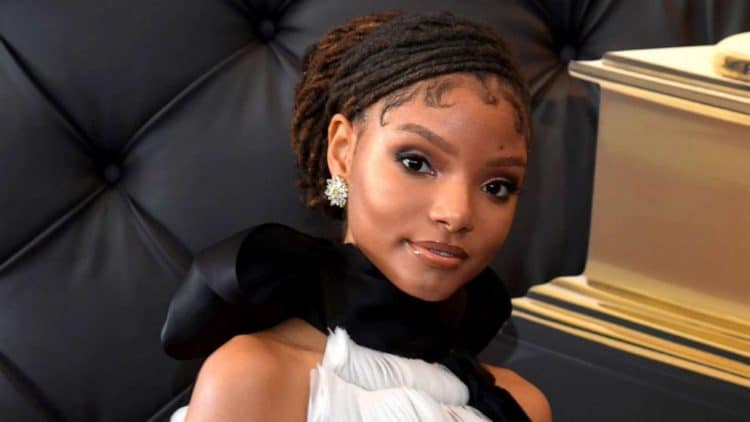 It's worth wondering if any debate is going to open up again about Halle Bailey taking on the role of Ariel in the Little Mermaid live-action movie or if people are, hopefully, going to be chill about it finally. The only concern right now should be if Halle is going to make the part work or if it's somehow going to come out a little awkward since some folks are worried about Melissa McCarthy playing the role of Ursula, which is about as ridiculous as people being worried about how Halle will take on the titular character. The pictures that have been released by someone that was good enough to get a couple of shots of Halle in her CGI tail suit that suggest that they might be rehearsing at this time in order to get comfortable with the scenes they'll have to shoot, but apart from these, there's not much else to go on. So far it does appear that a lot of people have gotten on board with Halle as the lead character, but when it first was announced, huh boy, it was a mess.
What's true is that she is the first black woman to play the part of Ariel on screen, but what isn't true is that it really matters. There are definitely movies in which skin color is important since certain characters need to be kept as they are unless one is talking about fiction, which legends and myths definitely fit into. For instance, a white man couldn't play the part of Malcolm X since there would be rioting in the streets once again, even worse this time. But on that note, a black man couldn't play the role of someone like former President George W. Bush, since that would be more than a little ridiculous. In the same breath, casting a white woman or any other race of woman in a movie like The Help as a nanny and housekeeper would have likely been torn up before it ever made it to the screen, but casting a black woman as Joan of Arc or someone equally as important in history would be just as bad. In other words, Halle's casting and the casting of several others in this movie shouldn't be an issue.
Reposted from @FilmUpdateMedia First look at Halle and Jonah on the set of TLM. pic.twitter.com/4orBFlpuh8

— The Little Mermaid Live Action Remake. (@mermaid_remake) June 10, 2021
The only thing that's going to make any difference is whether or not every actor can take on the role that they've been given. If that can happen then it should turn out to be a pretty good movie since the story of the Little Mermaid is traditionally pretty tragic, but Disney has done what it does best, which is to spruce it up and make it a happy but almost tragic tale that ends up being a fairy tale ending that people were hoping for. But one has to wonder just what's going to happen in terms of various elements of the movie that lend themselves more to a cartoon setting than to a live-action movie. Characters such as Sebastian, Flounder, Scuttle, are all going to have to look quite a bit different than they did in the animated movie and if they look true to life then it's going to be a little awkward as one would have to think. But maybe the Mouse House has that under control.
Ursula's pet eels might be pretty simple, but until we get to see more it's going to be easy to wonder just how things are going to go. In terms of the actual story, it's also a wonder as to whether anything is going to be changed drastically since with Beauty and the Beast there were a few additions and omissions here and there that people noticed. While it didn't really harm the integrity of the movie that much, it did make some people wonder why some of the additions were put in when the classic tale was just fine as it was in a lot of ways. But then again, there have been plenty of practical-minded folks that love to pick movies apart who would say otherwise.
The big deal with The Little Mermaid was Halle to start with since casting her as the lead character managed to get under the skin of quite a few people. The reason isn't exactly her skin color, it's the fact that people don't value change as much as they say they do and want things to stay the same at times when others want to see what might happen if certain stories are shaken up just enough to make them different in a way that could be positive and exciting. The thing is that a lot of folks who grew up watching this movie wanted to see things being kept the way they were, and didn't imagine what it could be like from a different perspective. Seriously, as long as Halle can make the part work, then more power to her.