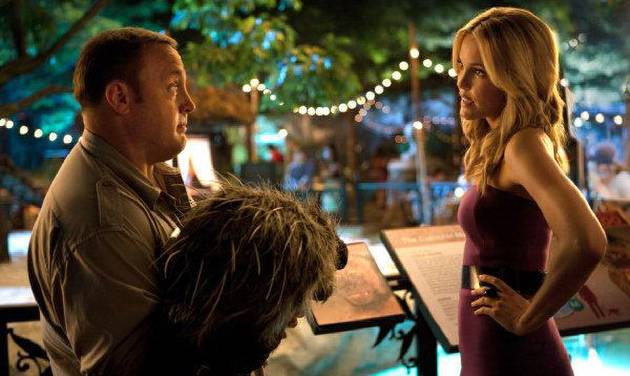 Everybody loves a good romantic comedy, and that's exactly what the 2011 film Zookeeper was. Featuring a stellar cast of talented actors, the movie followed a zookeeper named Griffin Keyes (Kevin James) who is devastated when his girlfriend turns down his marriage proposal. She cites his job as the reason why she doesn't see a future with him. He decides that he needs to get a better job in order to make himself more appealing to women. However, the animals at the zoo rally together to keep him to stay and then ultimately reveal that they know how to talk. Zookeeper is one of those movies that's a little on the ridiculous side, but it will still give you some good laughs. In the decade since the movie's release, the cast has gone through a wide variety of changes – some bringing them closer to the spotlight while others have taken them further away from it. Keep reading to find out what happened to the cast of Zookeeper.
Kevin James as Griffin Constantine Keyes
Prior to Zookeeper, Kevin James was mostly known for his TV roles. However, his portrayal of Griffin Constantine helped open the door to other movie opportunities. Throughout the 2010s, he continued to land comedic roles in the film world before making a significant return to TV in 2020. Most recently, he's been in a series called The Crew. James is also in the process of filming a movie called Home Team which is set to be released in 2022.
From comedy to drama to action, Rosario Dawson has consistently proven that she can do a little bit of everything. Because of that, she's never really had an issue finding work. She has worked consistently in the years since Zookeeper and her resume gets more impressive every year. She also has several projects in the works so her fans can feel confident that they'll be seeing her on their screens for years to come. Not only is Rosario a star on screen, but her voice acting work is impressive as well. She has been in several animated series and video games. Outside of acting, Rosario has also been pretty busy. She has been heavily involved in politics and philanthropy and she's dedicated to helping make the world a better place. In 2014, she adopted an 11-year-old girl. Rosario has been dating politician Cory Booker since 2019.
Leslie Bibb may not be as famous as some of the other cast members from Zookeeper, but that doesn't mean she hasn't had a successful career. Before Zookeeper, Leslie appeared in a wide variety of movies and shows and she has continued to do the same thing after. In 2021 alone, she appeared in three TV series and her future is looking equally as busy. Leslie currently has two movies and two tv shows in the works. She has also done some work behind the scenes since her time on Zookeeper. She has produced three projects since 2010 and there's a chance that we'll see her do even more in the future. Although her career takes up a good portion of her time, Leslie doesn't like to spend all of her time focusing on work. She also enjoys spending time outdoors with her boyfriend, fellow actor Sam Rockwell.
Nat Faxon is another actor who can do just about anything when it comes to acting. His long list of acting credits includes all kinds of roles and he never seems afraid to try new things. As a result, finding work hasn't been an issue for him since his work on Zookeeper. Some of his latest on-screen credits include Disenchantment and The Conners. His work as a voice actor has also gotten him opportunities in popular animated series such as Blaze and the Monster Machines and Robot Chicken. The next few years are also going to be very busy for Nat. He has a lot of cool projects coming up including Star Wars: Detours. For the most part, Nat likes to keep his personal life out of the spotlight. Something we do know, however, is that he has been married to Meaghan Gadd ​since 2007 and the couple has three children together.
Ken Jeong's journey in the entertainment industry has been very interesting. Prior to getting into acting a comedy, Ken worked as a doctor and he continues to be a licensed physician despite his work as a performer. At this point in Ken Jeong's career, there's a good chance that you've seen his face on your screen at least once. Not only does he have more than 100 acting credits, but he has also gotten into the hosting world. His sense of humor and commanding on-screen presence have opened the door to lots of opportunities. That said, Ken is arguably the busiest person on this list. Between being a judge on The Masked Singer and The Masked Dancer, doing voice work for several cartoons, and writing and producing, Ken has his hands in lots of different pots. While some people struggle when they try to focus on more than one thing at a time, Ken seems to have no problem shifting his attention when needed. On top of keeping people entertained, Ken has also used his platform to help spread awareness of issues that are important to him. During the COVID-19 pandemic, he has been sharing information and resources to help educate people on the benefits of getting vaccinated.
Joe Rogan isn't an actor by trade, but he has still made a good amount of on-screen appearances over the years. When talking about his feelings on acting, Joe said, "The world of the actor is very difficult, and a lot of people accuse actors of being fake…I think one of the reasons for accusing them of being fake is they always have to put on the best show, like as far as their behavior and the way they act and think and their opinions because they're constantly trying to get cast in things. It's all about getting people to like you and politicking…and you kind of have to have liberal sensibilities." Since Zookeeper, Joe has only had a few relatively small acting roles but he continues to be well known as a UFC commentator and a podcaster. He has also become known for using his platform to highlight the things that are important to him which has sometimes resulted in controversy.
Brandon Keener as Nimer
Brandon Keener's career is proof that an actor doesn't have to be a household name in order to have a successful career. Although many of his roles have been on the smaller side, Brandon has been working consistently for more than 20 years and he has appeared in both movies and TV shows. Brandon has also done a lot of voice work, particularly in video games. Some of his video game credits include Call of Duty: Black Ops III, Fallout 4, Mafia III, and Lightning Returns: Final Fantasy XIII. Brandon doesn't appear to have any projects in the works at the moment, but it seems likely that we're going to see a lot more of him in the future.
Thomas Gottschalk as Jürgen Mavroc
Born and raised in Germany, Thomas Gottschalk is best known for his work as a TV host in the German entertainment industry. However, he has also done a good amount of acting over the years. Surprisingly, though, he has only had two other acting roles since his work on Zookeeper. As of now, it doesn't appear that he has plans to do any more acting although he is still very active when it comes to TV hosting.
There was once a time when Donnie Wahlberg was best known for being a member of a boy band, but these days it's his acting chops that have kept him in the spotlight. By the time he was cast in Zookeeper, Donnie was already fairly well established as an actor, and his career has only continued to grow in the years since. As an actor, Donnie is best known for his role as Danny Reagan in Blue Bloods which he has been playing since 2010. In 2021, Donnie also competed on The Masked Singer. Although acting is his main focus, Donnie has also done a good amount of production work after Zookeeper. Danny has been married to Jenny McCarthy since 2014.
Steffiana de la Cruz as Robin Keyes
Steffiana de la Cruz is probably the least well-known out of all the actors on this list, but that's because she's done the last amount of acting. Over the last 25 years, she's made just over a dozen on-screen appearances – two of which happened after Zookeeper. Even though she played David's wife in the movie, she has actually been married to Kevin James since 2004. The couple has four children together and it appears that has chosen to focus on family over her career. As far as we can tell she doesn't have any social media accounts.
Tell us what's wrong with this post? How could we improve it? :)
Let us improve this post!