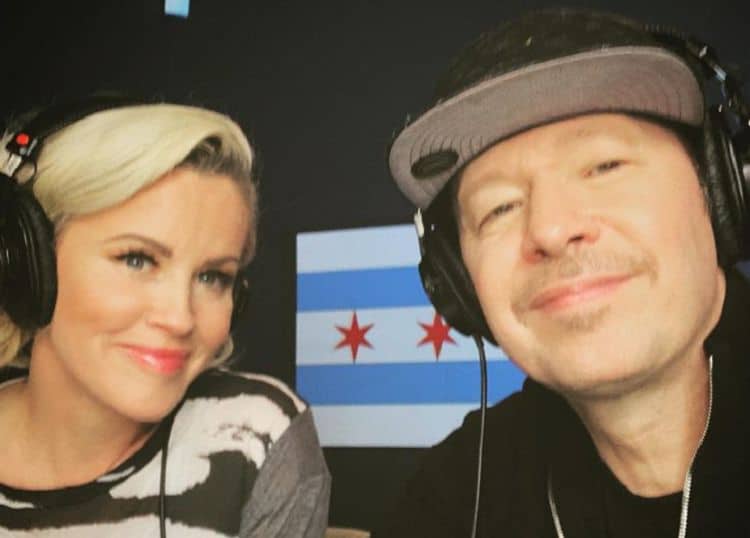 Some may know Donnie Wahlberg as the producer and star of the reality TV show, Wahlburgers. Others may know him as one of the founding members of New Kids on the Block. Still others may know him as Detective Daniel Reagan of Blue Bloods and Carwood Lipton of Band of Brothers. However it is you're familiar with his work, you'll know there's a lot more to Donnie Wahlberg than just being the older brother of Mark Wahlberg. Since he got his start in the entertainment business in the mid-'80s, Donnie has made a name for himself in pretty much every avenue of the industry, from music to film, from TV to video games. To find out more about the multi-talented star, keep reading.
1. He has 8 siblings
Anyone who's at all familiar with the reality TV series Wahlburgers will know there's a lot of Wahlberg's around… and when we say a lot, we mean a lot. Donnie is one of 9 siblings (coming eighth in the lineup of Arthur, Jim, Paul, Robert, Tracey, Michelle, Debbie, and Mark). It doesn't stop there, however: he also has three half-siblings (Donna, Scott, and Buddy) from his father's first marriage.
2. His film debut was in Bullet
Donnie's first acting role after New Kids on the Block came with the 1996 film, Bullet, starring Mickey Rourke and Tupac Shakur in the lead roles. That same year, Donnie also appeared as Cubby Barnes in the Mel Gibson action feature, Ransom. Donnie's work in film and TV since those early days has been prolific, taking in such features as Body Count (1998), Southie (1998), The Sixth Sense (1999), Blue Bloods (2010-) and perhaps most notably, the Saw franchise.
3. He was charged with arson
Back in the early '90s, Donnie was a bit of a hellraiser… something that became very apparent (and very public) when he was charged with first-degree arson for setting a fire at the Seelbach Hotel in Louisville, Kentucky. According to police reports, Donnie, along with a few other members of New Kids on the Block and several of their fans, were partying into the wee hours at the hotel; fueled by too much alcohol, Donnie stumbled on the bright idea of pouring vodka over the hallway carpet and then setting it alight. Despite initially facing up to 20 years in prison, Donnie eventually managed to swing a deal that saw the charges dropped on the agreement he attended classes on fire safety, drug abuse, and drunk driving.
4. He's been married twice
These days, we know Donnie as one half of "Donnie and Jenny", but his marriage to Jenny McCartney wasn't his first. In 1999, Donna married Kimberley Fey. After 9 years and two sons Xavier Alexander Wahlberg (born March 4, 1993) and Elijah Hendrix Wahlberg (born August 20, 2001), the pair called it quits on their marriage on August 13, 2008, citing "irreconcilable differences" as the reason for their divorce.
5. He's a fan of the Boston Celtics
Donnie is a huge fan of the Boston Celtics and a regular fixture at TD Garden during their home games. His love of the NBA team has even seen him take part in several documentaries about them. In 2010, for example, he provided the voice-overs for five episodes of the documentary series, "The Association: Boston Celtics", which told the story of the team's 2010—11 season. He also lent his vocal talents to the ESPN documentary "Celtics/Lakers: Best of Enemies", which detailed the historic rivalry between the Celtics and the Los Angeles Lakers.
6. His son's toast was the highlight of his wedding
In July 2013, US Weekly broke the news Donnie was dating actress and model, Jenny McCartney. Things between the two got serious fast, and just over a year later, they were married. While the ceremony was obviously a joyous occasion, it also took its toll on Donnie, who told ABC: "It [was] very fun, very exciting, still recovering." As he went on to say, the day had a few moments that really stood out from the rest. "I think seeing Jenny come down the aisle with her son and hearing my son's toast were probably two of the highlights for sure," he said.
7. He's got a close bond with his brothers
While the Wahlberg's have always been a close-knit family, the experience of working together has bought them even closer. During the filming of the latest (and last) season of the Wahlburgers (the reality TV show that offers a glimpse into the lives of Mark, Donnie and Paul as they run the 30 -strong burger chain empire), Mark was heard to remark "I am extremely grateful, because all of our lives could've been a lot different. I'm just extremely grateful for everything and everybody, I love you." Donnie echoed the sentiment in an interview with A&E, saying "It's been an amazing journey that has brought us closer together as a family and launched our little business to heights we never could've imagined."
8. He co-wrote Mark's albums
Back in the days when Mark Wahlberg was Marky Mark and Donnie Wahlberg was a fire-starting New Kid on the Block, the brothers worked closely together on several of the former's biggest hits. Donnie's role in Mark's career shouldn't be underestimated: in addition to producing, mixing and arranging the albums "Music for the People" (1991) and "You Gotta Believe" (1992), he was also responsible for co-writing several of the album's biggest hits, including the number one single, Good Vibrations. Donnie's work behind the scenes didn't end with his brother's efforts- he also worked on the solo albums of former New Kids on the Block bandmates, Joey McIntyre and Jordan Knight.
9. He originally said no to a New Kids on the Block reunion
After the band split in 1994, there were several failed attempts to form a reunion. The first came in 1999 when MTV invited them to appear at that year's VMA's. That time around, all the band's members were on board -except for Jonathan. As a result, the planned performance was canceled. In 2003, VH1 tried to entice the band to perform on "VH1's Bands Reunited." This time, Jonathan said yes… unfortunately, Donnie, Joe, and Danny all answered with a firm pass. Luckily for fans, the band did eventually reunite in 2007 and have since released several new albums, including The Block (2008), 10, (2013) and Thankful (2017).
10. He's a keen photographer
These days, Donnie is just as likely to be found with a camera in his hand as a microphone. Over the past few years, he's taken up an interest in photography, a passion he shares with his children. "My younger son [Elijah, 13] is very interested in art and photography already. He can help me and it's something we can do together," he told ABC. "As I've gotten older, I've sort of slowed down and am more interested in capturing moments myself."