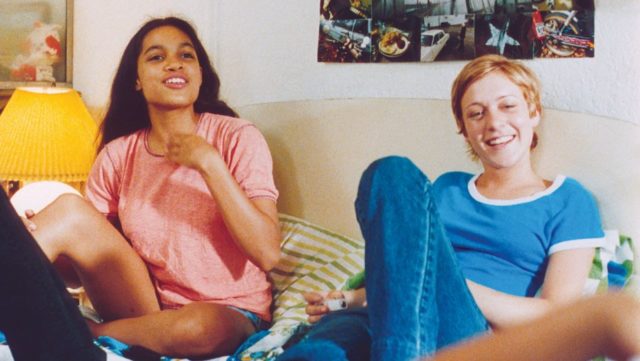 Rosario Dawson is a lot of fun to watch. She can be the good girl or she can get down and dirty just like anyone else. Some of her parts are cringeworthy not because they're bad but because she doesn't seem to shy away from a lot. She'll take a part and run with it if it's something she believes in or something that she knows she can do. This means she's done some parts in the past that people might not have agreed with but probably still watched. One thing about her though is that when she plays a role she gets into it fully and doesn't let up until the cameras stop rolling.
She's one of the more underrated actors of her time I believe.
5. Unstoppable-Connie
Connie is in perhaps one of the most difficult positions because she can't physically do anything to stop the train but she has to make sure that she helps to manage just how the train is going to be stopped and even try to make sure that the tracks ahead are cleared so the unguided missile that is the runaway train doesn't pulverize anything else. She plays a very mentally tough woman that knows her job and can't stand that the higher ups are ready to just bail out and take the easy route, which would be derailing the train.
4. Unforgettable-Julia Banks
It's not always an enviable position to be the next woman in a man's life, especially if the woman that was already there thinks that she might have a chance at getting back together with her husband. Obviously if a woman's that obsessed then there aren't a lot of lengths she'll stop at in order to take back what she feels is hers. That kind of crazy a person can do without, especially once it starts to land her in hot water with the authorities.
3. Sin City-Gail
Gail is like a Fury brought to life straight from mythology. She's tough, resilient, and vicious when unleashed on anyone. She won't hesitate to kill in the defense of her fellow women but she also won't hesitate to lash out at them if they betray her. She's the kind of woman you don't ever turn your back on and the type that will tear you apart if you give her a reason. That's why she's one of the best characters that Dawson has ever played.
2. Death Proof-Abernathy
Abernathy was kind of a whiner going into the movie but eventually she turned into a bonafide tough woman. When she refused to get out of the car and insisted that she be allowed to join the other two when tracking down Stuntman Mike she became really impressive since it was no longer a matter of tagging along, it was just sheer revenge that was egging her on.
1. The Rundown-Mariana
Marianna loved her country and her people and those were her main concerns. She might have cared about Travis had he been a bit different and not such a shifty flake of a person. But at the very least he did find the treasure that was meant to save her village.
Rosario Dawson is a lot greater than she's been given credit for.
Tell us what's wrong with this post? How could we improve it? :)
Let us improve this post!