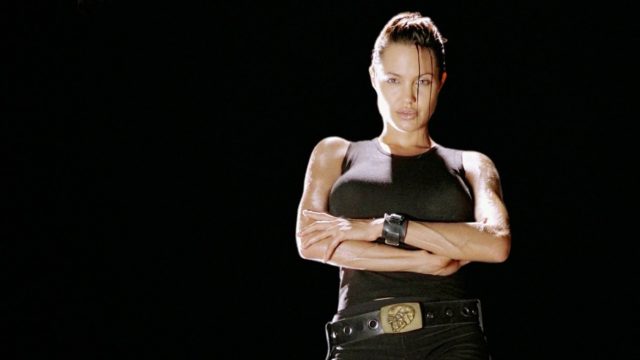 She's been an iconic video game figure since the 1990's and a fantasy figure that's driven young men wild since her arrival. She's also one of the roughest and most adventurous individuals in the video game world with only a few limitations when it comes to her skills and prowess. Lara Croft is more or less the kind of woman that you wouldn't want to get riled unless you're just that tough. Even then there's a good chance that the movie version played by Angelina Jolie would have done something to make anyone regret crossing her.
So how much did you know about the movie?
10. As in the game when Lara is breaking things the butler hides his face.
The first film managed to adapt a lot of things from the video game, a fact that many fans were enthusiastic to see. Everything down to Lara's most signature moves were copied and put into the movie, much to people's delight.
9. Angelina Jolie did her own bungee ballet.
She didn't do all her own stunts but she did happen to do the bungee ballet. Unfortunately she landed wrong on a chandelier and hurt herself badly enough that they had to postpone filming for a short while.
8. They had to multiple takes riding through the jungle.
When going through the jungle in a Range Rover they found that snakes and other animals would keep dropping into the vehicle. Jolie was terrified each time it happened.
7. Lara Croft's father was played by Angelina's real father, John Voight.
To this day some people don't seem to know that Jon Voight is her father. Yet they've been seen together on many occasions.
6. It's the highest grossing film with a female lead.
Aliens is number two, and with all due respect to Lara Croft the only reason she gets the nod is that she's capable of a lot more than Ripley.
5. Lara never shoots anyone with her guns.
She might shoot around them or at something near them but the only time she hurt someone with a gun in the movie was when she hit a person with the butt of the gun.
4. Angelina had to wear padding to simulate Lara's bra size.
Lara's original size would have been way too much for the movie, so they dialed it down a bit but still had to pad Jolie's bra to make her resemble the character a little more.
3. Angelina received weapons training from a SAS instructor.
When it looks like she knows what she's doing with each weapon the trick is that she really does since she got hands on training.
2. She had to wear makeup to cover a tattoo on her upper left arm.
Throughout the movie you can still see the tattoo a few times as the makeup wore off occasionally.
1. Catherine-Zeta Jones was considered for the role of Lara Croft.
This might have given Lara Croft a much different look, but there's a good chance it could have been just as good since Jones was still in great shape at the time and could still play a younger character.
Unless you're a gamer and a lover of Tomb Raider there's a chance you didn't know many of these.
Save