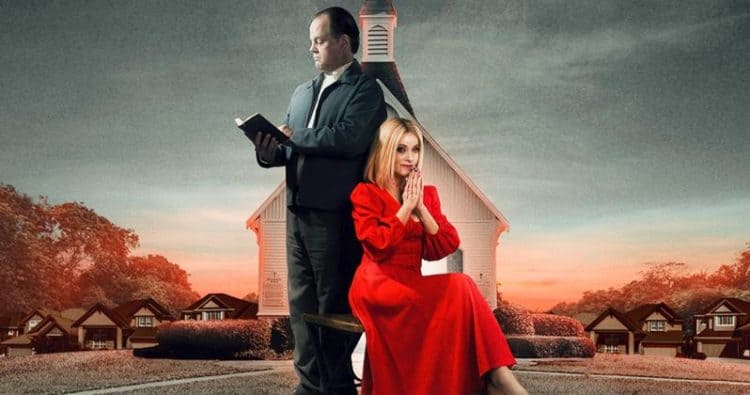 This should remind people of the show Santa Clarita Diet in some ways, apart from the fact that Drew Barrymore played a zombie in that show and Barbara Crampton is obviously playing an unsatisfied wife that becomes a vampire after taking a risk and meeting someone in a less than reputable, out of the way location. Just going from the trailer it would appear that this movie is largely about the life of a bored wife that is tired of not feeling anything in her marriage and needs something that will make her feel alive. That's kind of ironic really since the obvious result of her adventurous ways is that she ends up becoming a bloodsucking vampire that is either going to be protected or condemned by her husband, it's not for sure yet according to the trailer since one moment it would appear as though he's going to help her, and the next it would appear that he's about to stake her through the heart. But what is obvious is that her thirst for blood is going to grow in a big way, and her appearance is going to suffer for the lack of it. To be sure, this looks like it will be kind of comical as well as horrifying, but at the same time, this might be what some people won't like about it, while others will think that it's not half bad.
Vampire movies are still quite popular with some folks, but they appear to have become somewhat less than appealing with others in a lot of ways since it does feel as though some audience members and critics are becoming far too discerning at times since between making comparisons and raising expectations on each incoming movie, it's fair to say that very few releases measure up the way they should these days. It takes a lot to create a worthwhile vampire movie and many have found themselves lacking in a big way in recent years. Jakob's Wife is bound to be seen as a nice attempt to do something a little bit different and include something that might be a little more up to date and even a nice nod and a wink at creating a female character that finds herself in a strange and horrible predicament after trying to find a little more adventure in her life, and it could be said that this will be kind of a fun and campy attempt at a horror movie, but until we get to see it there's not a lot of ways to state that it's going to be overwhelmingly bad or good. It could be that once we get to see it that a lot of us will be right back here saying "Okay, it was bad" or even "It's worth watching just to see what happens". Hey, it could happen either way and without hedging any bets it does feel as though it's going to be worth seeing it just once to know one way or another.
The idea of turning a pastor's wife into a vampire and then making her capable of creating other vampires was an interesting twist, since a man of God being married to a blood-sucking spawn of the devil, as vampires have been known in the past, is definitely ironic. It's even worse when one considers how she becomes a vampire since someone would have to be pretty dissatisfied in order to meet up with a stranger in a place they don't know. But this is definitely a part of the formula that's been used in the past since when one looks at all the vampire movies that have come and gone throughout the course of history it's not hard to find one or two, or more, that use this kind of storyline and manage to plod along after a horrible mistake that left a person as a vampire becomes a story all its own. As of now, it would appear that a lot of people are already making up their minds about the movie despite the fact that it doesn't release until April. Early screenings are bound to give people enough to go one when deciding whether or not they want to sit down to watch the movie. But the best thing to do would still involve sitting down and watching the movie just to make certain that one's own opinion is what's driving the decision to keep watching it or not, instead of the critics. A lot of the critics might mean well and they're doing their job, but there are times when people forget that even the critics have a personal bias that comes out far too often.
All in all, this movie looks like it might be amusing to watch at least once if only to make sure that one is going to like or hate it based on their own opinion.
Tell us what's wrong with this post? How could we improve it? :)
Let us improve this post!