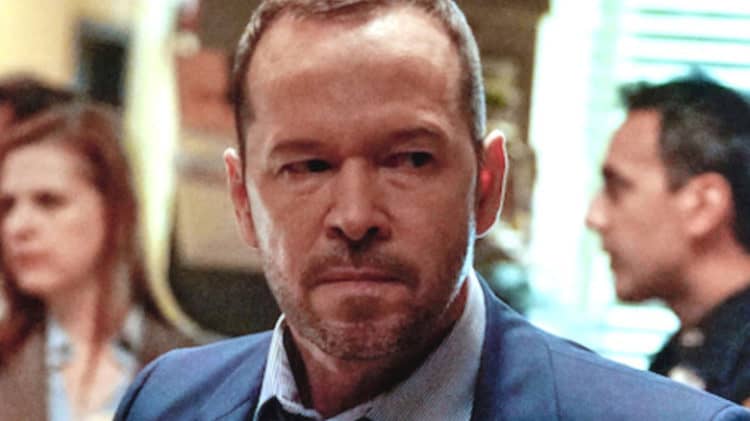 It shouldn't come as a huge surprise that Donnie Wahlberg would reference a band that he's been a part of for so long on a show that's helped to make him such a lasting sensation. As a member of New Kids on the Block, a name that's kind of past its time but oh well, Wahlberg found fame decades ago in a manner that elevated him to a position in pop culture that's never been entirely forgotten by his fans since there are still plenty of people that have caught the references to NKOTB songs throughout many episodes of Blue Bloods, a show that Donnie has been part of for a while now. The thing is that Donnie has been inserting them into the dialogue over the years more than a few times, and his fellow singers have been featured on the show as well. Many people have seen him in the Saw movies as well, which makes it fair to say that he's been a well0knwon personality for quite some time and has managed to hold onto his career for the past few decades when many others have had to struggle with what they'll do next after their initial attempt at fame and fortune fell through. Between the movies and TV, Donnie has been thriving it would appear, and given that his success in the show has been well-documented it's not hard to see how he would be allowed to inject a bit of dialogue here and there to promote NKOTB. So long as the dialogue works it doesn't sound like that bad of an idea really since it's not as though he's breaking into song whenever a reference is made. It's likely that a lot of people have no idea what's being done, but Donnie's many fans likely get a good-natured chuckle out of this since it's obvious when it happens.
This type of thing does happen in a lot of movies and TV shows and one has to wonder how many times it's done by accident versus the times when it's done by design. There's no doubt that there are moments when an actor's past endeavors will be included in their current show or movie, but whether the actor knows it's coming or not is the question. Obviously Donnie knows about it since he's the one that's been promoting it, but there have been other times when this has happened when the actors have been caught off guard and were genuinely surprised. From the simple dialogue in various movies and shows to the outtakes, there have been plenty of moments that have been heavily influenced by what actors have done in the past. One of the more noted instances came during the end of We're The Millers when the outtakes were shown. The rest of the cast decided to play a bit of music and lo and behold, the Friends opening theme came on, leaving Jennifer Aniston staring in surprised shock as her costars serenaded her. That's kind of an extreme example, but it's still one that shows that the past projects of various actors can make it into their current project sometimes, and can even be pretty silly.
To think that Donnie Wahlberg has been able to hang on to his fame throughout all these years is pretty impressive even if he's far from the only one to have done such a thing. But it is fair to say that over the years he has kind of seen his popularity dip now and then simply because being between projects and the fact that NKOTB isn't nearly as popular as they used to be are facts that are kind of irrefutable. Despite that, he's still been an effective celebrity when it comes to the many projects he's taken on, and being a part of the Wahlberg family has meant that he does get further exposure from time to time thanks to his reality shows, the restaurants he's helped with, and simply because he is the brother of Mark Wahlberg which goes a long way despite the fact that he was doing his thing before Marky Mark hit the scene with his act. Donnie has been a part of pop culture for long enough by now to have a great deal of pull on a lot of projects, which makes it very easy to think that the writers have no real issue when it comes to plugging the titles of some of his songs into the dialogue in a very natural manner. The best thing about this is that the effort could sound cheesy and entirely out of whack, but to those that know about it and those that don't it's been made to sound pretty natural, which is a huge plus since otherwise it would sound like a shameless plug.
Tell us what's wrong with this post? How could we improve it? :)
Let us improve this post!