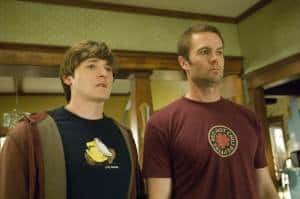 You probably don't know Garret Dillahunt by name, but you should, because you know his work. He may be the most hated guy on television. You see, he's got a history of playing the bad guy, whether it's on Deadwood, The 4400, Life, Terminator: The Sarah Connor Chronicles, or Burn Notice. Needless to say, it was a huge surprise to see the guy who played relentless Terminator Cromartie had signed up for…a sitcom?! Yet Dillahunt shows us a comedic side as the eccentric patriarch of the Chance family (no relation to Christopher) on the almost-absurd FOX comedy Raising Hope, which begins tonight after Glee. He was nice enough to talk to me exclusively and not even try and terminate me.
First things first: what the heck is the guy who tried to kill Sarah Connor doing on a sitcom?
I started actually on sitcoms. I did theater for like seven years and decided to start doing television and film, and the first jobs I got were all sitcoms and sitcom pilots. The first two shows that went for me were Maximum Bob and A Minute With Stan Hooper. I couldn't get an audition for drama to save my life.
You have that reputation of playing some of the most memorable bad guys in recent TV history, whether it was Cromartie or Simon Escher. How do you always end up playing the villain? Is it by choice or by chance?
It's kind of happened. The choice I make is to try to do things different than the last one. I think I was really lucky with Deadwood and that sort of sealed the reputation, deserved or not.
There's a story from Homicide: Life on the Street, where actor Erik Todd Dellums said that because he played drug kingpin Luther Mahoney, people actually started avoiding him in public. Has your history of villainy followed you around at all? Does it wear on you after awhile?
There's been a few like fiancees and girlfriends of friends who don't want to meet me because they're scared. They're kind of smirking when they say it. It's usually the guys that play the bad guys who are the nice guys. And when you're a guest star, you're usually the bad guy. I'm not one of those guys that takes it home too badly. The saving grace for me is I'm such a fan of writers and I'm so interested in doing justice to their work that I get involved in the story as a whole and not just my role.
Do you have a favorite bad guy that you've played? I know a lot of people who still remember you from playing Roman Nevikov on NBC's amazing series Life.
Deadwood remains a high point for me, and [The Assassination of Jesse James by the Coward Robert Ford]. I guess [Ed] is kind of a bad guy although he's kind of an innocent. They've all been really complex.
There's a hilarity here in that you're one of two actors to legitimately scare the hell out of me, and yet you've also played Jesus Christ (in "The Book of Daniel").
I was, at the same time I was doing Jesse James. I had to go back and forth.
So did you come to the role of Burt Chance to get away from the bad-guy archetype, or what was it that attracted you to the part?

I elected to take a sort of ninety-degree turn. It was a lot different from the last thing I'd played. I just wanted to do a comedy again. It had been awhile. I really liked the script, and I really liked that dynamic at work. We all crack each other up. It's a nice change of pace. I've never been on a show that's gotten such positive reviews.
How do you prepare for the role of playing an eccentric sitcom father after all this time playing serious roles in dramas? Was it a big change for you?
I don't know. I guess it's different from role to role. It's not like I did a lot of research or anything. Greg Garcia is a lot like David Milch in that he really plays to your strengths. He'll see you do something and it'll inspire him. So I just have to prepare for that.
Does Raising Hope signal the end for your Burn Notice character, Simon Escher? You've been hailed as the best villain in Burn Notice history, and I know a lot of fans were hoping that we would see more of Simon in this season.
I don't think I'm so much in their minds, but me and Matt [Nix] get along great. Me and Jeffrey [Donovan] went to school together. As long as Simon's not dead, though, he's going to come back.
You appeared in this season of Burn Notice along with Robert Patrick, who set the Terminator bar when he played the T-1ooo in Terminator 2. Your Cromartie was the best Terminator since that film. How hard is it to play a Terminator robot?
It was harder than I expected it to be. The hardest part for me was to not show emotion. The real trap for me was to not show disappointment when my plans failed, or anger towards the Connors, because you realize he's a machine. He has no emotional stake in whether he catches them or not. He's just been programmed to do this thing, and that in itself is scary.
You did Burn Notice and you also made an appearance on White Collar, so I have to ask if you'd ever make an appearance on, say, Psych.
I'm sure I would if I was offered a job. I'm a workaholic. If I have a month off, I go crazy. I just think it's fun. Timothy Busfield, who directed that episode of White Collar, directed my episode of The Glades, which my wife [actress Michelle Hurd] is on. I've been around long enough now that there are connections in just about every job I do.
You must have seen about everything now. At least, you've been in almost everything, it seems like.
It's hard to go to the movies and not say, "Hey, there's somebody looking at his mark." Once you know how things are made, it's hard not to tear things apart. I have to keep a sort of naive enthusiasm in this business.
Maybe someday we could even get you a show where you could be busting bad guys instead of playing one. What would you think of that?

Sure. It'd be nice to be a good guy. I've played a lot of good guys. I just hope that people don't get sick of me.
So what are you watching?
I watched a lot of the new shows last night. A lot of it's sort of dictated by my wife. I really love Modern Family. That's really well done. We watch Glee. The TV's almost always on. There's so much good TV on. People criticize TV a lot, but there's a lot of great shows.
Thanks to Garret Dillahunt for an insightful interview. Raising Hope premieres on FOX tonight at 9 PM (ironically after Glee).
Tell us what's wrong with this post? How could we improve it? :)
Let us improve this post!