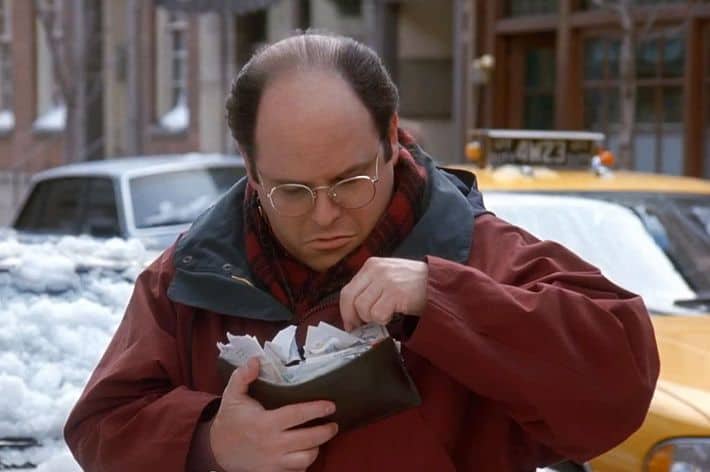 Seinfeld is easily one of the most memorable sitcoms of the 1990s. In fact, some would even argue that it's one of the best sitcoms of all time. Even though it's been nearly 25 years since the show went off the air, the series continues to have a special place in the hearts of people all over the world. But while lots of people are familiar with the show itself, many don't know about some of the interesting things that went on behind the scenes. One of those interesting things involves the show's co-creator, executive producer, and head writer, Larry David. While on set, Larry had some rules that most would consider pretty dark. Keep reading to learn more about the rules that Larry David had on the set of Seinfeld.
Larry David's Two Rules
Even though Seinfeld is a sitcom, the show did deal with some pretty serious subjects. As a result, Larry decided that two rules must be put in place. According to an interview Larry did with The Atlantic back in 1992, he shared that his two big rules on set were "no hugging" and "no leaning". In fact, "no hugging, no leaning" became somewhat of a motto for those involved in the show. Now, however, you're probably wondering why on earth he would come up with something like this. The answer is actually pretty simple.
Larry told The Atlantic, "A lot of people don't understand that Seinfeld is a dark show. If you examine the premises, terrible things happen to people. They lose jobs; somebody breaks up with a stroke victim; somebody's told they need a nose job. That's my sensibility." If you go back and watch the series, you'll notice that there aren't any moments where the cast are hugging each other the way you'd see on other sitcoms that were popular at the time.
Seinfeld is Darker Than Many Remember
When Seinfeld was on the air from 1989 to 1998, there are a lot of viewers who probably never noticed how dark the show actually was. That's because Seinfeld did something that can be difficult to pull off: it made people laugh at things that they may not have otherwise found funny. However, in recent years, many fans have gone back and rewatched the series and those dark undertones have really started to become more obvious.
In a thread on Reddit, a user named behind_th_glass wrote, "After re-watching The Pony remark yesterday it got me thinking how much darker Seinfeld is than it's contemporaries." Several other people chimed in in agreeance and shared other examples of moments when the show got a little dark.
In a separate thread, a user named youpacnone wrote, "Just rewatched the episodes when George and Susan are engaged. It's of course humorous but man there is a very dark underbelly to these. George is trying to get her to hate him and walk away by smoking and talk of prenuptials. He is thinking about suicide when he jokes about being in a plane crash. He considers just disappearing and not telling her. His friends mostly don't care for her, just tolerate her after getting to know her. Her parents can't stand George and his family. What an awful situation and he is absolutely miserable."
While there are still some people who disagree about the show's darkness, Larry David's interview confirms that the show knew exactly what it was doing.
What is Larry David Up to Now?
Larry David has been in the entertainment industry for the last 45 years, and he has accomplished a lot of things during that time. However, it goes without saying that Seinfeld is one of the things he will always be remembered for. However, that doesn't mean that Larry David is a one hit wonder by any means. Not only did he have lots of success before Seinfeld, but he's also had lots of success in the years since.
He is the creator, executive producer, and writer of the popular sitcom Curb Your Enthusiasm. The series has been on the air since 2000 and has released more than 100 episodes during that time. In addition to that, Larry David appeared on Saturday Night Live several times between 2015 and 2020. Most notably, he portrayed Bernie Sanders on multiple occasions.
Even though Larry David is nearing his mid 70s, he isn't showing signs of slowing down any time soon. It'll be interesting to see what kinds of projects he decides to work on over the next few years. No matter what, though, he has already built a legacy that will be remembered for many generations to come.