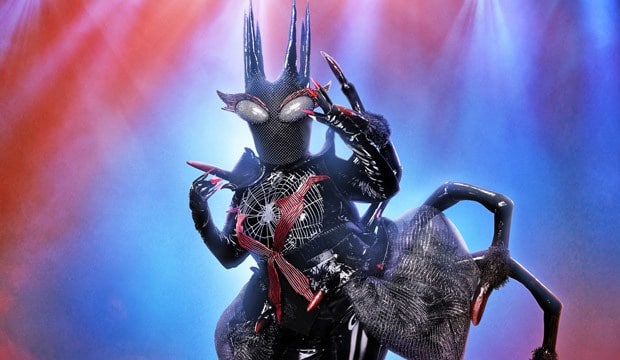 On the surface, The Masked Singer is an incredibly bizarre show. But there's something about a bunch of celebrities singing and dancing while wearing ridiculous costumes that is incredibly entertaining. Since the show's debut in the United States in 2019, viewers have gotten to watch some of their favorite celebrities sing, dance, and reveal their identities on the show's stage. Even though dedicated fans may think they know everything there is to know about the strange competition show, there's much more to the Masked Singer than many people realize. Continue reading to learn 10 surprising facts you didn't know about The Masked Singer.
1. The Celebrities Don't Receive Any Voice Lessons
Singing in front of a huge audience isn't an easy thing to do, even for the most talented performers. So you can only imagine how hard it is for someone who has absolutely no background in singing. On top of many of The Masked Singer's contestants not actually being singers, they also don't receive any sort of vocal training during the show. Basically, what you hear is what you get.
2. The Show Sometimes Uses Stand-Ins
Celebrities usually have very big schedules and that's something The Masked Singer fully understands. As a result, the show sometimes uses stand-ins to fill in for the celebrities when they aren't available. Former contestant Joey Fatone told E Online, "When you see the clues, the clues are more or less a voiceover that we did, believe it or not.There was so much stuff going on that they actually had somebody else in the costumes when we did the vignettes. When you see the clues, that wasn't me in the costume. The voice was me, but the costume was not."
3. The Show Isn't Live
If you've ever watched an episode of The Masked Singer at home, you probably assumed that the show was airing live, however, that isn't the case. Although it's true that the show does take place in front of a live audience, what airs on TV has been prerecorded.
4. All Of The Costumes On The Show Are Mad By One Designer
The Masked Singer is known for it's fun and elaborate costumes, but what many people don't know is that all of the costumes on the show are made by one person: Marina Toybina. Marina is an Emmy Award winning costume designer who has worked with some of the biggest names in the industry.
5. Contestants Have To Follow Some Very Strict Rules
The element of surprise is what makes The Masked Singer such a special show, and production goes to great lengths to keep it that way. All celebrities who appear on the show must sign a non disclosure agreement that prevents them from revealing their identity. If they do tell a loved one, that person must also sign an NDA. Contestants faces are covered the entire time they're on set.
6. Audience Members Are Not Allowed To Bring Any Electronic Devices
Contestants aren't the only ones who are responsible for helping the show maintain its secrecy. All fans who are part of the live audience are prohibited from bringing any electronic devices with them. Breaking this rule may result in serious legal consequences.
7. Filming For Each Episode Can Take More Than 12 Hours
Each episode of The Masked Singer is only an hour long, but the actually filming process is much longer. According to an article from Variety, filming for the show can take up to 14 hours in one day. This time not only includes the performances, but the interviews as well.
8. Contestants Can't Talk To Each Other On Set
If you've ever envisioned all of the stars on The Masked Singer kicking it back stage and cheering each other on from behind the scenes, it's time to think again. Since even the contestants are in the dark on who else is competing on the show, they're not allowed to interact at all while on set to minimize the chances of anyone's identity accidentally being revealed.
9. Contestants Have A Background Singer
No professional performance is complete without some high-quality background vocals. Trained singer, Clara Pletis, provides background vocals during performances on the show. We weren't able to find much information on Clara, but according to her Instagram bio she is a graduate of Johns Hopkins University.
10. The Big Reveals Don't Happen Immediately
When the celebrities finally reveal their identities, it may seem like a seamless moment but in reality, it doesn't happen the way it appears. Before contestants remove their masks, they're taken backstage to fix their hair and make up so they can look their best when their face is revealed.
Tell us what's wrong with this post? How could we improve it? :)
Let us improve this post!