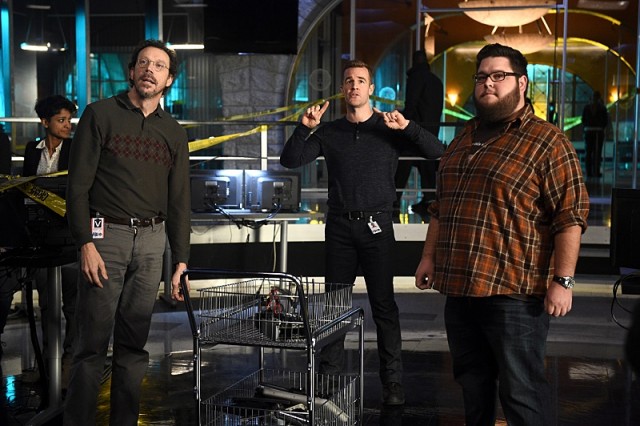 What do you do when a commercial flight from Tampa, Florida to Providence, Rhode Island suddenly vanishes with no way of communicating with the aircraft from the ground? That's what Team Cyber is dealing with in this week's episode of CSI: Cyber.
It was revealed during an FBI press conference at T.F. Green Airport that the missing plane, Argus-272, was intentionally diverted from its original flight path and onto a new one due to a cyber intrusion into the NAS flight plan database. Agent Krumitz did a triangulation of the plane's GPS device to pinpoint the plane's last known location and found that, instead of a large plane, there was some reflective material hanging from the trees in the field. After piecing everything together, the reflective material turned out to be a software-defined radio that's used to imitate radio frequencies in order to infiltrate secure networks. It would seem that the hacker used this radio to scramble the communication signal between the missing plane and the Air Traffic Control Center in Leesburg, Virginia.
It was nice to see Artie Sneed again helping out the team with figuring out how the plane vanished, and I think that he is starting to harbor feelings for Deputy Director Ryan. Marcus Giamatti just brings another level of quirkiness to this last surviving franchise, and I hope that he can stick around for a while longer if CBS decides to keep CSI: Cyber on the air.
It was also amusing to see Nelson channel his inner fanboy when he saw Emmitt Smith, a former professional football player for the Dallas Cowboys and Arizona Cardinals, signing autographs. Nelson then raced over on his hoverboard to Smith and proceeded to challenge him to a race. Smith politely refused, saying that he was wearing dress shoes, but words fell on deaf ears as Nelson sped off. Agent Krumitz then asked if Smith wanted to race him in socks, but the former football player looked at Agent Krumitz with a "really?" expression on his face. I for one would've loved to see Emmitt Smith in a race with Agent Krumitz in socks, but I guess it's not to be.
Back to the case, Artie told Agent Mundo that it was a white noise generator, or a signal jammer on steroids, to use Artie's words, that made flight 272 vanish into thin air. The question is, how did it get onto the plane, and who was responsible for bringing the generator onboard? The answer: a young woman named Erica Chan, a Chinese student travelling to America, disguised the white noise generator with a portable oxygen breathing apparatus. Sneaky. Very sneaky.
What I don't quite understand is why a normal student from China would want to hijack a plane digitally, knock out an undercover U.S. Marshall with a small dose of morphine, and threaten to kill everyone on board just to obtain the name of a witness to a murder. Her name was Natalie Roth (alias Rebecca Taylor), and she was under FBI Witness Protection after seeing the murder while taking out the trash. I'm just going to assume that Erica is a trained Chinese assassin/hacker for hire whose mission is to hack into secure networks and kill major witnesses to a crime.
At the end of this week's CSI: Cyber, Erica was apprehended for her crime, and everyone on board the plane was rescued and reunited with loved ones. The part where the team used the plane's entertainment system to get a message to the U.S. Marshall, who was knocked out thanks to Erica, was very quick thinking. Director Ryan was also able to stall Erica to allow the pilot to pull out the plane's onboard computer, as suggested by Artie, and regain control of the engines. It was a pretty bold move on Team Cyber's part, telling one of the passengers, Mr. Lammers, to assist in keeping Erica away from her computer. It would've worked had not Erica seen right through it and sent the plane in a nose dive toward the ground. At least one of the jets was able to communicate with the pilot through what I believe is Morse Code, and the plane's computer was disconnected, cutting off Erica's access to the plane indefinitely.
I was surprised to see Artie ask Deputy Director Ryan out on a dinner date so soon after making her acquaintance, but I do applaud his bravery. Shame the Deputy Director doesn't date Consultants, but now Artie can come into the FBI to help out on cases whenever he wants as long as he calls first. I also wonder where D.B. has gone off to. Maybe he's still in Vegas getting his affairs in order, but it's all up in the air for now.
CSI: Cyber will change to Wednesday nights starting March 2 for a two-week test run before CBS takes it off its program schedule. The air dates for the remaining episodes have yet to be determined.
[Photo credit: Ron P. Jaffe/CBS]