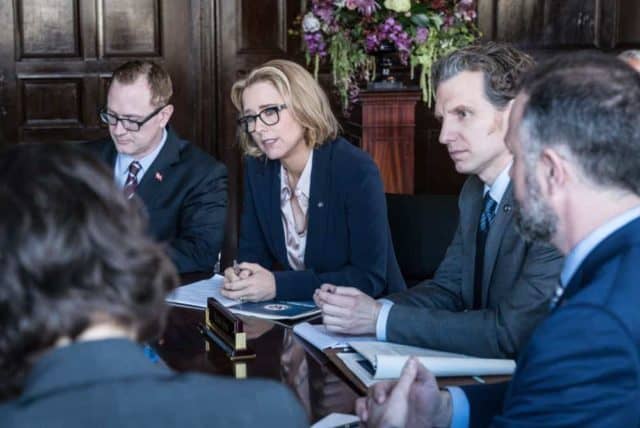 Tea Leoni has been brilliant as the star of the show, Madam Secretary. This is a series that television was lacking for so many years, and when it premiered in 2014, we knew right away that it was going to be something special. Madam Secretary is smart, powerful, and completely obsessive. We can't get a hold of watching Washington DC in the hands of a woman in power. Whether you're new to the show or have wanted to simply binge on it all weekend, we've listed the ways you can stream Madam Secretary online. After all, there's nothing better than watching all the available episodes in one sitting; anticipation is overrated.
DirecTV Now
Get access to all your favorite channels online through one platform–DirecTV Now. You won't need cable or anything of that sort. You'll just have to pay a monthly fee, the basic fee being $35, to get access to 60 channels. You can then stream any show from any of these channels including Madam Secretary's network, CBS. The best thing about this option is that you do get other channels you might like to watch such as ESPN, CNN, Bravo and many others. It's significantly cheaper than cable too.
Streaming service
Unfortunately, if you happen to be a Hulu member, you can't access Madam Secretary through that service. There are some CBS programming on Hulu, but Madam Secretary was not one of them–at least not at this moment. There's better news for Netflix users, as the service has access to all of the seasons and episodes of Madam Secretary. It might warrant a change of services on your part, but for current Netflix users, we know what you'll be doing this coming weekend. Will it be Netflix and chill? With no question, you'll be doing Netflix and chill.
CBS All Access
CBS does give you an option to have access to all of its shows. There are two basic plans: one with limited commercials for $5.99 a month and $9.99 a month for commercial free streaming. Once you've signed up, you can access the platform on anything that has Internet, whether it's your computer, your laptop, tablet, or phone. You can download the app and stream anytime, anywhere. This will probably be beneficial if most of the shows you watch are on the CBS network. The prices are certainly great, but if you're only watching Madam Secretary on the app, you might want to just do it one time.
A la carte
Last but not the least, let us tell you that you have options as far as streaming is concerned. If you've only missed a couple of episodes here and there, you can definitely find them all via iTunes, Google Play or via Amazon. Most episodes cost about $2.99 each, so if you're willing to pay that much, then just go for it. If you love Madam Secretary enough to buy entire seasons, you might end up saving more money in the long run. The best part about this option is that once you've paid for it, it's yours forever.