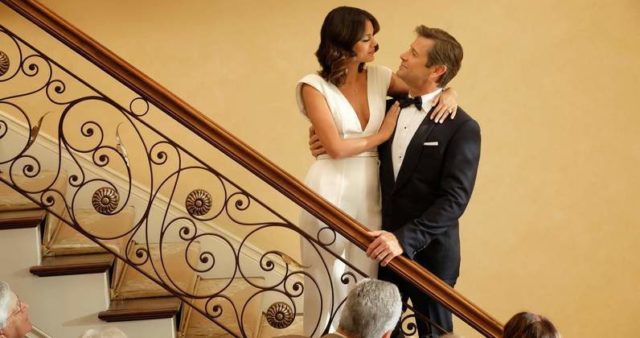 The CW reboot of the 1980s ABC series Dynasty is a smart move for the network. The premiere proved just as much, when we were introduced to the world of the Carrington family and everything that is dysfunctional and crazy about. The show is all about wealth and all the positives and even more negatives that might come with that. We're looking forward to more drama as the show progresses, but for now, here are the top five moments from the premiere to get you by.
1. Meet the ex
No one is innocent in this series, and the premiere sets the tone of it all just right. We immediately get a sense that Cristal is no one to mess with, and she's not quite the do-gooder that she plays to be. We find out that she's messing around behind her fiancé Blake's back with her ex Matthew, no less. Turns out, Matthew is Blake's best field engineer, and as Matthew is invited to Blake's house to both his and Cristal's surprise, everything is set in awkward and diabolical motion.
2. The dinner table
At the first dinner table event we ever witness, we see exactly how the Carrington family dynamic is. It's truly awkward and uncomfortable; everyone seems to be out only for his or her own; they also seem to constantly be on guard, constantly peering behind to watch out. It's almost refreshing to see how honest they're all being about not liking each other much. But family is family, and there's no relationship more complicated than that of the rich Carringtons.
3. The stepmom/stepdaughter catfight
They get physical. After Blake moves up the wedding date sooner than much expected and Fallon comes home to see Cristal in a wedding dress, all the claws come out. Cristal also manages to acquire the COO position of Blake's company, something that Fallon's had her eyes on for probably quite some time now. The fight happens just before the wedding, which is quite fitting, since this is also about the time when we find out that Cristal is the black sheep of her family–at least according to her nephew, Sammy Jo.
4. Fallon makes her move
The dynasty daughter can't be left out of the spotlight in her stepmom's wedding, of course. Fallon shocks everyone, especially her father Blake, after she announces her new company that's to be in competition with her father's. Fallon also takes in Windbriar as her first client, teaming up with Jeff along the process and leaving the wedding with him at her side instead of Michael. Here comes more drama.
5. Matthew dies
Surprise, surprise: Blake is no innocent, as we mentioned before that no one in the show is. Cristal's ex Matthew apparently dies in a work-related explosion. We automatically tie it to Blake, and the scene where Matthew's wife Claudia arrives at the end of the wedding to accuse Blake of the crime of killing her husband is hopefully how this show will be for its duration. It was brutally good and honestly more than we expected for the reboot.
Save