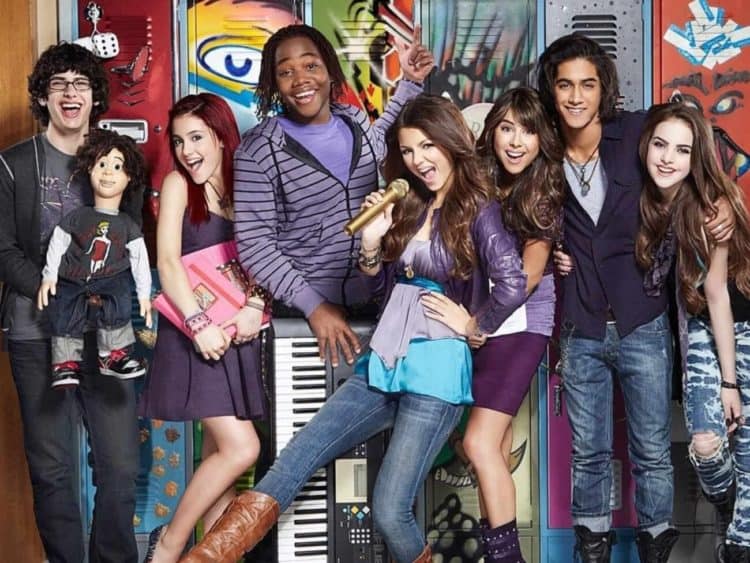 During the early 2010s, Victorious was easily one of the hottest shows on Nickelodeon. The series centered around a teenage girl named Tori Vega (Victoria Justice) who was a student at a performing arts high school. Not only does the school put her performance skills to the test, but she also has to deal with being the new girl. Fortunately, she makes a good group of friends and they have lots of interesting experiences together. The series lasted for four seasons and helped the careers of several young actors. In the years since the show ended, some of its stars have gone on to shine even brighter. Others, however, have taken a break from the spotlight. Keep reading to find out what happened to the cast of Victorious.
Victoria Justice
Victoria Justice was raised in Florida and started her acting career at an early age. She got her first big break in 2005 when she was cast as Lola Martinez in Zoey 101. After becoming the star of Victorious, her fame was taken to even higher heights. Once the show ended, many people expected her to continue to take on big acting roles. However, that hasn't really been the case. While it's true that she has continued to act, Victorious remains her biggest role. Her most recent on-screen appearance was in 2021 in the Netflix movie Afterlife of the Party. That doesn't mean she hasn't been working hard, though. In more recent years, Victoria has been focused on her music career and she released two singles in 2021. It's unclear, however, when her album will be released.
Leon Thomas III
Born and raised in New York, Leon Thomas III's acting career began when he was in elementary school. His first professional role was young Simba in a Broadway production of The Lion King. Just a few years later, Leon made his first on-screen appearance. Being cast in Victorious was his first major TV opportunity and it allowed him to share his talent with a wide audience. After the show ended, Leon has appeared in several shows including Fear the Walking Dead and Insecure. He has also been working on his music career. In 2015, he won a Grammy Award for Best R&B Album. He also earned a Grammy Award nomination in 2020 for Best Rap Song.
Matt Bennett
Prior to being cast in Victorious, Matt Bennett only had a couple of on-screen credits. Being on the show, however, proved to be the perfect boost for his career. Although most of his roles since the show have been minor guest appearances, Matt is still working hard in the entertainment industry. Like many of his other castmates, he has been working on music and he also has a YouTube channel.
Elizabeth Gillies
From an early age, it was clear that Elizabeth Gillies was meant to be a performer. Her talents as a singer and actress have proven to be the perfect combination for success. Her time on Victorious helped establish Elizabeth as a bright young star and she was able to use the momentum from the show to propel her career even further. Since 2017, she has been a cast member on the series Dynasty. On top of her live-action roles, Elizabeth has also done a good amount of voice acting. Things have also been going well for Elizabeth outside of her career. In 2020, she married musician Michael Corcoran.
Ariana Grande
I think it's safe to say that we're all well aware of what Ariana Grande has been up to since her time on Victorious. However, for the sake of the list, I'll give you a quick rundown. After Victorious, Ariana Grande started shifting her focus to music. She released her debut album, Yours Truly, in 2013 and things quickly took off for her. Since then, she has become one of the biggest pop stars of her generation. She currently has two Grammy Awards and will likely win even more in the future.
Avan Jogia
Unlike the rest of the Victorious cast, Avan Jogia is originally from Canada. He started his acting career in 2006 with a role in the TV movie A Girl Like Me: The Gwen Araujo Story. Although it took a while for his career to gain traction, being cast in Victorious proved to be a great move for his career and he has continued to act consistently in the years since. Some of Avan's more recent credits include Resident Evil: Welcome to Raccoon City and The Stranger. Avan has also done some work behind the camera as a writer, director, and producer.
Daniella Monet
Born and raised in California, Daniella Monet started her acting career when she was in elementary school. She made her first on-screen appearance in 1997, and she had already experienced a good amount of success before being cast in Victorious. Immediately after the show, she continued to work regularly. However, things have slowed down for her in more recent years. That is likely because she is a wife and mother of two and has decided to take some time to focus on her family. Although she doesn't have any projects in the works at the moment, we know we'll be seeing more of Danielle in the future.
Tell us what's wrong with this post? How could we improve it? :)
Let us improve this post!