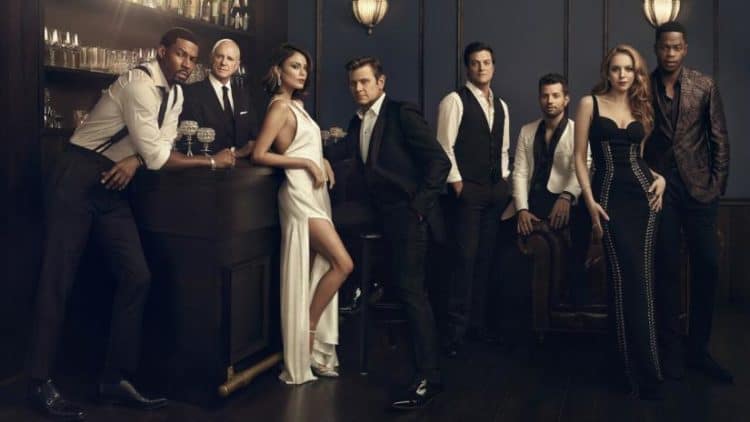 When it comes to soapy dramas like Dynasty, they're nothing without the treacherous villains who'll stop at nothing to get what they want. They might not be your typical gun-toting bad guys but these unpredictable characters plot, scheme and they have the uncanny ability to stir up chaos wherever they go. Dynasty is based around the Carringtons, the wealthiest family in Atlanta. Most of the villains on this show are beyond redemption. Here is our list of the top villains in all five seasons:
1. Alexis Carrington
While Alexis Carrington has undergone several appearance changes due to countless surgeries one thing that has remained the same throughout each season is her cunning personality. Money, status, and power are what drive Alexis s d she'll stop at nothing to secure all three. From sleeping with the butler while married, hiring a man to pretend to be her missing son, and even shooting her ex-husband's new wife, there is a long list of vile things that Alexis has done. However, the worst thing she has ever done is be a terrible mother. Alexis abandoned her children after she divorced their father. Although her deceptive acts have a negative impact on her family she can't seem to change her ways.
2. Adam Carrington
Calling Adam Carrington "crazy" would be an understatement. Initially, the madman displayed psychopathic tendencies. He did shove his biological mother's face into the fireplace and had the plastic surgery team make her look just like Fallon. Creepy, huh? Adam Carrington also has a dark past. He's the Carringtons long-lost son who was kidnapped by his nanny, Theresa, and her boyfriend. Theresa raised Adam as her son but when she got sick she revealed that his true identity and Adam gave her a lethal dose of pain medication. Adam doesn't mind getting his hands dirty. What makes him dangerous is that he is a wolf in sheep clothing.
3. Evan Tate
Evan Tate seems like a sweet lawyer grieving his sister when we first meet him. However, after Fallon rejects him it's like a light switch turns on and he becomes a sinister madman. Evan stabs Kirby and leaves her for dead, crashes Fallon's wedding, and holds a knife to her throat.
3. Dominque Deveraux
When it comes to being the worst mother in the world, Dominique Deveraux is the only one that can compete with Alexis Carrington. Dominque left her children with her mother when they were young to selfishly follow her dreams In the process she got married and became a stepmom. This alone makes her a villain. Now that she's back, she has become so obsessed with obtaining her rightful place as a Carrington rather than making amends with her children.
4. Jeff Colby
If it's one thing we can expect from Jeff's character is to seize every opportunity to get revenge on the Carringtons. Jeff Colby has battled it out with everyone in the Carrington family including Alexis, Fallon, and Adam. Colby is sneaky and loves to make underhanded deals. However, unlike most villains on the show, Jeff has some good in him, and fortunately, he's able to redeem himself in recent seasons.
5. Blake Carrington
Blake Carrington is a billionaire tycoon and the mastermind behind Carrington Atlantic. He often uses his position and influence to get what he wants. Blake will do anything to protect his family, including covering up the death of his teenage daughter's friend and even committing murder. Blake's first love has always been his business. Over the years, he has neglected his children for Carrington Atlantic and his second wife Cristal left him because he was more focused on his business than their marriage.
6. Laura Van Kirk
Laura Van Kirk might not have as much screen time as the other villains but she's still found a way to leave a lasting mark on the series. Liam is a great guy but his mom Laura is manipulative and cunning. She pretended to have a terminal illness to get her son's attention and she even made a deal with Blake Carrington to sabotage Liam's engagement to Fallon.
7. Claudia Blaisdel
Claudia Bliasedel appeared in the first two seasons of Dynasty. She claimed her husband was killed on the job at one of the Carringtons companies. She did a great job at garnering the viewer's sympathy until we found out that she was responsible for her husband's death and she killed him because she didn't want him to leave her for Cristal. Claudia even went as far as faking a brain injury in order to make her way into Carrington's home. Things came to a head when she held the Carringtons at gun point.