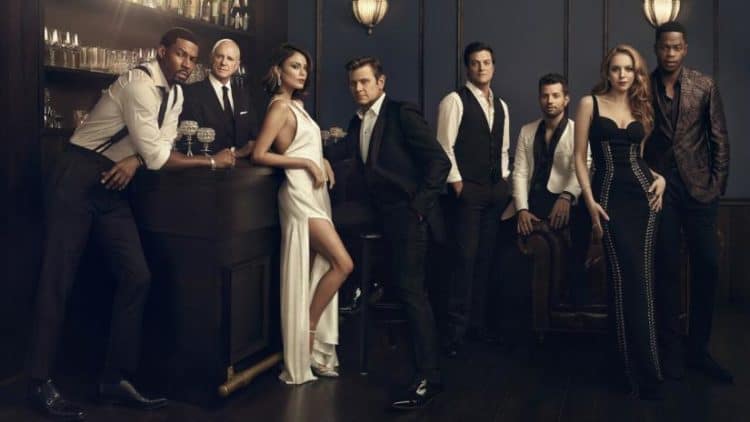 As of October 11, Dynasty is officially back. The third season of The CW's prime time soap opera promises to be more jam packed with drama, revelations, betrayals, and big hairdos than ever before. Expect new faces, old characters, enough shocks and twists to keep you glued to your seat for the next few months… and a cast member list that includes the return of all your old favorites (and just a couple of new ones to keep things interesting).
Elizabeth Gillies as Fallon Carrington
26-year-old actress Elizabeth Gillies is back as the heiress Fallon Carrington. Gillies began her career on Broadway, making her stage debut at the age of 15 as Lucy in the musical 13. Her TV debut, meanwhile, came in 2007 in the NBC drama The Black Donnelly's. In 2010, she landed the breakthrough role of Jade West in the Nickelodeon sitcom Victorious. She's since gone on to star in Sex & Drugs & Rock & Roll (2015-2016), Killing Daddy (2014), and Winx Club (2011-2015).
Grant Show as Blake Carrington
Reprising his role as the billionaire CEO of Carrington Atlantic, Blake Carrington, is Grant Show. Show's first role on TV came in the daytime soap opera Ryan's Hope; his performance as Rick Hyde not only earned him a Daytime Emmy nomination for "Outstanding Young Actor in a Daytime Drama Series", it also drew the eye of producer Aaron Spelling. Impressed by Show's talents, Spelling cast him as Jake Hanson in the popular series Beverly Hills, 90210, with the intention of establishing the character before spinning him off as the lead in his upcoming series, Melrose Place. Melrose Place proved the launching pad for even greater success, and Show has since built an impressive resume that covers both TV and film.
Rafael de la Fuente as Samuel Josiah "Sammy Jo" Jones
Starring once again as Cristal's naughty nephew Samuel Josiah "Sammy Jo" Jones is Rafael de la Fuente. Prior to landing the role, the Venezuelan actor and singer was best known for his performances as Diego Forlán in the fantasy television series Grachi (2011—2013), Michael Sanchez in Empire (2015-2016), and Julio in Every Witch Way (2014).
Robert Christopher Riley as Michael Culhane
Back as Michael Culhane is Robert Christopher Riley. Since graduating with a BA in Theater from Lehigh University in Bethlehem, Pennsylvania in 2003, Riley has worked extensively across both TV and film, landing parts in such TV shows as Victorious (2010), Damages (2012), Hit the Floor ( 2013- 2016) and Elementary (2017), and in films such as The Perfect Match (2016), Barrow: Freedom Fighter (2016), and Walk Away From Love (2017).
Sam Adegoke as Jeff Colby
Season 3 sees Sam Adegoke reprise his role as Jeff Colby, one of Blake's newest rivals. Adegoke was born in Lagos, Nigeria, but settled in the US with his family when he was still a child. After graduating from the University of Minnesota with a degree in marketing and finance, Adegoke set his sights on a career in acting, achieving early success when he was named the winner of the third annual ABC Discovers: Digital Talent Competition in 2015. Since then, he's enjoyed roles as Billy James in Murder in the First (2016), Chris Walker in Switched at Birth (2017) and Javon Beard in the TV movie, Michael Jackson: Searching for Neverland (2017).
Alan Dale as Joseph Anders
Alan Dale stars as Joseph Anders, the head of the Carrington house and Steven's biological father. The New Zealand born actor first made his name as Dr. John Forrest in the Australian soap opera The Young Doctors from 1979 to 1982. From 1985 until 1993, he starred as Jim Robinson in Neighbours but left the series after a pay dispute. Since relocating to the States in 2000, Dale has enjoyed success with notable roles in The O.C. and Ugly Betty, along with recurring roles in Lost, 24, NCIS, ER, The West Wing, The X-Files, Entourage and Once Upon a Time. He's also built up a notable career on film, appearing in the likes of Indiana Jones and the Kingdom of the Crystal Skull, Star Trek Nemesis, Hollywood Homicide, The Girl with the Dragon Tattoo and Captain America: The Winter Soldier. Off-screen, Dale has been married to Tracey Pearson, a former Mis Australia, since 1990. The couple currently resides in LA with their four children.
Daniella Alonso as Cristal Jennings
Replacing Ana Brenda Contreras in the role of Crystal Jennings this season is Daniella Alonso. The 41-year-old actress and former model is best known for her performances in the horror movies The Hills Have Eyes 2 and Wrong Turn 2: Dead End, as well as in the NBC post-apocalyptic series Revolution (2012-23) and medical drama The Night Shift (2014). Alonso's casting as the replacement for Contreras was made in June this year, with Contreras explaining her decision to leave the show with the statement, "It was a decision I made with the producers and it took a lot of work. I had been carrying a heavy workload, stress and personal things that made my stay in Atlanta very difficult and had an impact on my health. I'm taking with me the nicest things from my character and my castmates. I am very grateful to CW and we are on the best terms. In fact, I keep in touch with the creatives and I don't doubt that we will work together again."
Sam Underwood as Adam Carrington
Season 3 sees Sam Underwood (who stars as Blake's and Alexis's eldest son, Adam Carrington), upgraded to a series regular. Underwood 's most recent credits include the feature film The Drummer opposite Danny Glove; he's also played a series regular on Fear the Walking Dead and appeared alongside Kevin Bacon in Fox's The Following.
Michael Michele as Dominique Deveraux
Michael Michele 's character of Dominique Deveraux is likely to take on a much more pivotal role this season, having recently been promoted from a recurring role to main cast member. Michele spent several years on stage before making her film debut opposite Wesley Snipes in the 1991 feature film, New Jack City. Since then, she's enjoyed lead roles in the CBS crime drama Dangerous Curves (1992—93) and the soap opera Central Park West, as well as roles in films such as The 6th Man (1997), Ali (2001), Dark Blue (2002) and How to Lose a Guy in 10 Days (2003).
Adam Huber as Liam Ridley
Expect to see a lot more of Adam Huber this season, as his character, Liam Ridley, moves from a recurring to lead role. Prior to Dynasty, Huber was best known for his roles in Fox's New Girl, MTV's Awkward, Lifetime's UnREAL: The Faith Diaries, TNT's Animal Kingdom and NBC's The Good Place