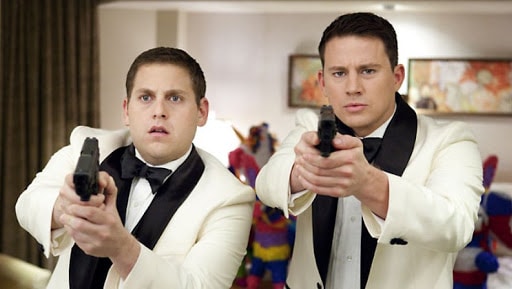 Back in 2012, Phil Lord and Chris Miller re-introduced the new generation to 21 Jump Street. Originally a television vehicle that skyrocketed Johnny Depp and Holly Robinson Peete's career, the reboot sees Schmidt (Jonah Hill) and Jenko (Channing Tatum) join the secret Jump Street unit, where they go undercover as high-school students. There mission? To shut down a dangerous drug ring; however, the two undercover cops get more than they bargained for when they realize that modern-day high school isn't what it used to be. The film was a smashing success, garnering a strong 85% on rotten tomatoes and gaining over $200 million worldwide. Its sequel, 22 Jump Street, was even more of a success, amassing over $300 million worldwide at the box office. Following the film, there were rumors of a female spinoff of the popular franchise. In 2018, Columbia pictures confirmed the news, with Wendy Molyneux and Lizzie Molyneux set to pen the upcoming feature. At this moment, the actual plot of the female-centric spinoff is currently unknown. With the success of the Jonah Hill and Channing Tatum versions, Jump Street: Now For Her Pleasure is coming in with a hot franchise. Here are several things that the upcoming movies should avoid.
Making This A Feminist Movie
This subject is a delicate balance. There's nothing wrong with films that positively highlight a women's value in today's society. However, a feminist film becomes an issue when men are deemed as nothing more than evil, rapey, a**holes. Charlie's Angels, Birds of Prey and The Emancipation of Harley Quinn are just some of the movies famously guilty of these themes, and both films ended up flopping at the box office. It's possible to have a strong man and woman in the same room without each side tearing each other down. Bridesmaids was an excellent female-centric comedy that showcases women in a positive and funny light without the need to draw a line in the sand. Wonder Woman, Hidden Figures, and The Hunger Games are just more examples that spotlight women, yet never tear down the opposite sex. Oh, how can I forget about iconic figures Linda Hamilton's Sarah Connor in The Terminator or Uma Thurman's The Bride in Kill Bill?
Point is that making it a boys vs. girls movie will likely alienate men from purchasing a ticket. I do understand that there have been sexist movies that put a negative light on women; however, the answer isn't simply to call most (or all) men trash in order to hype women up. 21 Jump Street (at least the movies) wasn't one of those films. A good film can happen regardless of sex, race, or gender. We're at the point in filmmaking that women are now getting more leading roles in Hollywood. This is great, but more focus on interesting characters instead of powerful feminist themes should be emphasized.
Making The Characters Too Similar To Schmidt and Jenko
I understand the temptation of trying to replicate what made the 21 Jump Street films popular; however, the female leads can't duplicate Schmidt and Jenko's character. Reportedly, the film will focus on one officer going undercover as a teacher and another as a student, which is dangerously close to what the first 21 Jump Street film did. Of course, the official plot of the film hasn't been confirmed, thus I can't fully tear into the mistakes executives will be making if they did go this route. Following the exact blueprint of the first film will make it a bland and predictable imitation of what Jonah Hill and Channing Tatum did. What's the point of watching a carbon female-centric copy of a film that I can watch at home? It's important to keep to the same tone and style of 21 Jump Street, but not separating from the male counterpart shows that the film is nothing more than a cash grab and more importantly, it screams lazy and inferior.
Not Go Over Board With The R-Rating
There's no telling on what the rating will be. The first two Jump Street films were rated R and still managed to make a killing. Executives may decide to appeal to a wider audience and make sure the film is PG-13. There's nothing wrong with that because it's still possible to make a great Jump Street film at a PG-13 rating. However, should the R-rating stand, hopefully, the filmmakers don't try to lean into the raunchy and naughty aspects of the film. The original Jump Street movies did an excellent job of balancing the story with well-timed jokes. The R-rated jokes never felt out-of-place and perfectly fit with the nature of the movie. That's exactly how the new Jump Street should be, not focusing on the potential naughty and dark jokes and allow the story to naturally flow into them.