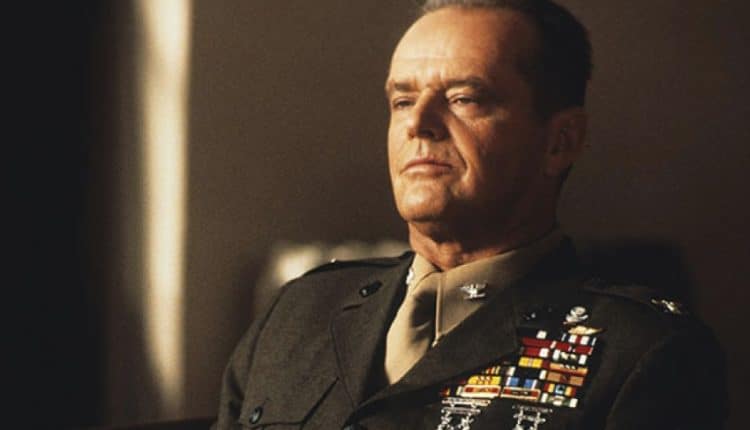 Released in the winter of 1992, A Few Good Men was arguably one of the best dramas of the year. With a stellar cast and an intriguing storyline, the film told the story of two United States Marines who were put on trial for murdering another marine. Despite being fictional, the film brought viewers into the military's justice system. In the nearly 30 years since the movie's release, many of its stars have gone on to have legendary careers in the industry while others have been a little less active. Either way, they will always be able to say they played a role in this now-classic movie. Keep reading to find out what happened to the cast of A Few Good Men.
Tom Cruise as Lieutenant Daniel Kaffee
As one of the biggest names in the entertainment industry, most people probably have a good idea of what Tom Cruise has been up to since A Few Good Men was released. He has continued to work very consistently throughout the years and he has also spent a good amount of time telling stories from the other side of the camera. Tom Cruise's fans will be happy to know that the next few years are going to be very busy for him. He is currently working on several projects including Top Gun: Maverick and Mission Impossible 7 and 8.
Jack Nicholson Colonel Nathan R. Jessup
Jack Nicholson is another Hollywood legend who continued to thrive after A Few Good Men. Over the years, he continued to show the world that he is capable of playing a variety of characters across genres. Although Nicholson has never officially announced his retirement, he hasn't made an on-screen appearance in over a decade. On top of that, he doesn't appear to be working on any upcoming projects. For the most part, he has stayed out of the public eye; however, occasionally he can be seen sitting courtside at a Lakers game.
Demi Moore Lieutenant Commander JoAnne Galloway
When Demi Moore was cast in A Few Good Men, she had already been in the entertainment industry for more than a decade. After the movie, she continued to be a consistent presence in Hollywood. Although she spent the majority of her career doing film roles, Demi has been spending more time on the small screen in recent years. She has yet to many an on-screen appearance in 2021, but we know we'll be seeing a lot more of her in the years to come. Outside of acting, Demi has been divorced twice since the film and she is now a proud mother of three.
Kevin Bacon as Captain Jack Ross
Kevin Bacon is the kind of actor who has done a little bit of everything over the course of his career. He was a consistent presence in the industry before and after 1992 and his career hasn't slowed down at all. His resume includes a mixture of film and TV credits and he has also found success as a writer, director, and producer. At the moment, he's working on a handful of projects that are set to be released over the next couple of years.
Kevin Pollak as Lieutenant Sam Weinberg
Kevin Pollak is well known for his sense of humor, but movies like A Few Good Men helped show that he's also capable of playing more serious roles. After the movie's release, he continued to work across genres and his resume now includes well over 100 credits. Most recently, he has been in shows like American Crime Story and City of Ghosts. Like many of his castmates from A Few Good Men, Kevin has also spent a good amount of time behind the camera. Kevin is also currently the host of a podcast called Alchemy This.
James Marshall as Private First Class Louden Downey
Although James Marshall began his acting career in the mid-1980s, A Few Good Men was one of his first major film roles. Despite being cast alongside some of the biggest names in the industry, James always held his own. The success of the movie helped open doors to other opportunities for James and he appeared in several movies throughout the 1990s and 2000s. Things started to slow down for him in the 2010s although it's unclear why. His last on-screen appearance was in 2017. The good news, however, is that he will be in two upcoming TV series.
J. T. Walsh as Lieutenant Colonel Matthew Andrew Markinson
After beginning his professional acting career in the late 1970s, it didn't take J.T. Walsh long to start moving up in the industry. From TV shows to films, J.T. always knew exactly how to put on a good performance. Sadly, J.T. passed away in 1998 after suffering a heart attack. He was only 54 years old at the time. His final on-screen appearance was in the movie Hidden Agenda which was released after his death. At the time of his passing, J.T. had been divorced for several years. He left behind one child.
Kiefer Sutherland as First Lieutenant Jonathan James Kendrick
Kiefer Sutherland comes from a family of very talented actors, so it's no surprise that he has gone on to have a successful career of his own. He was just a kid when he entered the industry. Unlike many other child stars, Kiefer was able to successfully make the transition into an adult. Kiefer has had dozens of roles since A Few Good Men and he has become one of the most recognizable faces in the business. Although he hasn't made an on-screen appearance yet in 2021, we won't have to wait much longer to see him. He will be in the movie Violence of Action which is set to be released before the year ends. He will also be in a TV series called The First Lady which will be released in 2022.
Wolfgang Bodison as Lance Corporal Harold W. Dawson
When most actors get started with their on-screen careers, they usually appear in a few unknown projects before getting a big break. However, that's not how things went for Wolfgang Bodison. His role in A Few Good Men was actually his first on-screen opportunity. Prior to the movie, Wolfgang was actually working as director Rob Reiner's personal assistant. When talking about how he was cast in the movie, Wolfgang told the Daily Press about a conversation between him and Reiner. He stated, "We were talking, and he said, `Wolf, have you ever acted?' I said, `No, man.' He said, `Ever thought about it?' `No.' He said, `Well, I'm trying to cast the movie, and I haven't found anyone for Dawson who fits my vision. Why don't you read for it?'" Although the movie continues to be his best-known credit, Wolfgang decided to stick around in the entertainment industry. He now has more than 70 credits to his name and he is also a writer, director, and producer. Additionally, he enjoys helping other actors achieve their dreams through his work as an audition coach. Work isn't the only important thing in his life, though. He is also a proud dad and uncle who loves spending as much time as he can with his family.
Cuba Gooding Jr. as Corporal Carl Edward Hammaker
Cuba Gooding Jr. is another A Few Good Men star who comes from a very talented family. When he was cast in the movie, he was just coming off the success of the 1991 movie Boyz n the Hood. His role in A Few Good Men kept the momentum of his rising star and he was in a string of successful movies through the 1990s, 2000s, and 2010s. After spending most of his career focusing on movies, Cuba has been spending more time in the TV world over the last few years. His appearances have been a little less frequent in the last couple of years. Unfortunately, this is due to the fact that he's had a little legal trouble. In 2019, he was charged for allegedly groping a woman at a bar in New York City. In the summer of 2020, a lawsuit was filed against him accusing him of rape.
Noah Wyle as Corporal Jeffrey Owen Barnes
Noah Wyle was still very early in his career when he was cast in A Few Good Men and it proved to be a great springboard for his career. Two years after the movie, he was cast as Dr. John Carter in the medical drama ER. He remained on the show for 15 years. Some of his most recent on-screen appearances include a short-lived series called The Red Line and Leverage: Redemption.
Michael DeLorezno as Private First Class William Santiago
Prior to being cast in A Few Good Men, Michael DeLorenzo's most well-known acting work had been in TV series. However, the success of the movie also showed that he has what it takes to light up the big screen. Two years after the movie, Michael landed what has become his best-known role, detective Eddie Torres in the TV series New York Undercover. Michael has continued to act in recent years although many of his roles have been smaller.
Tell us what's wrong with this post? How could we improve it? :)
Let us improve this post!