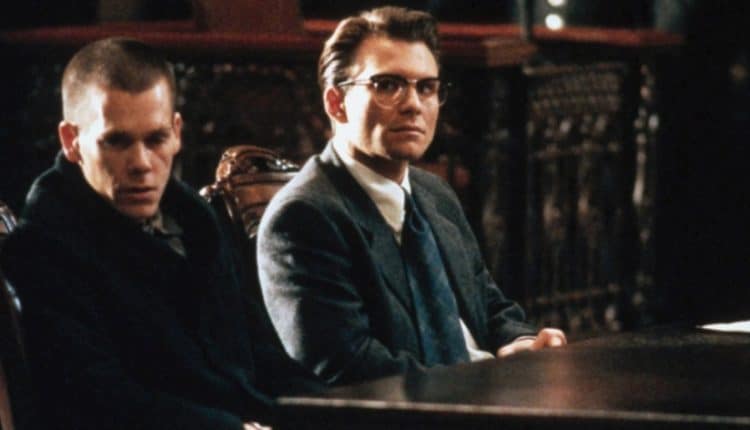 Kevin Bacon is another actor that a lot of people like and a lot of people don't like for various reasons. There are times, a lot of times on screen, that he seems condescending and outright hostile. But a lot of folks need to remember that it's just an act and the characters he plays are often kind of aggressive and not at all pleasant. According to a lot of reports across the internet however, yeah not entirely reliable but it's what we've got, the guy is actually pretty nice. He can play someone you'd rather punch than hang out with, but when he does play a rather nice character it's hard to resist the charm and the idea that you might actually want to pal around with him. That's why he seems like such a misused and neglected actor sometimes, when really he's one of the better veteran actors out there.
Here are some of his best movies.
5. Tremors
Roll your eyes all you want, but this was a classic movie since it didn't take a lot of thought, it was campy, but it gained a cult following unlike many others for reasons that you'd have to ask the fans. Personally this was one of my favorite movies when it first came out due to Kevin Bacon and Fred Ward and their dynamic together. Burt and Earl were the classic buddies that couldn't stand each other but always had each other's backs. When their small town out in the middle of nowhere starts getting ravaged by underground monsters though it's kind of hard to say how anyone would react, but the way they fight back is insanely funny as well as entertaining.
4. Murder in the First
To think that you could get sentenced to life and lose yourself in the prison system for stealing $5 is something that seems as though it belongs in a fantasy story, but this movie is far and away anything but. The notion of Alcatraz and its notorious reputation is something that attracts many moviegoers since the famed island is considered to have been one of the toughest and most unforgiving prisons in the US during its time. Those that ran The Rock, as it's been labeled, weren't all evil men, but some of those that were in charge seemed to think that their position was given to them to torture the inmates rather than simply keep and possibly rehabilitate them.
3. A Few Good Men
Having to defend people that you suspect or know could be guilty of a wrongdoing has to be kind of a trying job, but someone's got to do it since in this country there's the belief that everyone deserves a fair shot at a defense. While that's very true the fact that those that are put on the stand and are knowingly guilty are a point of frustration when they're allowed to speak and at times even get away with the things they do thanks to legal loopholes that exist and and are exploited continually. Thankfully that wasn't the case in this film since the man responsible for the Code Red was punished.
2. Stir of Echoes
Ghosts have an odd way of getting in touch with people when they want to. Some people are sensitive to them, others don't even know they're there. From the feeling of being watched when no one's around to the prickles on the back of your neck when you walk by a certain area, some people would say that's them. Some spirits seem harmless and just want help, while others seem rather malevolent and want something else. In Tom's case the spirit that's haunting their home wants to be released and have her murderers brought to justice, of one type or another. But the open channel between the living and the dead comes with a price.
1. Footloose
It might be that a person doesn't like to dance and listen to rock and roll but there's nothing anywhere that says they have the right to stop anyone else from doing it. Plus, the whole idea of not being able to dance or listen to music seems to deny one the pleasures of life that make it worth living sometimes. Life without music? That doesn't seem possible since everywhere you go the cacophony of sound that exists can be called music of some type. But rock and roll is the kind of music that's worth listening to since lifts the soul and allows people to just let go when they need to, allowing them to be wild and crazy for the duration of the song and possibly beyond.
Kevin Bacon has a lot of great roles in many movies, these are just a few. Other mentions would be Mystic River, Death Sentence, Flatliners, and many more. The guy is just talented without a doubt.
Tell us what's wrong with this post? How could we improve it? :)
Let us improve this post!