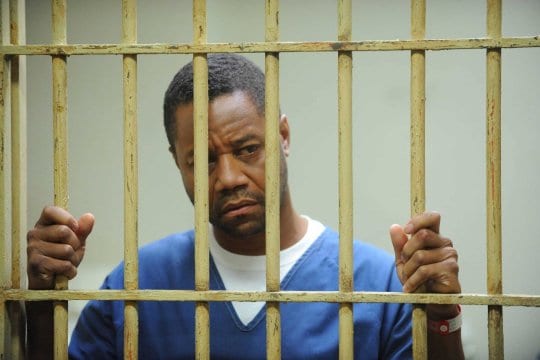 American actor and director Cuba Gooding Jr. got his big break in the 1991 movie, Boyz 'n' the Hood. Since then, he's gone on to enjoy roles in films such as Men of Honor (2000), Pearl Harbor (2001), As Good as It Gets (1997), Rat Race (2001), American Gangster (2007) and Selma (2014). Recently, he's made the successful transition into TV, with notable roles in the FX drama series, The People v O.J. Simpson: American Crime Story and the sixth season of the FX anthology series, American Horror Story. Thanks to his rich and varied career in the entertainment industry, Gooding is used to hitting the headlines… although probably not for the reasons he has of late. On June 10, 2019, reports emerged that Gooding had been accused of drunkenly groping a woman at a Manhattan bar. Despite denying the allegations, Gooding voluntarily handed himself over to the New York police on 13th June. At the time of writing, the outcome of the allegations is still uncertain. What is certain is that you'll be hearing a lot more about Gooding over the coming weeks. Prepare yourself now with these 10 fast facts.
1. He comes from a family of entertainers
Performing runs in Gooding's blood: his mother, Shirley Sullivan, was a singer with the Sweethearts, while his father, Cuba Gooding Sr., was the lead vocalist of the rhythm and blues group, Main Ingredient, best known for their 1972 Grammy award winning hit, Everybody Plays the Fool.
2. He was raised by his mom
Gooding's father left the family when Gooding was still a child, leaving his mom, Shirley, to raise Gooding and his three siblings. Despite his father's absence, Gooding wasn't short of male role models, as he told reporters during a publicity stop for his comedy, Daddy Day Camp. "I was raised by a strong black woman," Gooding said. "But I also had strong male figures in my life. I played football and ran track and I was lucky to have men (coaches and teachers) who molded me into who I am today. I think boys can be raised by women, but they need that positive male influence in their lives".
3. He's on the Hollywood Walk of Fame
In 2002, Gooding obtained the honor of a coveted star on the Hollywood Walk of Fame for his achievements in film. If you're in town and want to look it up, you'll find it on 6834 Hollywood Blvd. just next to Star Wars legend, Mark Hamill, and acting royalty, Steve McQueen.
4. His first job was as a break dancer
If you were watching the Olympics back in 1984, you may have spotted a very young Cuba Gooding Jr. in his first ever performance. The then 16-year-old Gooding featured alongside a crew of break dancers supporting soul legend Lionel Richie during the closing ceremony of the summer games.
5. He was class president at three schools
After his father Cuba Gooding Snr. left the family home in 1974, Gooding, along with his mom Sylvia and brothers Omar and Tommy, spend a number of years living out of various hotels in Los Angeles. Because of the family's transient lifestyle, Gooding transferred schools several times, taking in studies at four different high schools in total: North Hollywood High School, Tustin High School, Apple Valley High School, and John F. Kennedy High School. Despite his frequent moves, Gooding proved a gifted and popular student, and was even nominated to class president at three of the four high schools.
6. He married (and divorced) his childhood sweetheart
Gooding and his future wife, Sara Kapfer, met at high school: after dating for several years, the childhood sweethearts finally tied the knot in 1994. After 22 years of wedded bliss (and three children, including the actor Mason Gooding), the marriage turned sour; in 2014, Kapfer filed for legal separation from her husband, and in 2017, Gooding returned the favor by filing for divorce.
7. He sparked outrage for lifting Sarah Paulson's dress
The recent events of June 2019 aren't the first time Gooding has caused controversy. As reported by Hollywood.com, the actor got tongues wagging in 2017 after lifting up the dress of comedic actress Sarah Paulson during Paleyfest. The actress herself seemed to take it in her stride, but Gooding's inappropriate behavior went down less well with the public, who took to social media in their droves to voice their outrage.
8. He's tried his hand at producing
Gooding may be best known as an actor, but that hasn't stopped him trying his hand at other endeavors. His first efforts behind the camera came with "A Murder of Crows" (1998), which Gooding co-produced alongside his business partner Derek Broes. Since then, Gooding has produced and directed several other features, including 2008's Harold, 2014's Freedom, and most recently, 2018's Bayou Caviar.
9. He's known for his enthusiastic award speeches
Gooding's first taste of award glory came in 1996, when he claimed a Best Supporting Actor Oscar for his stellar performance in the widely acclaimed Jerry Maguire. Almost as famous as the film's passionate "show me the money' catch line was Gooding's performance at that year's Academy Awards, where his acceptance speech went down in history as one of the most "enthusiastic" award speeches of all time.
10. He's appeared in several game shows
Since his Academy Award win in 1996, Gooding has struggled to live up to his early success (despite putting in several roundly applauded performances in films such as Gifted Hands: The Ben Carson Story and American Gangster). Ever the trier, he's continued to make strides in entertainment via alternative paths, including starring in an online video game and putting in appearances on UK game shows such as Channel 4's Chris Moyles' Quiz Night in 2011 and ITV's Ant and Dec's Saturday Night Takeaway in 2018. Gooding's performance as the star guest announcer on the popular Saturday Night Takeaway went down a storm with viewers, with one Tweeter declaring "Love, Love Cuba! Smashed it!", and another saying, "No one has put as much effort into anything as Cuba Gooding Jr is being guest announcer on Saturday Night Takeaway."
Tell us what's wrong with this post? How could we improve it? :)
Let us improve this post!