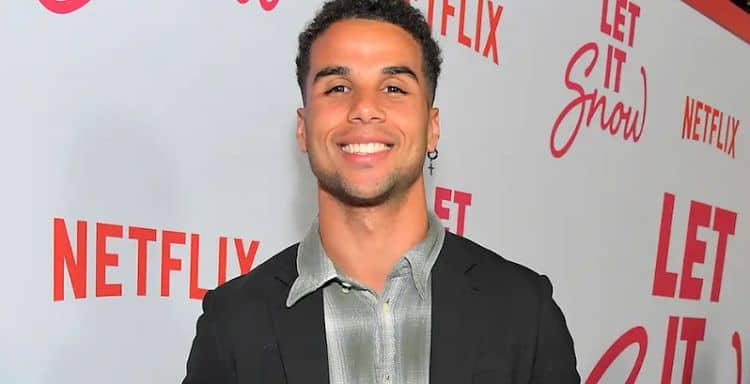 In just a few short years, Mason Gooding has managed to carve out a nice little lane for himself. Although he seems to have popped up out of nowhere, Mason's roots in acting are much deeper than some people know. The 23-year-old actor made his on screen debut in 2016. In 2019, he got his breakout role in the film Booksmart. Since then, Mason's start has consistently been on the rise. Most recently, he had a main role in the new Hulu series, Love, Victor. Anyone who has ever seen Mason work, knows that his natural talent is undeniable. If he keeps going at this pace, the sky will truly be the limit for his career. Keep reading for 10 things you didn't know about Mason Gooding.
1. He's A Fan Of Insecure
Like most people, the COVID-19 pandemic has resulted in Mason spending a lot more time in the house than usual. This has given him a chance to catch up on all of his favorite shows, one of which is Insecure. He told Brief Take, " I think Issa Rae is a profoundly amazing creator and narrative storyteller."
2. He Says He Was A Dork In High School
Mason's character on Love, Victor is a cool jock who everyone in school knows. However, that couldn't be any further from the reality of Mason's high school experience. He says that he was kinda of a dork in high school, but this ended up working in his favor because it allowed him to observe how the popular kids moved through the high school world.
3. He's From A Famous Family
Does Mason's last name ring a few bells for you? That's because the Gooding family has been involved in the entertainment industry for decades. Mason's father is Academy Award winner, Cuba Gooding Jr., and his uncle is Omar Gooding who is best-known for his role in the 90s sitcom, Smart Guy. His aunt, April Gooding, is also an actress.
4.He Wasn't Allowed To Act Professionally Until He Turned 18
Due to his family's history in the acting world, it seemed almost inevitable that Mason would eventually catch the acting bug himself. However, when it came to his future, Mason grew up having two rules: if he wanted to act, he had to wait until he was 18 or he had to go to college. Ironically, Mason ended up doing both and he's thankful for the foundation he built in the process.
5. He Wants To Get Into Writing
Mason is enjoying all of the success of his acting career, and he wants to act for the rest of his life. But he also has other things he'd like to do within the entertainment industry. He says, "Writing is a love of mine, and I feel like directing is a natural progression of things, as far as a Hollywood career goes."
6. He Is A Huge Music Fan
Mason spent his whole life being surrounded by music. His grandfather, Cuba Gooding Sr., was a successful musician who was a member of the R&B group, The Main Ingredient. Mason plays the guitar and often uses music as a way to help himself better understand the characters he plays.
7.He Studied At NYU
Although Mason was born and raised in Los Angeles, he decided to venture over to the east coast for college. He enrolled in New York University where he studied writing and psychology. Mason left school during his junior year so that he could focus all of his attention on acting. He hasn't gone back yet, but he does plan to earn his degree.
8. He Loves To Exercise
Mason's schedule has been getting increasingly busy over the last few years, but he still likes to find time to do other things he enjoys. One of his favorite things to do is workout and he is especially interested in boxing. He also enjoys playing video games when he has the time.
9. He'd Love To Play A Superhero
Mason has the young heartthrob role down to a science, but he'd like to expand the types of characters he plays. One of his dreams roles would be to play a superhero which he thinks would tie in nicely to his personal goal of being a role model for young people.
10. He Loved Working With Olivia Wilde
Mason's breakout role was in the 2019 film, Booksmart, which was directed by Olivia Wilde. When sharing the experience of working with her, he said, "Olivia Wilde is brilliant and I wouldn't know until she actually became my director that she is this amazingly gifted talent both in leading and directing, and orchestrating the entire cast and crew."
Tell us what's wrong with this post? How could we improve it? :)
Let us improve this post!