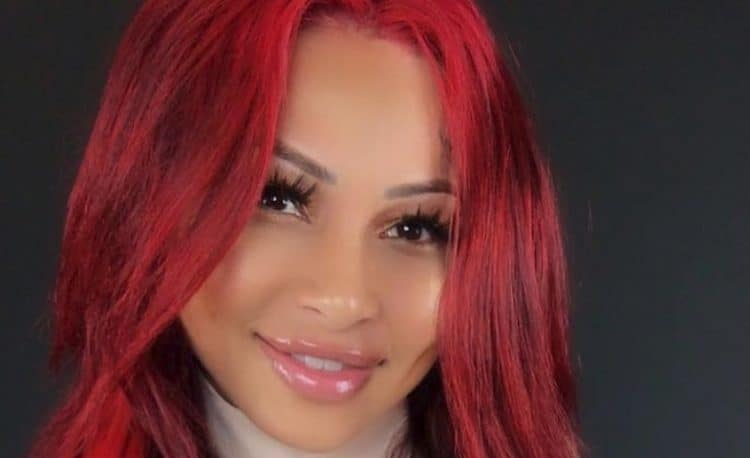 Brittanya O'Campo has absolutely no problem whatsoever garnering attention from men and women. Love her or hate her, she still finds a way to be front and center when it matters. The actress and model has never been shy with her body or her words. According to her, many people judge her because they don't know her. I am willing to admit that we live in a very judgmental and hypocritical society, but I still believe that there are boundaries that should not be crossed. At the same time, I can't tell a person how to live their lives, only how I believe their actions will impact their lives in the long run. To this point, Brittanya has not asked for my advice, so I will take this time to help you become more acquainted with the young entrepreneur.
Here are 10 things you likely did not know about Brittanya O'Campo
1. She Lives for Social Media
Like so many other celebrities of her generation, Brittanya knows how to exploit and leverage social media to increase her exposure and establish her brand. What appears to many as simple vanity, is all part of a very calculated effort to solidify her place in the market while endearing her to her fans.
2. She Has Roots in Reality Television
While Brittanya has become know for her modeling and clothing line, she actually has roots in reality television. Finding a way to get on reality televisions seems to be the formula for success, at least if fame and money is all you care about. Very few of these reality stars successfully navigate the labyrinthine corridors of the industry without getting typecast in a negative way.
3. She is Instagram Famous
I can't even believe I just wrote Instagram famous, but based on the criteria set by those who frequent the platform, Brittanya qualifies as being Instagram famous, with over eight million followers. While the star posts on other social media platforms, Instagram is definitely where she sets up shop.
https://www.instagram.com/p/BjF7BFknuWx/?hl=en&taken-by=brittanya187
4. She Comes From a Big Family
Brittanya grew up with five siblings – four brothers and one sister. She is still very close with her siblings, but growing up with that many kids in one house explains why she is not afraid of competition and why she displays so much confidence. Brittanya loves to talk and growing up in a full house gave her plenty of opportunities to address all types of subject matter. She admits that her siblings played a major role in her being who she is today.
5. Her Father Went To Prison When She Was Just 15
At the age of 15, Brittanya's father was sent away to jail. One thing her father did was emphasize the importance of family taking care of one another, so when he went to jail, that is exactly what his family did. The family became closer and more supportive of one another. Because of his lifestyle, Brittanya always knew that there was a chance that he could end up going to prison, so she always worked to be more independent.
6. She Was Sent to Jail Herself
Brittanya is actually quite famous for attacking another woman with a pimp chalice – a fancy drinking goblet. After the attack, the woman required several stitches to seal the wounds caused by the attack. Brittanya was charged with felony assault with a deadly weapon. After pleading guilty to the charges, she was sentenced to six months in the Ventura County Jail.
https://www.instagram.com/p/BUFmAezlc0s/?hl=en&taken-by=brittanya187
7. Rock of Love Stardum
VH1's Rock of Love reality television show is where the natural edge that Brittanya has seem to intensify. On the show, Brittanya competed with several other women for the heart of Brett Michael – the lead singer of Poison. According to the reality star, she was at the right place at the right moment. She made it to the final six, and while she did not win, she had been bitten by the celebrity bug.
8. The Next Move in Reality Television
Brittanya's behavior on Rock of Love was considered so bad that she was cast for another reality television show – Charm School with Ricki Lake – a complete 180 from Rock of Love. The purpose of the show was to take some of the worse behaved women from the Rock of Love series and transform them into well-behaved young ladies. Let's just say that did not turn out too well.
9. Seizing the Right Opportunities
While reality television did not produce the long-term success that the star hoped it would, it did open up other opportunities, including a chance for Brittanya to become a professional model. She seized the moment. After her stints on reality television, Brittanya was approached by numerous magazines to do modeling, and she was featured on several magazine covers, including MMA Sports Magazine, Spire Magazine, Tattoo Energy, and Savage Tattoo.
10. She Co-Owns an International Clothing Business
After her short stint in jail, Brittanya became even more driven for success. She became committed to creating a brighter path for her future that did not involve spending time in jail. She decided to start a clothing company called 187 Avenue. 187 Avenue is an online clothing store that offers a wide variety of clothes for children, men, and women.