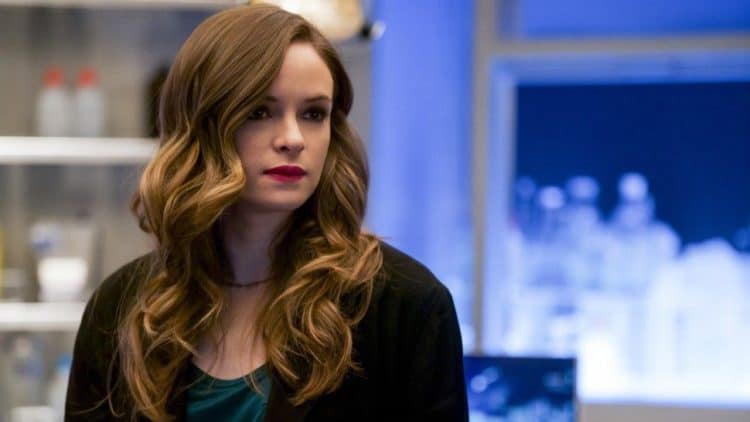 CW hit series The Flash has given us plenty of fresh talent over the years. Actors such as Grant Gustin, Candice Patton, and Carlos Valdes got their first solid footing in the industry with the show. However, the beloved speedster show also featured Hollywood veterans such as Tom Cavanagh and Jesse L. Martin to an already impressive list. One other veteran, Danielle Panabaker, may be more modest compared to the two; but the talented actress has actually been around for a while. If you've ever wondered why Danielle Panabaker looks familiar, it's because she is. We're here to tell you 20 things you probably didn't know about Danielle Panabaker that you might find surprising.
1. Her first gig was a commercial
Many actors take the commercial route to gain experience or to just get paid in the industry. Panabaker was no different. In fact, she was only a teen when she landed a commercial gig for Georgia's Stone Mountain Park. While none of us might even remotely remember seeing that commercial, it paved the way for Panabaker to break into film and TV the way she wanted to.
2. She's a Disney child star
Before Panabaker got the role in 2005's Sky High (which propelled her career forward), she starred in another Disney film called Stuck in the Suburbs. While Suburbs was released as a TV movie, it did fairly well with the target viewer demographic. Panabaker played the main role of Brittany Aaron, whose life events shaped the plot of the entire film. Panabaker was around 18 years old when that movie came out, but at that point, she had already done plenty of work beforehand. Still, this movie prepared Panabaker for bigger roles in the future.
3. She's doesn't scare away from a scary film
Panabaker's role as meek and demure Caitlin Snow on The Flash is a stark contrast to some of the roles that the actress has taken up over the years. In fact, Panabaker has starred in at least 5 thriller/suspense films and TV shows throughout her career. Some of her best scary roles include Jane Brooks from Mr. Brooks, Jenna from Friday the 13th, and Becca from The Crazies. Given that thought, you could probably say that her current alter ego Killer Frost on The Flash isn't too stretched from all her previous scary show roles.
4. She's guest starred in a ton of big shows
The only way you might be able to know this is if you're an absolute TV buff. In the early years of her TV career, Panabaker had small roles in shows such as Malcolm in the Middle, The Bernie Mac Show, and Family Affair. After getting positive feedback early on in her career, Panabaker was able to land roles in bigger shows over the years. This article from Countryliving outlines all the shows that Panabaker has been a part of over the years. That list includes big titles such as Grey's Anatomy, Law and Order, Mad Men, Empire Falls, and Bones.
5. Her sister's popular too
Kay Panabaker, Danielle's younger sister, may not be as well known as her sister, but she's established on TV in her own way. They could practically be twins, as they look very much alike. Given that they're only four years apart, it's safe to assume that Kay is following her sister's footsteps closely. The two both starred in the 2005 TV movie, Mom at Sixteen. Kay's last credited role was from 2011 from CSI: Crime Scene Investigation. She played the role of Lindsey Willows from 2006 to 2011.
6. She's happily married
We always hear stories of co-stars and actors falling in love with each other, and it's likely because of the amount of time they all spend with each other on set. When you're filming something, it does take a lot of time, and the experience is something unique. Panabaker's private life is mostly kept just that–private. But occasionally, she does give her fans glimpses of her life. Apparently, she married outside of Hollywood back in 2017. Her husband, Hayes Robbins, is a lawyer, and they dated for several years before they tied the knot.
7. She's a true southern charmer
In an interview with Southern Living, Panabaker talks about her southern roots and how important that is in her life. Panabaker was actually born in Augusta, Georgia, but she's also lived in Texas and South Carolina growing up. According to Panabaker, being a southerner has shaped who she is. She also said that southern manners are real, and they're some of the most important things for her. She's the type of person that still writes handwritten ntoes.
8. She's done directing
While her directorial credits only include one episode so far, we believe that there might be something there for the talented Danielle Panabaker. Justjaredjr.com talked about how the actress actually didn't having to direct herself. It certainly must be a challenge to fill in two shoes in one episode. But after seeing how season 5 episode 18 turned out to be, it won't be a surprise to hear Panabaker give directing a go at another time.
9. She's a generous person
When you're making it on TV as an actress, you're probably making decent money. The trade off with being an actor is the amount of time acting actually takes and the amount of work it entails. It's not an easy job, and it's quite time consuming. It's easy to be generous with your money when you can, but Panabaker goes above and beyond with her generosity. As busy as she is, she makes sure she finds time to devote to volunteering for different charities. Panabaker has volunteered for charities such as UNICEF, The Art of Elysium, and Young Storytellers Foundation.
10. She's actually an award-winning actress
Panabaker might not have an Emmy to boast, but she does have a few accolades to be proud of when it comes to acting. She was a winner of the Young Artist Award for two consecutive years from 2004 to 2005. She was awarded for her roles in 2001 in The Guardian TV series and for 2004's Searching for David's Heart. She's had four recent nominations from 2015 to 2018 for her role in The Flash. Unfortunatley, she has yet to garner a win.
11. She was almost in Mean Girls
In an interview on Ibtimes.com, Panabaker shared her heartbreak when she didn't land the role of Cady in the now iconic teen movie, Mean Girls. Panabaker was actually the front-runner to play the role, which ended up going to Lindsay Lohan. It was believed that with the success of Freaky Friday around that time, the film studio wanted to ride on the momentum and give Lohan the lead. It worked out well for the film, and we believe it worked out well for Panabaker also.
12. She's incredibly smart
Most actors seem to be on either end of the intellectual spectrum. They're either extremely smart or downright dim. Panabaker happens to be extremely bright, and she's got the education to prove it. In fact, Panabaker graduated high school when she was only 14 years old. That's the age when most people are just starting high school. Because of that early high school graduation, Panabaker also managed to receive her bachelor's degree from UCLA at the young age of 19. And if that isn't impressive enough, let's just add that she was on the Dean's List for most of her college career.
13. She was a theater girl
Many actors attribute their acting beginnings because of early involvement in theater. This is exactly what happened to Panabaker. She discovered acting through a theater class during summer camp, and it was all history from there. She eventually started acting in a community theater, which probably helped hone her skills tremendously. It would be interesting to see Panabaker in live theater, but as of today, she hasn't done professional theater work just yet.
14. Her ethnicity is wildly mixed
Panabaker certainly has a distinct look, and she gets it all from such a complex and beautiful ethnic heritage. According to her bio on IMDB, Panabaker is of English, Irish, German, Lithuanian, Scottish, and Welsh decent. You can also add a distant mix of Norwegian and Dutch to that list. It's an incredible mix, and the result of her genetic makeup is nothing short of gorgeous. Panabaker has always been a pretty face on TV, but it's also nice to know that she's got the acting skills and the brains to back it up.
15. She's Buddhist
If Panabaker couldn't be any interesting enough, you should know that she identifies as Buddhist. Panabaker is one of over 520 million people who also identifies with the philosophy and teachings of the Buddha. Buddhism is a predominant religion in oriental countries, and its teachings focuses largely on spiritual development. Panabaker's temperament and personality is truly reflective of the peaceful nature of those who normally practice Buddhism. It is yet another quality to admire about this talented and accomplished actress. It could also be part of why she's so giving of her time and energy to volunteer to help others.
16. She wasn't a comic book fan
In an interview with Composure Magazine, Panabaker claimed that she had absolutely no clue about the comic book and superhero culture before she started doing The Flash. Interestingly enough, you would never be able to guess this given as to how naturally she portrays her role both as Caitlin Snow and Killer Frost. Of course, getting into the character meant that she had to do a bit of research in order to find both voices to play.
17. She struggles with the Flash lingo
Even someone as bright as Panabaker claims to struggle with her dialogue quite a bit. We get it, however, given that Panabaker is no scientist. Playing a bioengineer and doctor on screen isn't easy. The scientific dialogue is a challenge for her, and we could only imagine the amount of work that goes into rehearsing each and every line to make sure that everything is perfect in the end. And so that's what were given every time we watch an episode of Even someone as bright as Panabaker claims to struggle with her dialogue quite a bit. We get it, however, given that Panabaker is no scientist. Playing a bioengineer and doctor on screen isn't easy. The scientific dialogue is a challenge for her, and we could only imagine the amount of work that goes into rehearsing each and every line to make sure that everything is perfect in the end. And so that's what we're given every time we watch an episode of The Flash–lines that are so flawless; she makes us believe that she is who she portrays on the TV screen.
18. She's incredibly friendly
Everyone on set has attested as to how sweet and kind Panabaker truly is. Again, we could almost imagine her normal persona coming through every time she's playing Caitlin Snow. In addition, Panabaker is very kind to her team. She surrounds herself with people that she would normally be friends with anyway. She knows their personal lives and treats everyone with respect.
19. She knows how to balance her time
A few years back, Panabaker told Complex.com the secret to having it all. When Panabaker started getting really busy professionally, she made sure that she separated her personal life from her professional life. So while she gets pulled everywhere in her life as an actress, she makes sure that she's intentional in her personal life. Panabaker makes an effort to choose how she spends her personal time, and she does this with utmost care and purpose.
20. She was in Piranha 3DD
While we all consider Panabaker as the ultimate "good girl" in Hollywood, you should know that she starred in the movie Piranha 3DD, which is basically a top-heavy film about gore and nakedness. Panabaker knew exactly what she was doing and what she was getting into when she signed onto the film, and she said she had a blast doing the film. Watch the movie first before you think of Panabaker as the good girl. She's definitely a good person, but she surely knows how to have fun.