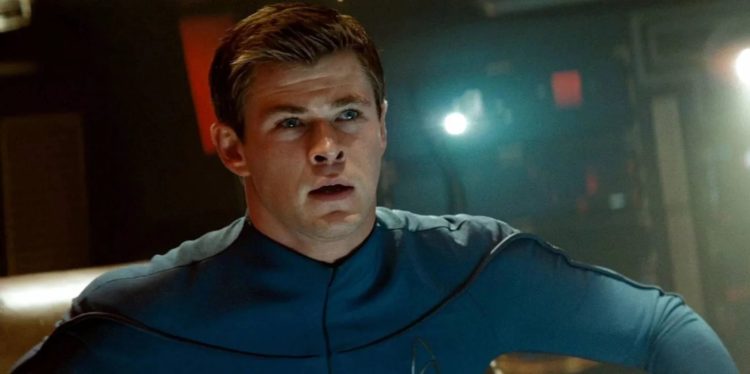 I have come to learn that if you're a hardcore, old school trekkie, then you probably don't like the new Star Trek movies very much. Every big trekkie I have spoken to about it says that the new trilogy is more about action and shooting and less about exploration. Personally, I never got into the classic Star Trek series, nor did I watch the series starring Patrick Stewart. Maybe it's the time to start, since I have heard a lot of good things about them, even though it looks super corny by today's standards. That's okay, because back in 2009, J.J. Abrams stepped in and gave us a more updated take on the space adventures of the crew of the USS Enterprise. That was my real introduction to Star Trek and its key characters. I really dug Chris Pine as Captain James T. Kirk and the way he played him. Maybe it's just my preference for a more witty and sarcastic hero, rather than a always-serious one. I must say, however, my favorite character out of the whole Star Trek lore is the undisputed king of the Vulcans himself, the one and only Spock. He was that hero who was always serious, but with him being half human, there was that very human element to him that prevented him from being one-dimensional. Vulcans are totally void of expressing any kind of emotions, which Spock always tried to contain, but after the death of his mother, he was emotionally compromised by Kirk.
The first Star Trek was very entertaining for me, not just because of the action, but because of the chemistry that was developed between the whole crew. The standout, of course, was the chemistry between Kirk and Spock, who were initially rivals, but slowly developed that iconic friendship. And for the record, I watched the Wrath of Khan after I watched the new Star Trek trilogy and that death of Spock scene hit me just as hard as Kirk's death in Into Darkness. And I'll just point out that Zachary Quinto yelling Khan hit harder than William Shatner's yell. I know, the trekkies will disagree, but that's just my opinion. As for the future of the new Star Trek movies, the last one we got was Beyond back in 2016. Justin Lin was the director behind that third entry and he made it more action-centric. It was entertaining, not to mention that it ended on another cliffhanger with the crew of the Enterprise embarking on another adventure. So what happened with Star Trek 4? Well, between the reported financial disputes between the studio and the cast, and on top of the tragic passing of Anton Yelchin, it looked like plans for a fourth movie were scrapped.
That was unfortunate news, especially since Chris Hemsworth was apparently going to return as Kirk's father. Oh, and let's not forget that Quentin Tarantino was originally meant to direct a Star Trek movie at one point. My God, can you just imagine a Star Trek movie blended with Tarantino style? Sadly, that will probably never happen, but trekkies got some compensation. A year after Beyond came out, CBS Studios (now Paramount+) released the Star Trek: Discovery series starring Sonequa Martin-Green. That's another Star Trek series I have yet to watch, but I think I should get on it. I hear it's good, and it takes place a decade before the events of the original series. Aside from Discovery, we got the new Picard series in 2020, which continues the story of the titular character after the events Nemesis. So no fourth Star Trek movie with this amazing cast, but we got some new series for restitution. Personally, I don't think that's enough, since Beyond didn't really tie any knots. The crew of the Enterprise is still doing their thing and they have more than enough adventures we can see. It's only a question of which adventure is fun enough to see in a movie. Apparently, the idea of Kirk meeting his father for the first time was a plausible idea for Star Trek 4. How would that play out? Given that the 2009 movie showed us a form of time travel, I can see them doing something like that again. I like the idea of Chris Hemsworth returning as George Kirk so he can meet his adult son. That would be a very interesting interaction, but will we ever see it?
Well, according to reports, it looks like Star Trek 4 is now back on track. And the best part is, the original cast is set to return. After six years of dwindling hope, the trekkies can finally look forward to another entry in this new series. Well, at least the ones who have actually stuck with it. I am not a hardcore trekkie, but I am a fan of the new movies. This news really does excite me, but I wonder if this fourth movie will stick with the same ideas. So far, we know that Chris Pine is returning, as well as Zachary Quinto, Karl Urban, Zoe Saldana, Simon Pegg, and John Cho. We got the full crew coming back, with the exception of Pavel Chekov. Will the fourth movie recast the role? I don't think they will and they shouldn't. I predict that Chekov just won't be in the fourth movie and his character will just move on from Starfleet Command. There is no need to replace his character either. So where does that leave the rest of the cast? I personally hope Sofia Boutella returns as Jaylah. I really dug her character and the martial arts aspect she brought to Beyond. She would be the best hand-to-hand combatant of the Enterprise, so it would be silly to not bring her back. And as for the villain, there is a very long list of possibilities. The last villain, Krall, was a serviceable villain for Beyond, but fell short next to Benedict Cumberbatch's Khan. Yeah, I know the big trekkies aren't too fond of that version, but I think he's the best villain of the trilogy. Maybe the fourth Star Trek can top him, but that remains to be seen.
If this fourth Star Trek is going to be a hit, then it has to step it up from Beyond. Keep the action, add more exploration, and bring back the crew we have come to love. And yes, give us a memorable villain. That would be one of my biggest criticisms of the new movies, but overall, I am more than willing to stick with it. What are your thoughts, Star Trek fans? Are you excited for this fourth movie? I know I am and I can't wait to hear more news on it.
Tell us what's wrong with this post? How could we improve it? :)
Let us improve this post!