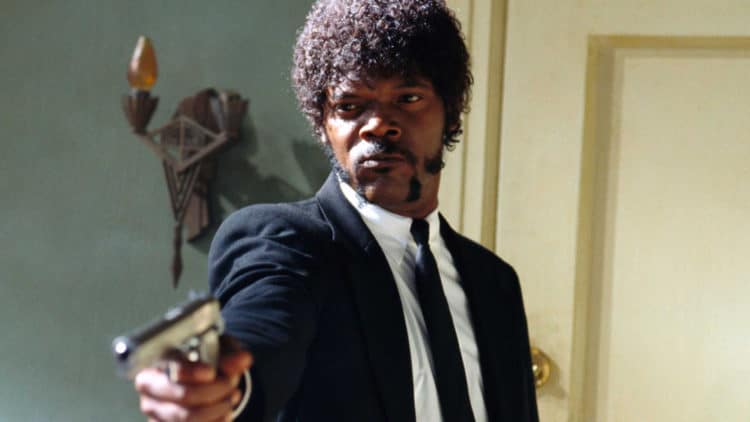 Nobody in Hollywood does eccentric better than highly acclaimed filmmaker, Quentin Tarantino. His films are a treat to the senses, and makes for an out of this world viewing experience. It's safe to say that you'll be able to easily identify a Tarantino film as soon as you come across one. Tarantino's style of filmmaking is rooted in his love for pop culture. His storylines tackle different time periods in history, and contain the most colorful of characters. He is also most well-known for his unusual depiction of violence in films that just seems to get better with each re-watch. We are never able to fully predict what type of madness will come up next, and that is just one of the reasons why we remain to be avid fans of his work. Here are five of the most satisfying death sequences from Quentin Tarantino's films, in no particular order:
5. Pulp Fiction
The black comedy crime film remains to be one of Tarantino's most famous works of art. It contained several stories that portrayed the different types of criminality happening around Los Angeles, and was told from the perspectives of various eclectic characters. The scene where Vincent Vega, portrayed by John Travolta (Grease) and Jules Winnfield, portrayed by Samuel L. Jackson (The Hateful Eight), hitmen and associates of gang boss Marsellus Wallace, portrayed by Ving Rhames (Entrapment), were tasked to retrieve a briefcase from Maresullus' business partner who tried to double cross him was all tied together with a burger taste test and a passage from a Bible. It was a random concurrence of events that was quintessentially Tarantino.
4. Kill Bill: Volume 1
The action extravaganza paid tribute to Tarantino's love for the martial arts. It starred Uma Thurman (Henry & June), as The Bride, a woman with a mission to seek revenge against a team of assassins after they tried to kill her and her unborn child. The scene where The Bride performed a mass execution on the Crazy 88, a group of Yakuza assassins, is easily one of the best fight scenes that can be found in a Tarantino film. The Bride was a former assassin who was trained by an elite martial arts teacher. She did not back down to anyone, and never lost her soft spot for children. These are more than enough reasons to root for her success until the end.
3. Inglourious Basterds
Tarantino used the power of cinema to rewrite history in this war film. The colorful plotline was set in Nazi-occupied France, and followed two plots to assassinate Nazi Germany's leadership. One of them was led by Shoshanna Dreyfus, portrayed by Mélanie Laurent (The Round Up), a French Jewish cinema owner whose entire family was killed by the Nazis, while the other was led by a team of Jewish American soldiers led by First Lieutenant Aldo Raine, portrayed by Brad Pitt (Moneyball). The scene in the film where both teams' assassination plans came to fruition had us all on the edge of our seats. Every minute was more thrilling than the other, as we witnessed the members of Nazi Germany's leadership, including Adolf Hitler, get trapped in a burning cinema as they gathered to watch the premiere of a German war movie. To say that the ending of the film was much-deserved would be an understatement.
2. Django Unchained
Who doesn't love a good Western once in a while? The film was set two years before the Civil War, and followed Dr. King Schultz, portrayed by Christoph Waltz (Spectre), an unorthodox German bounty hunter, and his slave, Django, portrayed by Jamie Foxx (Ray), as they go on a mission to capture the Brittle Brothers, who are known to be vicious slavers. The scene where Django killed the Brittle Brothers was an epic way to seek sweet revenge. The flashback montage revealed the horrible things that the brothers did to Django, which justified the killing spree all the more. Dr. Schultz also served as Django's sidekick this time around. The two completed their mission with flying colors, and gave the brothers the gruesome ending they very much deserved.
1. Once Upon a Time in Hollywood
The comedy drama captured the ever-changing and fast-moving Hollywood film industry. The film featured Los Angeles in the late 1960's, and paid tribute to Hollywood's golden age of cinema. The storyline followed the lives of Rick Dalton, portrayed by Leonardo DiCaprio (The Revenant), a fading actor and his loyal stuntman, Cliff Booth, portrayed by Brad Pitt (Moneyball). The duo was thick as thieves, as Rick found a trustworthy confidante in Cliff. The scene where the two fought off a bunch of hippies who attempted to break into Rick's house was the perfect example of getting a dose of your own medicine. The hippies' plan to wreak havoc backfired in the worst of ways, and just proved that karma is a dish best served cold indeed.
Tell us what's wrong with this post? How could we improve it? :)
Let us improve this post!