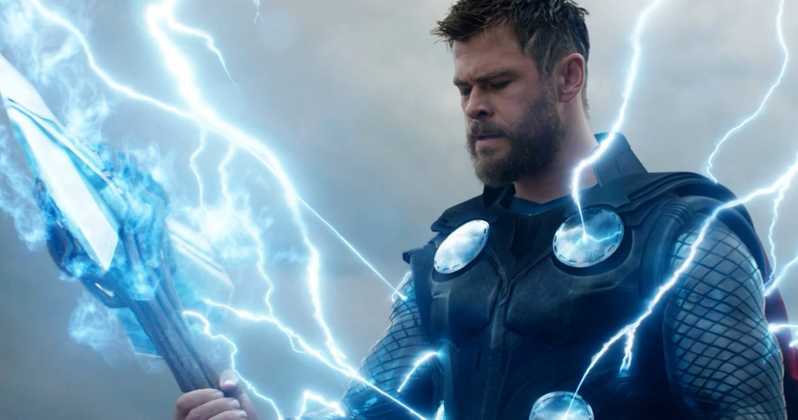 Christopher Hemsworth is a famous Australian actor. He rose to fame when he played the role of Kim Hyde in the Australian TV series, Home and Away. This series was aired from 2004 to 2007, and after the success of this show, Chris Hemsworth started his Hollywood career. He is known for playing the role of Thor in eight Marvel Cinematic Universe movies, starting with 2011's Thor and appearing in the latest movie Avengers: Endgame (2019). This has made Chris Hemsworth one of the highest-paid Hollywood stars.
Chris Hemsworth as a doting father
In addition to being a successful, rich, and famous actor, Chris Hemsworth is a doting dad. This is proven by the fact that he spends a lot of time with his kids and does everything needed to make them happy. We can also call Chris Hemsworth a hot, handsome, and impressive day. He is not only hot but also sweet and caring. Most recently, the Australian actor was seen with his children surfing in Australia. 38-year-old Chris Hemsworth has never missed any chance to amaze his fans. It is worth mentioning that the Thor actor is both the most devoted person and the hunkiest father. He proved it true when he took two of his three kids out in Australia. The actor was spotted with his 8-year-old daughter India and one of his 7-year-old twin boys. They surfed in Australia for a long time and looked happy together. Chris Hemsworth, his daughter, and his son had worn wetsuits when they were found riding waves in the ocean. Different media outlets have shared their photos on the internet. You can see some of those photos here.
Chris Hemsworth as a wonderful dad
Calling Chris Hemsworth a wonderful, friendly, and amazing dad won't be wrong. He proved that he loved his kids more than anything in this world when he took two children outside to have some fun. This is not the first time when Chris Hemsworth has been spotted hanging out with his beautiful children. He always spares time to hang out with them and to do the things he and his children love the most. Surfing is one of their favorite activities. It makes me feel good when a busy and successful star like Chris Hemsworth spares hours for his kids. He loves taking them outside once a while and cancels all his projects for them, which is too nice. It proves that Chris Hemsworth is serious about the happiness and prosperity of his children. He knows that it is not enough to spend money on the little ones. Sometimes parents have to give their time to their children to make their lives wonderful and full of joys.
A little about Chris Hemsworth's personal life
Chris Hemsworth started dating famous Spanish actress and model Elsa Pataky in 2010. They first met via their mutual representatives and fell in love. In December 2010, the two tied the knot. The couple has a beautiful daughter who was born in May 2012. In March 2014, they were blessed with twin sons. In 2015, Chris Hemsworth shifted from Los Angeles to Byron Bay with his family. In the Queen's Birthday Honours of 2021, the actor was appointed a Member of the Order of Australia.
Birthday celebrations with family
Chris Hemsworth has recently celebrated his birthday. On August 11, he and his family shared heartfelt posts on social media regarding his personal and professional lives. The name of his brother is Liam, who is 31 years old. Liam also shared dozens of photos and a post on Instagram in which he and Chris Hemsworth could be seen wrestling shirtless under the waterfall. Liam chose to keep things simple and captioned the picture, "Happy birthday @chrishemsworth."
What about work?
On the work side, Chris Hemsworth has recently completed the shooting of Thor: Love and Thunder. He had to get in shape for his role in this movie. We must admit that Chris Hemsworth is already smart and handsome, but sometimes, actors and actresses have to put extra effort to fulfill the requirements of their characters. In June 2019, Chris Hemsworth revealed the secrets of his fitness. He said that "the truth is I do invest a lot of hours in the gym, and it's backed up with eating a particular sort of diet and subscribing to a particularly healthy lifestyle."