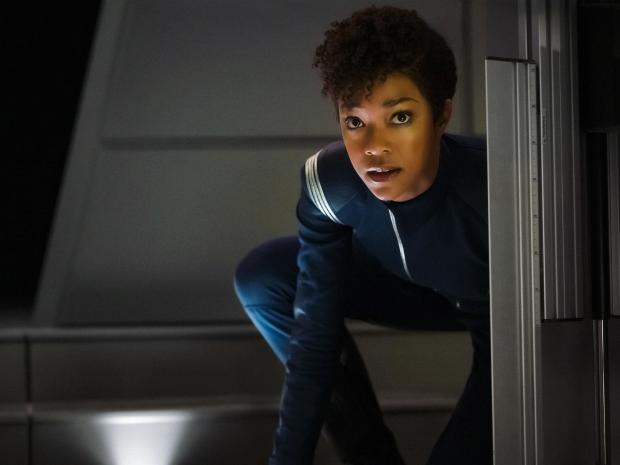 Sonequa Martin-Green is an actress and producer who was born in Russellville, Alabama, on March 21, 1985. She has worked in both film and television and made her film debut in 2005 playing Coco Delight in 'Not Quite Right'. She went on to have many roles in television series. However, it was playing Sasha Williams in 'The Walking Dead' that shot her to fame. She first appeared in this series in season 3 when she had a recurring role. By season 6, she was one of the main characters in the series. Her most recent role is Michael Burnham in 'Star Trek: Discovery' which aired for the first time on September 17, 2017. Also in 2017, she has appeared in two episodes of 'Penn Zero: Part-Time Hero'. Here are five things you probably don't know about Sonequa Martin-Green.
1. She is Married to Kenric Green
Sonequa Martin-Green met Kenric Green when they worked together in 'Fetch Clay, Make Man'. This was a play in which both actors performed at the McCarter Theater in Princeton, New Jersey. The couple married on December 4, 2010. Their son, Kenric Justin Green II, was born on January 15, 2015, weighing eight pounds four ounces. During her pregnancy, Martin-Green was filming 'The Walking Dead'. To hide her bump during filming, she had to wear extra layers of clothing and use bigger guns.
2. She Wanted to Become a Psychologist
Martin-Green did not dream of becoming an actress throughout her childhood. In fact, she had originally intended to pursue a career as a psychologist. It was only when she was 16 that she decided that acting was the right career choice for her. She later studied for a degree in theater at the University of Alabama.
3. Her First Recurring Television Role Was in 'Army Wives'
Sonequa's first recurring role was as Kanessa Jones in three episodes of 'Army Wives' in 2009.This drama series was aired on Lifetime and cast members included Catherine Bell, Brigid Brannagh, Sterling K. Brown, Richard Bryant, and Jeremy Davidson. It was created by Katherine Fugate and was based on 'Under the Sabers: The Unwritten Code of Army Wives', a novel by Tanya Blank. The series followed the lives of four army wives and their families.
4. She Was in 'Yelling to the Sky'
Although she is best-known for her television roles, Sonequa Martin-Green has also acted in films. One of these was the 2011 drama film 'Yelling to the Sky', in which she played JoJo Parker. This movie was written and directed by Victoria Mahoney and starred Zoe Kravitz. It competed for the Golden Bear when it premiered at the 61st Berlin International Film Festival. Although it did not win this award, the film was critically well-received.
5. She Enjoys Healthy Living
Sonequa Martin-Green tries to adopt a healthy lifestyle. She uses a trainer and enjoys weightlifting. She has said in interviews that weightlifting is a passion and she finds it a centered workout. She tries to eat a balanced diet of lean meat, fruit, and vegetables. However, she has admitted that she has a weak spot for burger and fries.
Tell us what's wrong with this post? How could we improve it? :)
Let us improve this post!