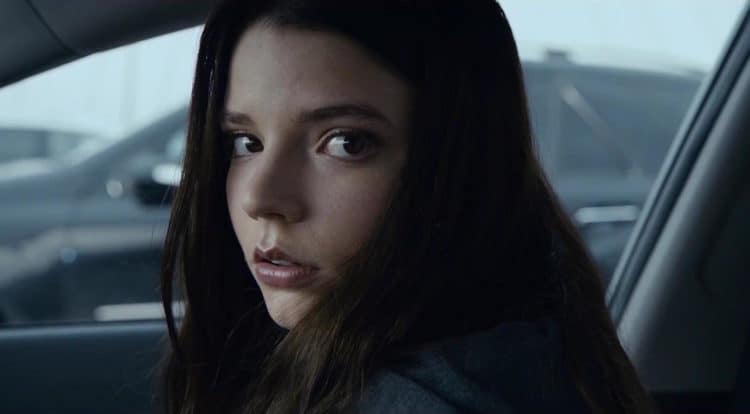 Anya Taylor-Joy was, I'll admit, not someone I thought too much about upon seeing her in Split, or even in The Witch, but as of late she's become what many are taking to calling the new 'it' girl, as in she's pretty much anywhere and everywhere that can be imagined and her fame is beginning to blow up in a big way. A lot of people have seen her come up in recent years as in 2015 her role in The Witch was her first real big break on the big screen, which was followed in 2016 by a couple of other movies, notably Split, in which she plays the sole survivor as she's spared by the maniacal antagonist played by James McAvoy. And of course she would return in 2019's Glass, albeit for a slightly lessened role given that the movie was focusing intently on the three individuals played by Samuel L. Jackson, McAvoy, and Bruce Willis. That didn't lessen her impact any and it certainly didn't hurt her chances of blowing up even bigger as she took on the movie Emma, then Last Night in Soho, and one of my personal favorite characters in The New Mutants. Oh yes, I was and still am a Magik fan since out of all the New Mutants she was always one of the most troubled and one of the most insanely powerful given what she could do and what she ended up becoming. Brenton Stewart of CBR has provided a list just to show where Magik ends up in terms of raw power.
That's a big reason to be watching Anya right now is because her turn as Magik, aka Illyana Rasputin, little sister to hulking X-Man Peter Rasputin, aka Colossus, is bound to be something great if she's seen to put her entire self into the character as she's done in other movies. In a sense, Illyana isn't just the most powerful of the New Mutants, but she's also one of the heavy hitters in the Marvel universe when it comes to her magical and mutant abilities, though there are plenty of people above her that would take out the young woman without much trouble. Still, she's impressive since on a team of gifted mutants she's still one of those that is best not to be messed with. If this was all Anya was doing however it might not be quite as impressive. But she's also taken on a role in Peaky Blinders and even voiced the character of Brea in The Dark Crystal: Age of Resistance. To those of us that have been fans of The Dark Crystal for decades this is a big role since in the beginning of Jim Henson's creation there were only two Gelflings, but in this lead-in to the movie, there are entire clans of them, and it's a great look at what came before the initial movie, though the end of the first season might still leave a lot of us kind of confused as to how we'll finally come to the overall connection.
Anya is still moving forward as well as there are two other projects on the hook that she'll be starring in titled Here Are the Young Men and The Northman. Here Are the Young Men almost sounds like a coming of age story taken to a very dark place, while The Northman sounds like it will be a revenge story that will prominently feature the Viking lifestyle and culture. Both stories sound enticing at this point but both are likely going to have to wait since the coronavirus still has the entertainment industry locked up in a tight grip at this point and most people are wondering when it's finally going to relent. The silver lining that people are looking for is there, but from different perspectives it's still looking like something less than they're wanting to see considering how much people are focusing on the problem and not a possible solution. Anya will still be rocking the big and small screen once production comes back since she has enough to go on at this time and has already proven herself as a talented woman that knows how to take a role and make people believe in it.
When we'll be seeing her again is hard to say since the entertainment industry is at a standstill, as much as it's ever been, and like so many others she's bound to be wondering when she'll be getting back to work. At this point though it might be a good idea to take a look at what she's done since a lot of it is either available on demand or on various platforms that still stream the movies and shows she's been a part of. At this point a lot of people are wondering when Hollywood will be back up and running, but until it happens all we've really got to go on are the movies and shows we've been enjoying for a while.