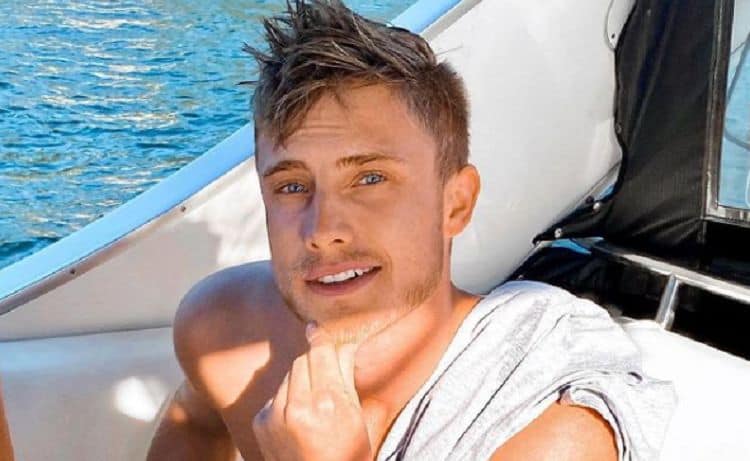 Luke Wechselberger is a name you may not have heard before, but thanks to reality TV you're going to be hearing plenty of it soon. Luke and his girlfriend, Iris Jardiel, are cast members on the new season of a reality TV show called Temptation Island. In the series, both Luke and Iris have agreed to live in a house with single people of the opposite sex as a way to test their relationship. Although Luke and Iris have been together for more than four years, their relationship hasn't always been smooth sailing and they feel like they've exhausted all of their other options. However, if they can survive this show – they can probably make it through just about anything. Only time will tell if Luke and Iris are able to get on the right track, but their journey will definitely be an entertaining one. Continue reading for 10 things you didn't know about Luke Wechselberger.
1. He's An Entrepreneur
Luke may have the face of an Instagram influencer, but his good looks aren't the only thing he has to offer. Luke is a successful entrepreneur who is all about growing his brand. For nearly five years, he has been a seller on Amazon and this is something he has become very passionate about. According to his LinkedIn profile, Luke, "from home researching products on Amazon that have high demand and low competition with a software called Jungle Scout. After finding a profitable product, I contact suppliers overseas and have them manufacture my own Private Labeled version of the product I plan to sell. After optimizing my listing and ranking it to the first page with my own methodology, customers purchase my product each day whether I am out and about or sleeping!" Luke's girlfriend also sells products on Amazon and this has allowed them both to have lots of flexibility with their lifestyles.
2. He Studied Journalism
Luke may be living the entrepreneurial life now, but it looks like that wasn't always his plan. He attended Washington State University where he earned a bachelor's degree in broadcast journalism. He also spent a year studying abroad at IE Business School in Spain. In 2014, he began volunteering at the student-run radio station at Washington State University where he was responsible for several tasks. However, it doesn't appear that he has done anything in the journalism/communication field since then. Even though his life may not have followed the path that he initially planned on taking, things have still turned out quite nicely for Luke and there are still lots of things he hopes to accomplish in the future.
3. He's Adventurous
Life is meant to be lived, and that mindset is something Luke lives by. He is the kind of person who is always down for a good adventure and he doesn't mind a little adrenaline rush every once in a while. Whether it be traveling, snowboarding, or skateboarding Luke is the kind of person who likes to make the most out of everything life has to offer. His adventurous spirit is probably one of the things that led him to a show like Temptation Island. No matter what happens during his time on the show, he will always be able to say that it was an interesting adventure that not many people get the chance to experience.
4. He's A YouTuber
Since its launch in 2005, YouTube has become the most popular video-sharing platform on the internet. That being said, it's only right that Luke would want to get in on the action. Luke started his YouTube channel in the fall of 2011 and it has grown significantly since then. He now has almost 11,000 subscribers and his videos have gotten a total of more than 790,000 views. There's a very good chance that his channel will grow thanks to his time on Temptation Island. Through his channel, Luke posts a variety of content although most of it is related to sharing information on selling products on Amazon. It'll be interesting to see if his content changes as a result of his time in the reality TV world. It wouldn't be too surprising if he and Iris decided to make a couple's channel to help capitalize on their time in the spotlight.
5. He Loves Inspiring Others
Luke is very proud of the life he's created for himself, and he hopes to help other people find the same type of happiness. Educating others on things like Amazon and cryptocurrency is something that he really enjoys. As the about section of his YouTube channel states, Luke strives "to provide inspiration and motivation to help you break out of the typical 9-5 work lifestyle and build true fulfillment by becoming the best version of yourself!" Through his online presence, he genuinely hopes to empower others to chase their dreams. So far, it appears that he has done exactly that and his supporters really appreciate all of the educational information he shares.
6. He Likes To Keep Himself In Good Shape
Luke may not be a model or a former college athlete like some of the other cast members on Temptation Island, but that doesn't mean that taking care of his body isn't high on his priority list. Working out is an important part of his routine and he loves being able to show his hard work off whenever he's hanging out by the water. Unfortunately, we weren't able to find any specific information on his workout routine. That said, working out isn't just about aesthetics. Regular exercise can have lots of mental health benefits and it can be a great way for people to decompress and prepare themselves to deal with the stresses of everyday life.
7. He's A Washington Native
Even though Luke is a very active social media user, he isn't the kind of person who posts a lot of things about his private life. For that reason, there isn't a ton of information about him on the internet. What we do know, however, is that he is originally from a relatively small town in Washington called Mill Creek and he has two siblings. His father, Eric, is a chiropractor who has been practicing for well over 20 years. We weren't able to locate any details on Luke's mother. Although the state of Washington will always have a special place in his heart, both Luke and Iris have been living in Miami for about a year. Since they both love hanging out by the beach, it's proved to be the perfect location for them.
8. He Likes Spending Time Outdoors
The Pacific Northwest is known for its beautiful scenery, and that's something that Luke has always loved to take advantage of. He's an outdoors kind of guy and loves being able to take in all of the beauty that nature has to offer. When the weather is nice, you can usually find him outside enjoying it. In addition to relaxing by the water, Luke also likes to go hiking and exploring. One of the best things about being outside is that it allows people to disconnect from the hectic nature of their everyday responsibilities. Luke also really enjoys taking pictures which pairs well with the fact that he likes to be outside. It goes without saying that Luke probably really enjoyed his time on Temptation Island since it was filled with lots of beautiful scenery.
9. He Doesn't Have Any Prior TV Experience
From what we can tell, Luke doesn't have any on-screen credits outside of Temptation Island. However, the fact that he has been working hard to build an online presence over the last few years has caused some people to speculate that he only wanted to do Temptation Island as a way to gain more exposure. While it might be true that he and Iris have had some issues throughout their relationship, the two seem to have a solid relationship overall. It wouldn't be surprising if they were both hoping the show would help open doors to other opportunities. At the same time, though, being on a show like Temptation Island comes with some very real temptations so anyone signing up for the show with an ulterior motive could potentially be putting their relationship at risk.
10. His Girlfriend Was Dating One Of His Friends First
We don't know the details on exactly when Luke and Iris met, but their official bio on the USA website spills some interesting tea about how they met. Apparently, Iris was dating one of Luke's friends, but when she met Luke she decided that she wanted to get to know him instead. Most people would agree that dating someone who's been involved with one of your friends is an absolute no-go, but sometimes people are willing to risk it all in the name of true love. So far, it looks like Luke and Iris' risk has certainly been worth it but hopefully, they will still be able to say the same thing after Temptation Island. For those who were wondering, there's no word on whether Luke is still friends with the person who dated Iris before him.
Tell us what's wrong with this post? How could we improve it? :)
Let us improve this post!