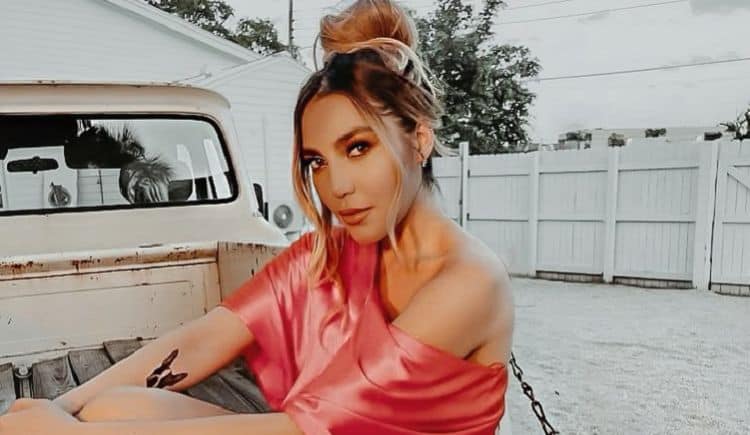 Frida Sofia is a name you may not be familiar with, but there is a good chance you have heard of her mother. Frida is the daughter of well-known Mexican musician Alejandra Guzmán. While some children of famous people have chosen to stay out of the spotlight, that hasn't been the case for Frida. Although she isn't a celebrity in the same sense as her mother, Frida has made quite the name for herself thanks to social media. She has more than one million followers on Instagram and that number is still growing. However, despite her popularity, things haven't been 100% smooth for Frida. She was recently arrested in Miami for disturbing the peace. Keep reading to learn 10 things you didn't know about Frida Sofia.
1. She Was A Fitness Instructor
Keeping herself in great shape has always been one of Frida's top priorities. Eventually, she decided that she wanted to help others do the same. For a while, she was a fitness instructor and she used her online platform to help expand her clientele. However, it appears that she is no longer training others.
2. She Is a Dog Mom
As far as we know, Frida is single and doesn't have any children. But that hasn't stopped her from getting the chance to let her maternal sideshow. She is a very proud pet parent and her fur baby, Philippe Valentino, is her pride and joy. He even has his very own Instagram account with over 1,000 followers.
3. She Likes to Read
There are lots of people out there who probably think that Frida is just another pretty face without substance. That couldn't be further from the truth, though. She also has plenty of brains to go along with her beauty and she loves to read and learn new things.
4. She Has Posed for Playboy
Over the years, Frida has done some modeling and some of her shoots have been on the risque side. A few years ago, she posed nude for Playboy Mexico. Many people were surprised by her decision to bear it all but she seemed very confident and has not expressed any regret.
5. She's A Brand Ambassador
As mentioned earlier, Frida has more than one million followers on Instagram. Having such a large audience has made her an attractive partner for people who are looking to market their products. As a result, she has become a brand ambassador for several companies including Bella All Natural. As her following continues to grow, there's a good chance that she will have even more opportunities to work with brands.
6. She Has A Rocky Relationship With Her Mother
Parent/child relationships can be full of ups and downs, and it looks like Frida's relationship with her mother has had more than its fair share of downs. In the summer of 2021, news broke that Frida filed a lawsuit against her mother and grandfather. As you can imagine, this got lots of attention from the Mexican media. At the moment, it doesn't appear that her mother has spoken out about Frida's recent arrest.
7. She Is An Entrepreneur
Despite coming from a wealthy background, Frida has worked hard to make a name for herself that is separate from her family's accomplishments. She started her own online business where she sells a variety of items such as jewelry and other accessories. She also sells colored contacts.
8. She Likes to Spread Positivity
Frida's time in the spotlight hasn't always been rainbows and butterflies, but that hasn't stopped her from doing her best to maintain a positive attitude. Not only does she like to be positive for herself, but she also likes to spread this energy to others. Her social media profile is full of uplifting quotes and other upbeat content.
9. She Loves Hanging out By The Water
When the weather is nice, there's nothing better than getting out and enjoying a beautiful day. Needless to say, that's one of Frida's favorite things to do. She loves relaxing by the pool or soaking up some sun by the ocean. As you can guess, she keeps her body beach-ready all year long.
10. She Is A Singer
Frida and her mother may not always see eye to eye, but there are some ways that Frida has chosen to follow in Alejandra's footsteps. Frida has shown an interest in music and she has recorded and released two songs. It's unclear if she has plans to put out a full-length project. Maybe one day, she will be as widely known for her music as her mom.
Tell us what's wrong with this post? How could we improve it? :)
Let us improve this post!