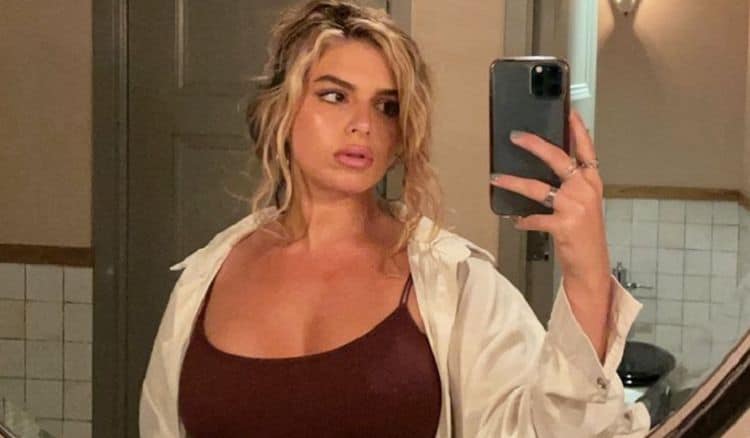 Since its debut in the summer of 2019, Love Island USA has become known for shaking things up. New cast members rotate in and out during the season which can be a good or bad thing for the overall dynamics of the show. One of the last people to join the cast during season three was New York native, Alana Paolucci. At first glance, some may be quick to assume that Alana is nothing more than a pretty face, but she proved to be so much more than that. She is highly intelligent, interesting, and she certainly isn't lacking in the charm department. Although she didn't end up winning the show, her time at the villa was still beneficial. Continue reading to learn 10 things you didn't know about Alana Paolucci.
1. She's Modeled For Playboy
Alana is a natural when it comes to being in front of the camera, and as a result, she's managed to build a very successful modeling career. She has gotten the chance to work with several publications, but most notably she posed for the cover of Playboy Magazine back in 2017. She would've been around 24 years old at the time.
2. She Studied Communication
Education is something that Alana takes very seriously. She went to college at the University of Buffalo where she earned a bachelor's degree in communication. During an interview with Belle en Argent, Alana said, "Graduating from undergrad, overcoming a lot of obstacles that could have put me in a different mindset or situation than I currently am in, and not allowing myself to hold back on the things that I truly want in life, despite any negative things that people have to say about it."
3. She's A Foodie
Alana likes to be mindful of what she eats, but that doesn't mean she can't enjoy good food from time to time. She loves trying all sorts of different foods and it's become one of her favorite things to do. She also likes to get in the kitchen and experiment with different recipes.
4. She's A Brand Ambassador
Alana had a large internet following long before she was cast on Love Island, and she's learned to leverage the numbers to her advantage. Thanks to her engaged audience, she has gotten the chance to work with brands to help market their products. In the past, she has worked with companies such as Totality Skin Care.
5. She Loves Art
Spending a day at a museum is probably one of Alana's ideas of a great time. Alana is a big art fan and she has an entire highlight section on Instagram dedicated to sharing some of her favorite pieces. She also loves to do some painting in her free time. In a comment on Instagram, she also shared that her grandfather was a painter.
6. She Likes To Travel
If there's one person who's going to make the most out of every moment life has to offer, it's Alana. She's all about making as many memories as possible and traveling has given her the perfect way to do that. She has been fortunate to do lots of traveling over the years both in and out of the United States.
7. She's A TikToker
TikTok has really taken off over the last couple of years, and lots of people have flocked to the platform in hopes of going viral. While Alana doesn't have a massive following on TikTok, she has gotten more than 22,000 likes. Her numbers will likely increase as more Love Island fans find her.
8. She's An Aspiring Actress
As far as we know, Alana doesn't have any acting credits at the moment, but acting is something she's always wanted to do. She told Belle En Argent, "I have many dreams and ambitions. My oldest loves are acting and writing, which I have done for most of my life. I took a little break from acting and now am getting back into it, which is really fun."
9. She's Interested In Home Decor
Alana has a great eye for picking out beautiful things, and that has turned into an interest in home decor. She loves seeing beautiful spaces and she often shares photos of beautiful interiors on Instagram. Maybe one day she'll even decide to do some work in the interior design field.
10. She's Worked In Real Estate
As Alana mentioned in her interview with Belle En Argent, she is the kind of person who has lots of different interests. This has led her to explore several different career options. Although she currently works in marketing, she previously worked in real estate as an agent in the Los Angeles area.