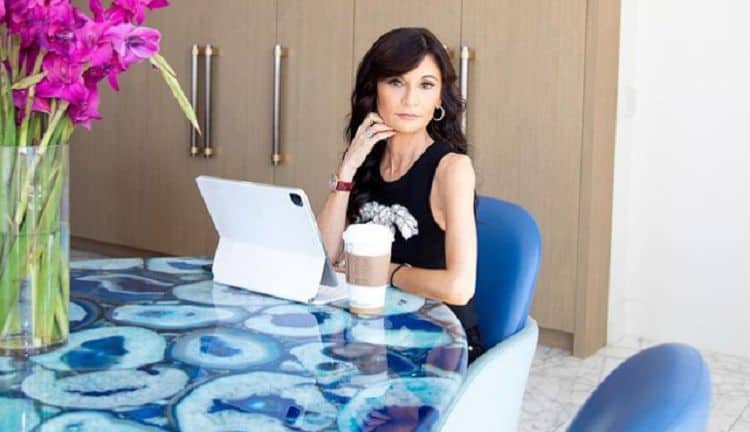 Maya Angelou once said: "Each time a woman stands up for herself, she stands up for all women." This wise saying is embodied by the groundbreaking feisty fashionista Julia Haart. Julia is the CEO and co-owner of Elite World Group and unless one closely followed the fashion world, you may not yet know her name. Netflix's new nine episode unscripted series "My Unorthodox Life" is bringing this remarkable woman's story to a wider audience. The show introduces us to Julia, her family, and her unordinary story.
Until about eight years ago Julia Haart, was a conservative Orthodox Jew, stay at home mother of four living in Monsey, New York. Depressed and suicidal she decided she needed to get out. This break from her world did not come easily. There were times when she contemplated the least offensive way to commit suicide as to not ruin her children's marriage prospects. She slowly starved herself and got down to a scary 73 pounds. She also had to plan for this exodus selling insurance secretly on the side and reading everything she could to teach herself about the outside world. Ultimately, she credits her daughter Miriam for inspiring her to leave the community. "She's the reason I'm alive today," Julia states. In Miriam, Julia saw much of herself. Miriam was curious, questioning everything and full of life. Julia saw the community trying to suppress and flatten her daughter into their version of what a woman should be and said enough. Julia's strength and resilience are uncommon and admirable.
Julia Haart has not only transformed her life but also her name. She was born Julia Leibov to observant Jewish parents in the Soviet Union. Her family moved to Austin, Texas in the 1970s. During this time, Julia was the only Jewish student at her school. When her parents became more religious around the time Julia was in 4th grade, they moved to Monsey, New York. It was there that Julia would become cut off from the secular outside world. This was a big culture shock to her. After attending seminary in Israel for a year, Julia returned to Monsey to begin "shidduchim," matchmaker-arranged dating.
She would change her name to Talia to attract better marriage prospects. Julia married Yosef Hendler at 19 and became Julia Hendler. The couple would eventually move to Atlanta for Yosef's job. It was here that Julia began her self-discovery into the outside secular world. She has stated "Atlanta was the beginning of everything." She became a leader in the Orthodox community, taught, gave lectures, and hosted large Shabbat meals. At these meals, she encountered secular Jews. She got a television and began going to drive in movies. The seeds were planted for her next name change Julia Haart. Haart comes from her maiden name Leibov which is similar to the Jewish word for heart.
Julia Haart left the yeshivish or community one week after her eldest daughter Batsheva's traditional wedding. Each child has dealt with this abrupt and drastic change differently. Julia and ex husband Yosef had four children together. The eldest son Shlomo eventually moved to New York City and is now a law student. He is still religious. The second eldest daughter Batsheva struggled with her mom's departure. She was taught one thing and now her mother had changed all the rules right when this young bride needed her mom the most. Batsheva and husband Binyamin "Benn" Weinstein are now living in New York City and have a great relationship with Julia.
Batsheva is an influencer and content creator. Benn has his real estate license. They describe their religious nature as "on the modern side of Modern Orthodox." Miriam, the second rebellious eldest daughter, also lives in New York City when not attending Stanford University. She is openly bi-sexual and has built apps designed to empower women. The baby of the family Aron still lives in Monsey and is much to the dismay of Julia pretty strictly religious. Julia and ex-husband Yosef share custody and appear to have a good co-parenting relationship. Yosef even appears on the show. Another prominent figure on the show is Julia's friend and co-worker, Robert Brotherton, Chief Operating Officer at Elite World Group.
Details on Julia's rapid rise to the top in the fashion industry are purposely a little thin because of her memoir Brazen: My Unorthodox Journey from Long Sleeves to Lingerie comes out next year. We do know that is has been quick. We do know that Julia secretly taught herself to sew at 16. She had a lifelong love of color and fashion. "I'd been making my own clothes, even though in my community fashion is a giant no-no. The only point of clothing is to hide you. And if you love clothing and color, that means you're too focused on the physical, you're not thinking about your soul." It seemed a natural leap into the fashion world. She even had the idea for her first line before she left the community. Julia created a line of comfortable mega high heeled shoes partnering with ski boot engineers and using insulation gel designed for NASA space stations.
This got the attention of La Perla and Julia was brought on to be their Creative Director. It was at La Perla that she would meet owner Silvio Scaglia, who would become her husband. Silvio would change his last name to Haart for Julia. Now the husband and wife team co-own Elite World Group, a talent and modeling conglomerate whose client roster includes high name stars as Rita Ora and Adriana Lima. Julia is dedicated to helping her models create a brand that will last beyond their runway years. She is empowering her models to lean into the changing power dynamics of the fashion world. She explains "Before, as talent, you had zero control of your own destiny. Now it's creative directors, casting agents, photographers running after the talent. Because the talent has the audience. That means we can put the power in the hands of the (talent)."
For many years, Julia kept her past a secret. She would literally make up stories when asked about her past She did not want to give in to the victim narrative. When her first shoe line found success, she found peace along with her accomplishment. She decided to tell her story in the hopes that someone might learn from it. "I had come to a place of personal comfort. And I hoped that someone would watch this and say, OK, if this crazy bitch did it, I can do it."
Julia is not without her critics. After the Netflix show My Unorthodox Life debuted on July 14, there were some negative reviews. Yael Reisman, a director at Footsteps, an organization that aides people who wish to leave Orthodox communities and adjust to life in the secular world, worries that although the show could inspire some it may be misleading because of how easy it makes the transition look. The Orthodox Jewish Public Affairs Committee has been actively attacking the show on Twitter. Some Orthodox Jewish women have also been posting on social media sharing their happy orthodox lives using the hashtag #MyOrthodoxLife.
Jenny Singer writes in Glamour magazine "that the show will directly contribute to making life more dangerous for some Jewish people. Orthodox Jews live in legitimate fear of attack. Making a reality show that depicts them as monsters could put a bigger target on their backs." Both Julia and Yael Reisman reject the notion that the show is anti-semitic or anti-orthodox. Julia maintains that she believes in God, loves her Jewish roots and simply wants women to be given the same opportunities as the men in their communities. "Shabbos is beautiful. You think I want people to stop keeping Shabbos? Of course not," Haart said. "I do want them to stop telling women what to do." Perhaps by standing up for herself and telling her story, others will learn something just like Maya Angelou would want.