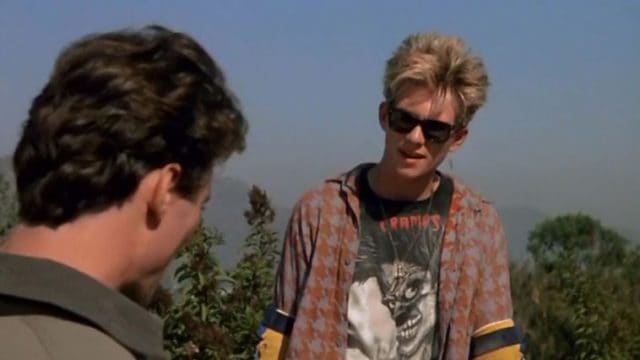 Skateboarding movies are unique. They are either documentaries about top skateboarders, filled with amazing skateboarding; or they are fictional stories about skateboarders, filled with amazing skateboarding. In fact, fans demand awesome skateboarding as a primary component in this sub-genre of sports films. Some of the best are collections of film footage featuring legendary skateboarders street skating and flying in and out of empty backyard pools. No vertical walls were out of bounds.
The kings of the sport were pioneers of new culture. New skaters looked up to them all. Skaters built their own quarter pipes, their own launch ramps and rails. Small towns everywhere were shaken by roving skateboarders looking for the next thrill. Rip it up. Rad. Skate or die. Good stuff.
When asked to list the best skateboarding movies of all time, industry experts and fans agree. Not surprisingly, top favorites include movies which feature the actual legends doing what they do best. Also included are movies with actors portraying the legends, supported by a cast of top competitors in the field- skating throughout the film. Harder to find are favorites which feature fictional skateboarders. Good stuff means authentic technique and culture. With this sport, there's no faking it to make it.
Ken Miyamoto; produced screenwriter, former Sony Pictures script reader and story analyst, and former Sony Studios liaison posted on Quora when giving his opinion about the best skateboarding movies: Miyamoto considers Lords of Dogtown "the best skateboarding movie ever made about the sport of skateboarding and the core of the phenom. Period. "
Lords of Dogtown is the story of three surfers and skateboarders; Tony Alva, Stacy Peralta, and Jay Adams. They are portrayed by Heath Ledger, Sofia Vergara and Jeremy Renner. The story is based on true events in the lives of the three legendary figures. The actors supply the fictional element, but the story is real.
On the other hand, when it comes to fictional movies and characters pertaining to skateboarding here are some of the best:
Gleaming the Cube
Miyamoto considers this the best movie ever made about skateboarding which is fictional. Christian Slater stars as 16-year-old Brian Kelly in Gleaming the Cube. The movie was first shown in 1989, and it tells the story of how Kelly loses his desire to skate when his brother dies mysteriously. His Vietnamese brother was adopted, and Kelly sets out to discover the truth about his death. It's a murder mystery filled with the top skaters of the era.
Back To The Future
Miyamoto believes this to be the film which brought the sport of skateboarding into the public awareness in a way that hadn't been done before. It was the Marty McFly move which did it. Everyone who owned any kind of skateboard mastered kicking and flipping the board from the ground to their hands. One cool move, a slick grab… and then surfing down the street. Everyone imagined they were surfing with a Jeep and waving, just like Marty McFly did with all those girls adoring him. It was the moment which made skateboarding the best new thing.
Ryan O'Donnell, Director of Marketing for Avalara, voted for this movie on Quora:
The Search for Animal Chin
O'Donnell listed this 1987 film by Powell Peralta as one of the best, ever. He admitted that the skating seemed basic compared to modern standards, but credited this film and Future Primitive for showcasing skating's pioneers in what he describes as a "very non-commercial way". The film tells a story about the first skater ever, "Won Ton Animal" Chin whose handmade board was basic, but his skills on it were phenomenal.
The film includes hardcore skaters Lance Mountain, Steve Cabellero, Mike McGill, Tony Hawk, and Tommy Guerrero in a group called the Bones Brigade. C.R. Strecyk, III is portrayed by Emerson "Won Ton Animal" Chin himself. The story is that Won Ton "Animal Chin", the first skater, goes missing and the skateboard world wants to know why. Chin is 62 years old and the Bones Brigade sets out to find him. They search for Chin at famous hardcore skate spots around the world, showing off their awesome skills along the way. They start in Hawaii at the Wallows. Their search leads them to skate in California and Nevada, too.
Many notable skaters are included in scenes throughout the film. A ramp built for the film which created a legacy of ramps built in similar style. The ramp was so popular that it was rebuilt for the 30th anniversary of the film. The film was the first to include a plot, rather than simply show skaters performing accompanied by music. Many skaters look back on this film as the golden age of skateboarding. These legendary street skaters are considered kings of the sport.
Fans also voted on Quora for these films; which were also in the top 10 for skateboard films on Ranker:
Thrashin'
This movie was first shown in 1986. It's the story of a young amateur skater named Cory Webster whose dream in life is to win a downhill competition. The film includes some of the top real-life skaters from the 1980s: Tony Alva, Steve Caballero, Christian Hosoi and Tony Hawk. Cory Webster is played by Josh Brolin. Cory falls in love with Chrissy, and the film tells the dramatic story of their lives.
Paranoid Park
This movie by Gus Van Sant was first shown in 2007. It's about aimless teenage skater Alex who, by accident, kills a security guard. Alex uses his skateboard as a weapon to protect himself from the guard. Alex hides in Burnside skatepark in Portland, Oregon as he tries to figure out what he's going to do. It's a rare dramatic story which veers away from the usual skateboarding plot, and that's part of why it has remained popular. It also features a good amount of quality action photography of skaters.